Rancho Santa Fe newcomer's new book encourages women to succeed
Millions worldwide lost money and jobs in the Great Recession; Susan Treadgold gained a new career.
"In 2008, while I was on maternity leave, Lehman Brothers crashed," said Treadgold, who was working with in the investment banking field with Citigroup in London. "The world was going to hell in a hand basket.
"Citigroup's share price went from $55 down to $1. The week I was supposed to return to work, the headline on the newspaper was, 'Is it too big to fail?'"
Offered an opportunity to take the equivalent of a buyout, she decided to accept it. Having already obtained a master's degree in executive coaching, Treadgold had become intrigued by the idea of applying her own work experiences in that profession. The economic crisis that exploded in 2009 crystallized her decision.
"I chose that as an opportunity to make a change and follow my passion of developing people," she said. "I thought I would give it a go. ... I ended up getting my first job as an executive coach before I ever had a business card or web site.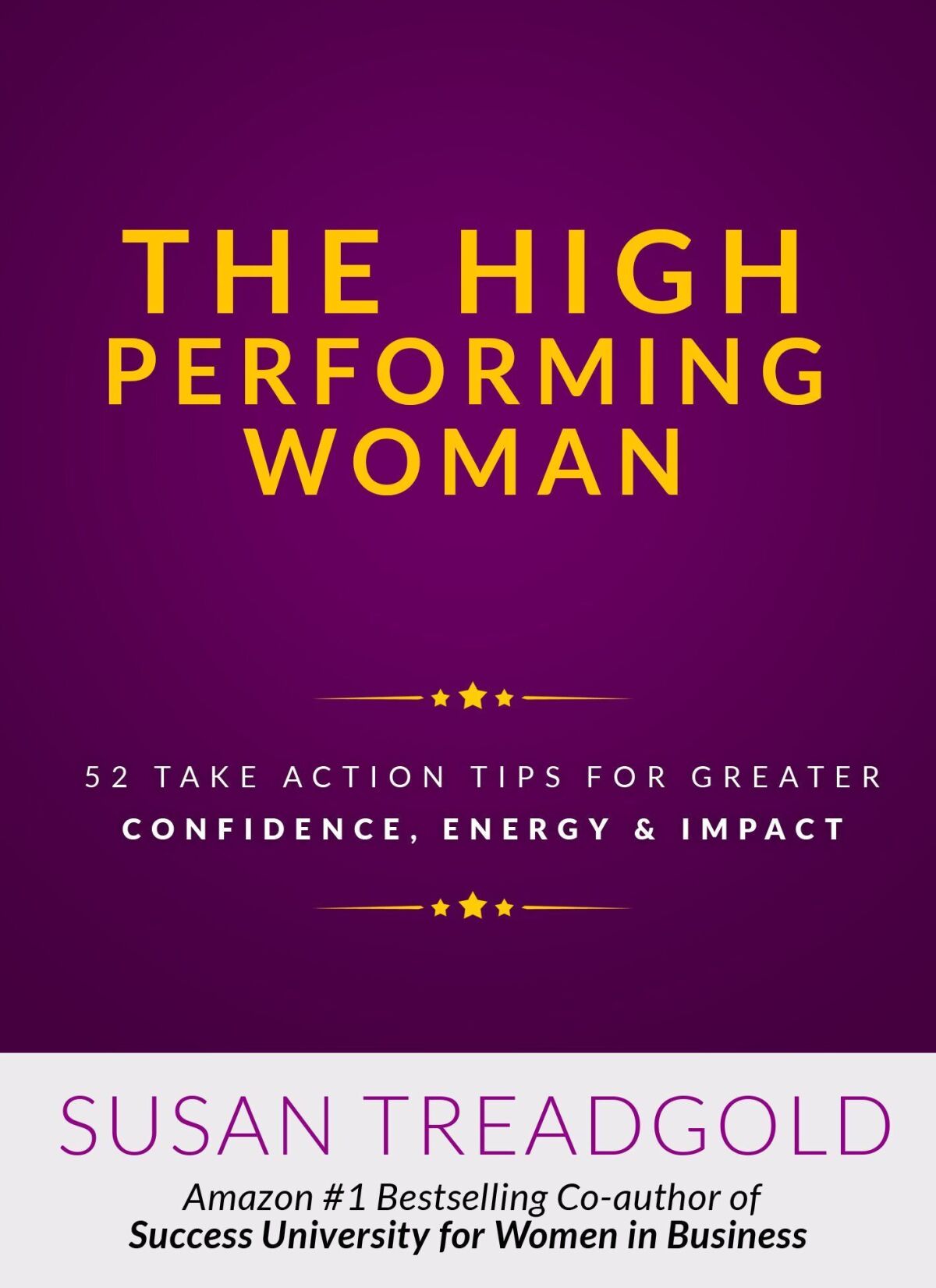 "So, I took that as a sign that, since I wasn't pushing water uphill, I had made the right move. ... That was a career change I made 10 years ago, and I haven't looked back."
Her success as a holistic executive coach led to the co-authorship of two best-selling books published by Amazon: "Success University for Women" and "Success University for Women in Business."
Now, she has authored a new volume just released on Amazon — "The High Performing Woman: 52 Action Tips for Greater Confidence, Energy & Impact."
Its publication coincides with Treadgold's move to Rancho Santa Fe after 23 years in London and a launch party for the book occurred Thursday, May 24, at Nick & G's restaurant.
"In this book, I'm trying to get people, women in particular, to take 100 percent responsibility for their energy and their results," she said.
Maximizing one's physical and mental energy while minimizing factors that are draining, such as negative thoughts and poor diet, is a principal thrust of the book.
It is broken down into 52 succinct suggestions outlined on two to three pages each. The tips, each of which can be absorbed in a minute or two — cover topics such as "Win Your Morning," "Stop Self-Sabotage," "Value the Introverts in Your Life," "Live Like a Centenarian," "De-Clutter" and "Be Directionally Correct."
Each tip is corroborated by quotes from famous figures and philosophers of all walks of life and historical eras, from Hippocrates and Aristotle to Eleanor Roosevelt and John F. Kennedy.
The book, Treadgold said, is equally applicable to men, but is oriented toward women because of the unique challenges they face in climbing the ladder in the business world and other fields in which they compete for success.
"When I look at my bigger mission, I'd like to empower more female leaders," she said. "So, I was focusing this book on helping women manage their energy so they can be more joyful, confident and fully engaged in their work, relationships and health."
Much of her insight comes from her experience in the corporate investment world with Morgan Stanley, Merrill Lynch and Citigroup. A native of Detroit, Treadgold attributes her career path to her father's background as an automotive company executive.
She obtained a dual degree in business and German language through Michigan State and the University of Freiburg. That led her to work on selling German car stocks in London and future opportunities with international investment firms.
Typically as the only woman and American working amid middle-aged British men, Treadgold said, she learned numerous lessons on coping with and succeeding in her work places as well as preparing her for her subsequent role as an executive coach.
She summarized the challenges in the preface to "The High Performing Woman:"
"I have first-hand knowledge of managing teams and mis-managing them; leading and following; being authentic and being someone I wasn't; being clear and lacking direction; being confident and being insecure; thriving and barely surviving; being heard and being ignored; making an impact and making a flop; being energized and being dog-tired" and so on.
While maintaining her company, Treadgold Executive Development in London, she decided it was time for her and her children to "try being American again." She moved to Rancho Santa Fe, in part, because she wanted to enroll her 10-year-old son, Rex, and 7-year-old daughter, Cora, at R. Roger Rowe Elementary and Middle School.
"I like the feel of the town, and it has a great school," she said.
She became acquainted with Southern California while studying executive leadership with one of her mentors, motivational speaker Jack Canfield, who was co-founder of the "Chicken Soup for the Soul" series. She also visited the region recently while receiving a successful alternative treatment for breast cancer, she said.
"I felt like cancer was a gift because it allowed me to really focus on what was important," she said. "My biggest passion is sharing what I've learned with others."
Information about Susan Treadgold and her books is available by going to www.tedlondon.com and www.amazon.com/Susan-Treadgold/e/B015NF4FIE
Get the RSF Review weekly in your inbox
Latest news from Rancho Santa Fe every Thursday for free
You may occasionally receive promotional content from the Rancho Santa Fe Review.