Pacific Ridge School student hosts Taiwanese high schoolers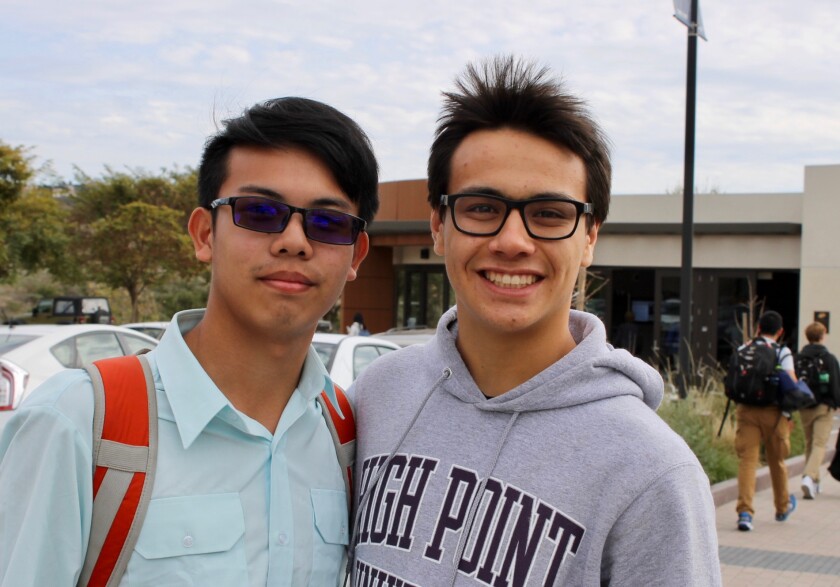 While Rancho Santa Fe resident Hunter Ayyad has visited Sea World and the Wild Animal Park many times, the Pacific Ridge School senior got to view them through fresh eyes recently when taking two Taiwanese high school students to the famous San Diego sites. Hunter and his parents, Willy and Alchera Ayyad, were among several families at Carlsbad's Pacific Ridge who hosted students from the Taichung Municipal Taichung First Senior High School.
Hunter's guests, Peng Bo-Ti and Tsou Siang-Peng, came to San Diego with 22 of their classmates as part of a week-long sister school exchange. During their visit, they attended classes at Pacific Ridge and soaked up as much local culture as they could by visiting the beach, attending high school sports games, watching movies together, and even taking a day trip to Disneyland with Alchera while Hunter was in school.
Exploring and discussing local cuisines was a highlight for Bo-Ti and Siang-Peng, from home-cooked American food to Mexican specialties at Alfonso's in Solana Beach.
"We've eaten Western food before, but sharing a meal with an American family is a great way to learn about their culture," said Bo-Ti. "I enjoyed all the different kinds of food!"
The Taiwanese students also came prepared to share their culture with the Pacific Ridge students. On one of the days, they took the stage at an all-school gathering to play music, sing and share a martial arts performance.
Hunter, who has hosted international students before and who stayed with a family in Shanghai when he traveled to China with Pacific Ridge's freshman class in 2015, appreciates the richness of exchange programs.
"Exchanges are a great way for students to build real relationships across cultures," he said. "Staying with a family makes the travel experience deeper and more personal than it otherwise might be."
Hunter will be building more relationships this spring when he spends two weeks exploring Singapore and Bali with the Pacific Ridge's Global Travel program.
---
Get the RSF Review weekly in your inbox
Latest news from Rancho Santa Fe every Thursday.
You may occasionally receive promotional content from the Rancho Santa Fe Review.