National Charity League, Inc. San Dieguito Senior Recognition & Fashion Show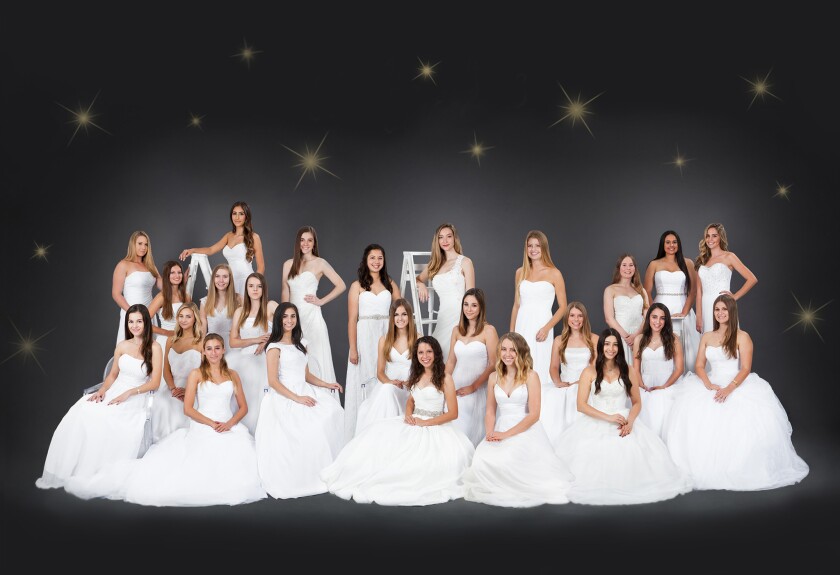 National Charity League, Inc. San Dieguito Chapter (NCL, Inc. San Dieguito) and their family and friends celebrated their Combined Event, Senior Recognition Ceremony and Fashion Show, March 18 at the Hyatt Regency La Jolla.
This Combined Event, a collaboration between the Sophomore Class of 2020 and the Senior Class of 2018, had a "Once Upon A Dream" theme. The evening began with Mistress of Ceremonies, Rachel Acenas of One America News Network, presenting the Senior girls, called Ticktockers, and recognizing the successful completion of their six-year NCL program of philanthropic, cultural and leadership activities. The seniors, escorted by their fathers, wore white dresses as a symbol of new beginnings and fresh opportunities, worn in recognition of this unique moment of transition in the lives of these young women.
NCL, Inc. San Dieguito was proud to celebrate Cathlyn Alexander, Alexandra Bleakley, Claire Coats, Hannah Dewey, Juliette Dicken, Morgan Dunn, Josie Edmiston, Emma Ellingson, Megan Gronstad. Molly Jones, Jordan Lee, Sofia Llaneta, Sydney MacDonald, Sophie Nauss, Kendall Platt, Ryan Poe, Colette Puleo, Chloe Ross, Nicole Sanfillippo, Brynn Shaffer, Rebecca Shuman, Kylee Steele, Hannah Vandenkolk, and Lara Wellis' spirit of independence and readiness to accept the challenges of the future with poise and confidence.
Following the Recognition Ceremony, the Class of 2020 displayed fashions from Macy's Fashion Valley and Mia Bella Couture. After months of training and rehearsals, the sophomore members walked the runway to model four separate designer outfits in front of 500 attendees. The preparation and experience of participating in the fashion show helps these young women develop confidence and poise, as well as their leadership and public appearance skills.
NCL, Inc. San Dieguito currently has 276 members and provides hands-on volunteer service for 24 philanthropic organizations in the community. Members are women and their daughters in grades 7-12. Through this community service, NCL, Inc. develops socially responsible community leaders and strengthens the mother-daughter relationship. The traditional six-year core program also includes leadership development and cultural activities. For more information about the NCL, Inc., San Dieguito, visit sandieguito.nationalcharityleague.org.
---
Get the RSF Review weekly in your inbox
Latest news from Rancho Santa Fe every Thursday.
You may occasionally receive promotional content from the Rancho Santa Fe Review.