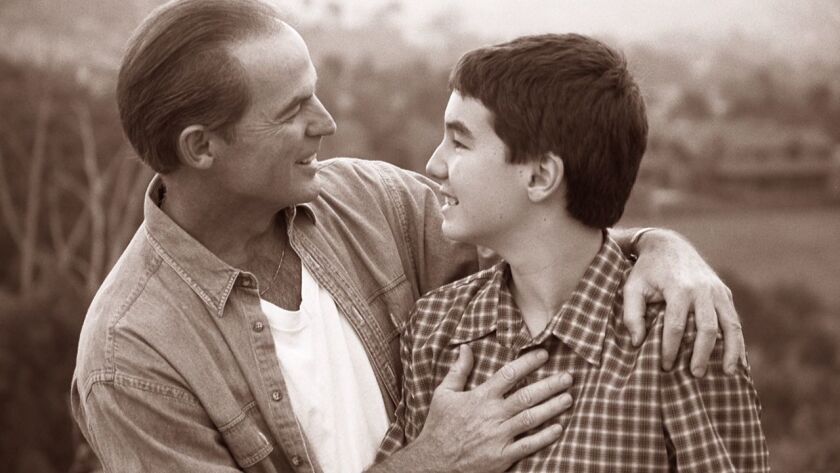 In 1989, Lawrence and Nina Williams learned their 19-month-old son was autistic, to their dismay and consternation.
"I asked, 'What is autism?' I had no idea what it was and we're reasonably educated people," the father said during a recent interview with the couple at their Rancho Santa Fe home.
Of course, knowledge about the mental condition impairing an individual's ability to communicate and have relationships has burgeoned exponentially over the years to the benefit of the Williamses and their son. Tyler, 29, graduated from Torrey Pines High School's special education program and lives in a home for adults who need assistance.
Now, nearly 30 years after the disturbing diagnosis, Lawrence Williams has authored a book that delves into the family's experiences as they coped with the unique characteristics of Tyler's conditions and the challenge of ensuring he reached the maximum of his potential under the circumstances.
"You're dealt with the hand you're dealt with. What are our choices?" asked Nina Williams, whom her husband calls the "heavy lifter" in confronting the challenges. "I looked at it as, 'This is my normal. This is my life.' It never goes by a playbook."
Said Lawrence Williams: "You really have to plan things out. Your spontaneity goes out the window. ... Just to get him to answer to his name was an 18-month ordeal."
"Hugs," as the book is titled, relates the family's actual experiences with Tyler, many of which are placed in North San Diego County and the surrounding area.
Yet, the volume released late last year by Balboa Press is a work of fiction. The characters who are based on family, medical personnel, friends and other contacts are renamed and some locales cited are reimagined.
"The whole first part of it is a big conversation or a remembrance of things that have happened in the past. We had no idea how to treat him," Lawrence Williams said.
He credited many in the Rancho Santa Fe community as well as Tyler's teachers, acquaintances, Nina and their two daughters with their kindness, commitment and contributions to the son and family's well-being.
From a fictional standpoint, the plot hinges on a heavy dose of magical realism. The main character finds himself miraculously imbued with the ability to heal autistic children, though to the detriment of his own life.
"It's a very light treatment of a very delicate subject," Williams said. "The whole thing is fueled by a father's desire to communicate with his son. Fantasy is probably the best of way of putting it. ... Someone dealing with a lifelong condition knows there is no cure."
Williams' storytelling is straightforward with copious dialogue. The story line advances logically yet momentously toward a riveting conclusion.
Though academically untrained as a writer, the retired businessman said he has been writing throughout his life and has composed fiction that has yet to be published.
Through some contacts, Williams was encouraged to take "Hugs" to Balboa, which authors pay to publish their works, with the promise of receiving a percentage of sales.
Editors at Balboa's parent company, North County-based Hay House, apparently liked the potential of "Hugs," Williams said, because they notified him with a congratulations letter that the book would be offered in their catalog as well as Balboa's.
"Hugs" is available for purchase online at amazon.com in hardcover, paperback and Kindle. Amazon's reviews by readers who have purchased the book have given it five-star ratings and commented that they "couldn't put it down."
Williams hopes readers are uplifted by "Hugs" and inspired to see the power of service in improving the lives of others.
"My message in this book is there is hope for everybody," Williams said.
Editor's Note: The reporter who wrote this story, Michael Williams, is not related to Lawrence and Nina Williams.
---