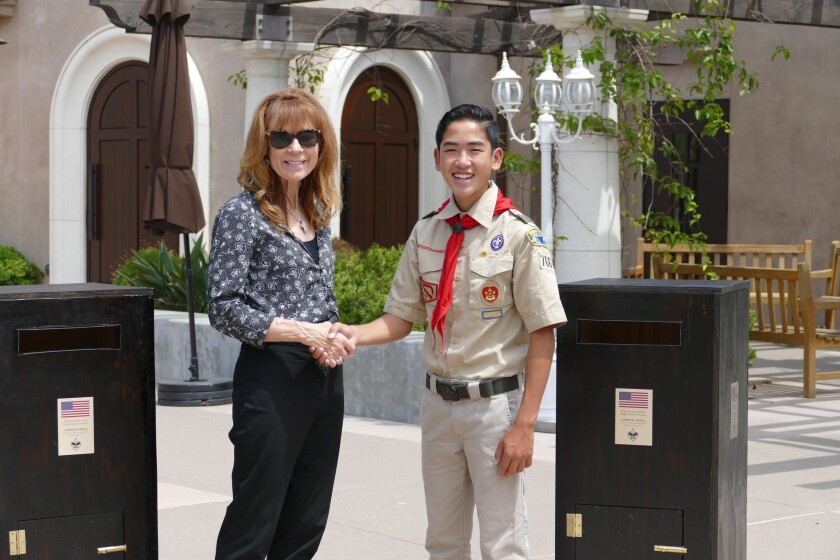 Eagle Scout candidate and Village Church member Andrew Presa of Troop 766 in Rancho Santa Fe led the construction of three flag retirement boxes so that community members can donate old flags for proper retirement. These flags will be dedicated at a ceremony in August.
"The flag is an important symbol of our country. It represents freedom and liberty," said Andrew. "I have many family members who have served our country and there are many Village Church members who are in the military or who are veterans and the church serves military families. My project is about honoring our country, all those who serve, and the flag."
The public is invited to attend a flag dedication ceremony on Sunday, Aug. 26, at 12 p.m. at the Village Church. Community members are asked to bring old flags to one of three boxes at three locations from July 18 through Aug. 22: The Village Church (6225 Paseo Delicias), the outside entrance of the Rancho Santa Fe Association office (17022 Avenida de Acacias), and the Rancho Santa Fe Post Office (16956 Via de Santa Fe).
"The Village Church is honored to host and partner with our Boy Scout Troop 766. We are very proud that a young member of the Troop and our church, Andrew Presa, has worked so hard on this particular 'country honoring' Eagle Scout Project," says The Rev. Dr. Jan Farley, associate pastor of The Village Church. "Along with many active and retired military members, Village Church also has a number of Eagle Scouts. I know that the community and the congregation will be bringing their old flags during the next several weeks with gratitude to properly retire the Stars and Stripes."
This project is supported by The Village Church and the Boy Scout Troop 766. For more information, contact Jan Farley at 858-756-2441 or janf@villagechurch.org. Visit villagechurch.org.
The Village Church has been serving the community through worship, mission, service, and fellowship since 1956. The Church's campus is located at 6225 Paseo Delicias in Rancho Santa Fe, CA. Visit the Church at villagechurch.org or through social media channels @VillageChurchRSF. The Village Church has been the charter organization of Boy Scouts Troop 766 since 1978.
---