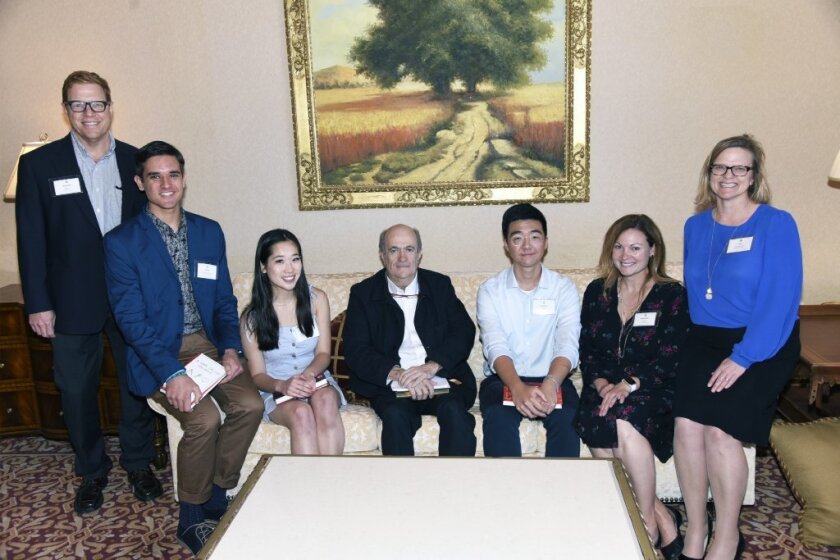 Colm Tóibín's latest novel tells a story set in ancient Greece, that of a royal family obsessed with murder, sacrifice and revenge. But during the writing, his mind was occupied with more contemporary tragedies, such as the civil war in Syria and the atrocities carried out across the Middle East by the Islamic State group, or ISIS.
The result is "House of Names," a retelling of "The Oresteia," a trilogy by the Greek playwright Aeschylus. The story concerns the goings on in the House of Atreus, from the murder of King Agamemnon by his wife, Clytemnestra, to Agamemnon's sacrifice of their daughter, Iphigenia, to help the king achieve victory in the Trojan War.
Tóibín, whose previous novels include "The Master" and "Brooklyn," which was made into an Academy Award-nominated movie, was the featured speaker at the May 17 meeting of the Rancho Santa Fe Literary Society. In an interview, he conceded that it was a bit intimidating to take on characters out of Greek mythology, from plays that scholars have studied for their entire careers.
"Here I am sort of barging in, so yeah," the work was challenging, he said. But it was not his first foray into historical fiction; a previous novel, "The Testament of Mary," was narrated by the Virgin Mary.
In the case of "House of Names," which was published by Simon & Schuster and just came out in paperback, Tóibín started out by reading the original plays, and then began to re-create the stories in contemporary language. When he came upon a mystery, such as the whereabouts of Orestes, the brother of Iphigenia, during a long absence from home, he ran with it.
"That's a great opening for a novelist," he said. "You start imagining."
The story is told from the alternating viewpoints of Clytemnestra, Orestes and his sister, Electra. In one passage early in the book, Clytemnestra described the events leading to Iphigenia's murder: "They cut her hair before they dragged her to the place of sacrifice. My daughter had her hands tied tight behind her back, the skin on the wrists raw with the ropes, and her ankles bound. Her mouth was gagged to stop her cursing her father, her cowardly, two-tongued father. Nonetheless, her muffled screams were heard when she finally realized that her father really did mean to murder her, that he did mean to sacrifice her life for his army."
"House of Names" is Tóibín's ninth novel, and he is currently at work on his 10th. As he begins each chapter, he said, he writes and rewrites the first 500 words, in a quest to get every word right. That often means rewriting in the morning what he had penned the night before, because it just doesn't seem as good in the light of day.
"The blood fizzes up at night and it's colder in the morning," he said.
Tóibín's writing life has followed a varied path; along with writing his novels, what he called his "main business," he has worked as a journalist, travel writer and playwright.
Currently, he divides his time between Dublin and New York, where he teaches literature for one semester each year at Columbia University. This year, for example, he is teaching a graduate seminar on "Antigone," by the Greek playwright Sophocles.
"It sharpens your mind," he said of teaching. "You get to read in a disciplined way."
He's particularly impressed by the students, who, he said, are smart and willing to read, and sometimes pick up on things he didn't notice.
While he doesn't care much for New York's night life, he does enjoy the classical music concerts that crowd the calendar during the winter months. And he also is a keen observer of American politics, particularly at the presidential level.
One difference between Europe and America, he said, is that our presidents' terms come and go so quickly. European politicians, he said, tend to get a longer run at power. With a four-year term, he said, the U.S. president is running for re-election almost as soon as he or she is sworn in.
"Someone who is really annoying you in America won't be annoying you forever," he said.
He has also been amazed at the rapid turnover among Donald Trump's aides and advisers, which he said suggests, "preternatural incompetence," and seems to be unprecedented on the world stage. "No one has done this," he said.
Most of his time, though, is spent in literary pursuits, either reading or writing. Among the courses he teaches at Columbia, he said, is an undergraduate seminar on Irish literature.
While Ireland doesn't have its own version of Wall Street, the aristocracy of England or the classical music pedigree of Germany, he said, his country has a strong, ongoing tradition of producing great literature.
"Books and writing remain at the forefront of what's going on in society," he said.
For his part, said Tóibín, his preoccupation is getting the words down, until he completes whatever tale he happens to be telling.
"My main interest really is finishing the thing," he said.For more information, visit www.colmtoibin.com.
---