Sharp leader to receive prestigious award for philanthropic work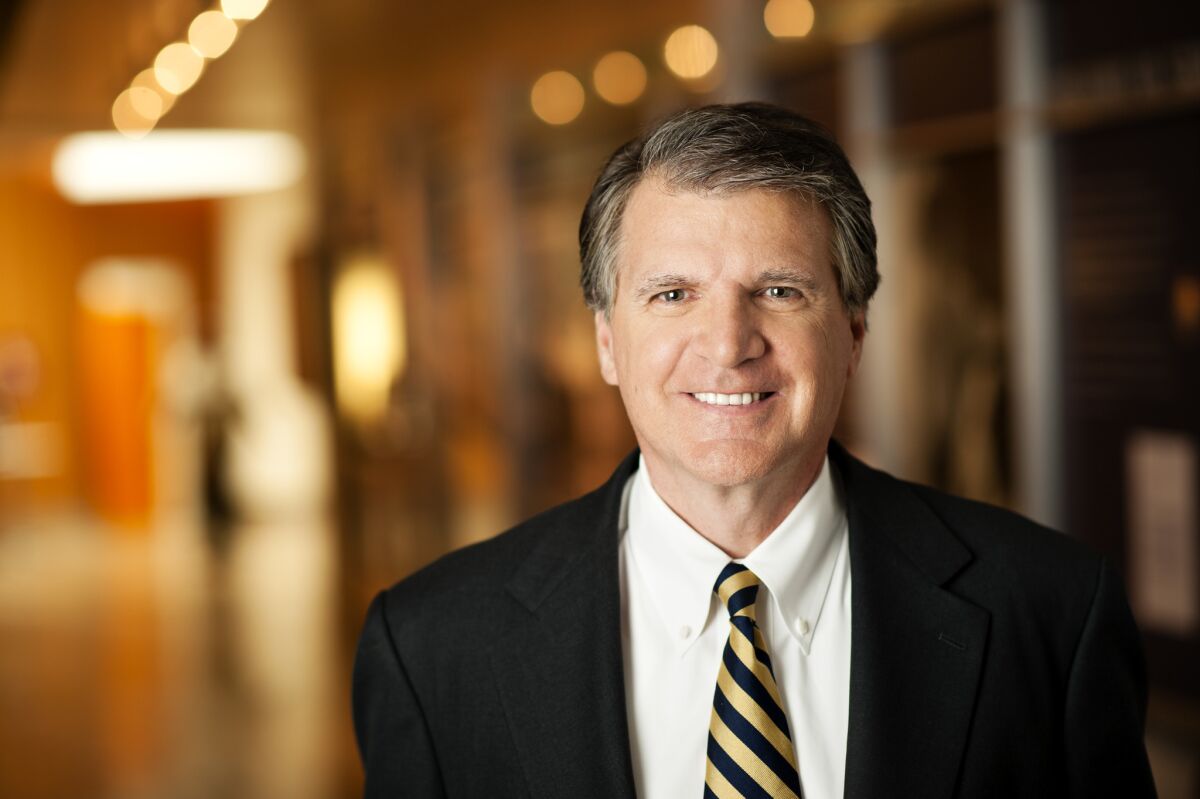 Local resident Bill Littlejohn oversees philanthropy and fundraising for Sharp HealthCare, a nonprofit healthcare provider and one of the largest hospital and clinic networks in San Diego County.
"I'm the fundraising guy," said Littlejohn, who joined Sharp in 2002 as senior vice president and CEO of the Sharp HealthCare Foundation. In that capacity over the past 15 years, he has overseen efforts to raise some $275 million, which has been spent on a variety of projects, from new buildings to the latest medical equipment.
Over the past 30 years, Littlejohn has seen his profession grow ever more complex, similar to the challenging environment faced by healthcare organizations.
"It's not the days of the bake sale and the carwash," said Littlejohn.
In recognition of his contributions to the fundraising profession, the Association for Healthcare Philanthropy, a national industry group, has selected Littlejohn as the recipient of its Harold J. (Si) Seymour Award, named after a man considered a trailblazer in the world of philanthropy and fundraising. The award will be presented Oct. 20 in New Orleans.
Littlejohn said he was humbled by the award.
"It was recognition by my colleagues more than anything else," Littlejohn said. "The culmination of my focus for the last quarter century."
Philanthropy is critical for nonprofits such as Sharp, which count on fundraising to supplement revenue from operations and borrowing to pay for major capital improvements, Littlejohn said.
"(Sharp) relies on charitable contributions and the support of the community to do the things it does," he said.
In a broader sense, he said, philanthropy acts as a bridge for those who have a vision to make their community better, such as healthcare providers, and those who have the means to make that vision a reality.
"The power of philanthropy is where people of vision and generosity make possible the achievements of the dreams of people of skill and dedication," Littlejohn said.
And the job of people in his profession, he said, is to help forge connections between donors and healthcare providers.
They do that by cultivating relationships with people from all walks of life, including physicians, hospital board members, staff, patients and their families, and members of the local community.
Fundraising professional are storytellers, said Littlejohn, sharing the vision of their organization in all manner of locations, from the golf course to a fundraising gala to an informal coffee in someone's home.
The message they impart is, "We have a vision for the future and it requires a significant investment," he said.
Littlejohn joked that he could write a book about hospital cafeterias, since he has eaten in about 200 of them during his healthcare fundraising career.
Since Littlejohn believes strongly in the work of fundraising professionals, and how it can help nonprofits achieve their goals, he has become a "champion and evangelist" for philanthropy, both within Sharp and in the San Diego community.
To that end, he has volunteered to serve on a number of nonprofit boards, including that of Santa Fe Christian School in Solana Beach. He and his wife, Lisa, have two children, Will, 16, and Lauren, 14, who attend the school.
When he's not at work, Littlejohn said he and his family love to travel, enjoying vacations on the coast of Maine. Littlejohn serves as scorekeeper for Santa Fe Christian's lacrosse games. He also loves to read books about history.
That interest in history, he said, relates to the legacy of philanthropy. "These great stories of the past can influence the future."
Visit give.sharp.com/ways-to-give
---
Get the RSF Review weekly in your inbox
Latest news from Rancho Santa Fe every Thursday for free
You may occasionally receive promotional content from the Rancho Santa Fe Review.