RSF Rotary members donate backpacks with essential school supplies for program at Camp Pendleton
Rotarians Robin Chappelow and Ray Taraz
(Sophia Alsadek)
Rotarians Don Meredith and Andree Hettena
(Sophia Alsadek)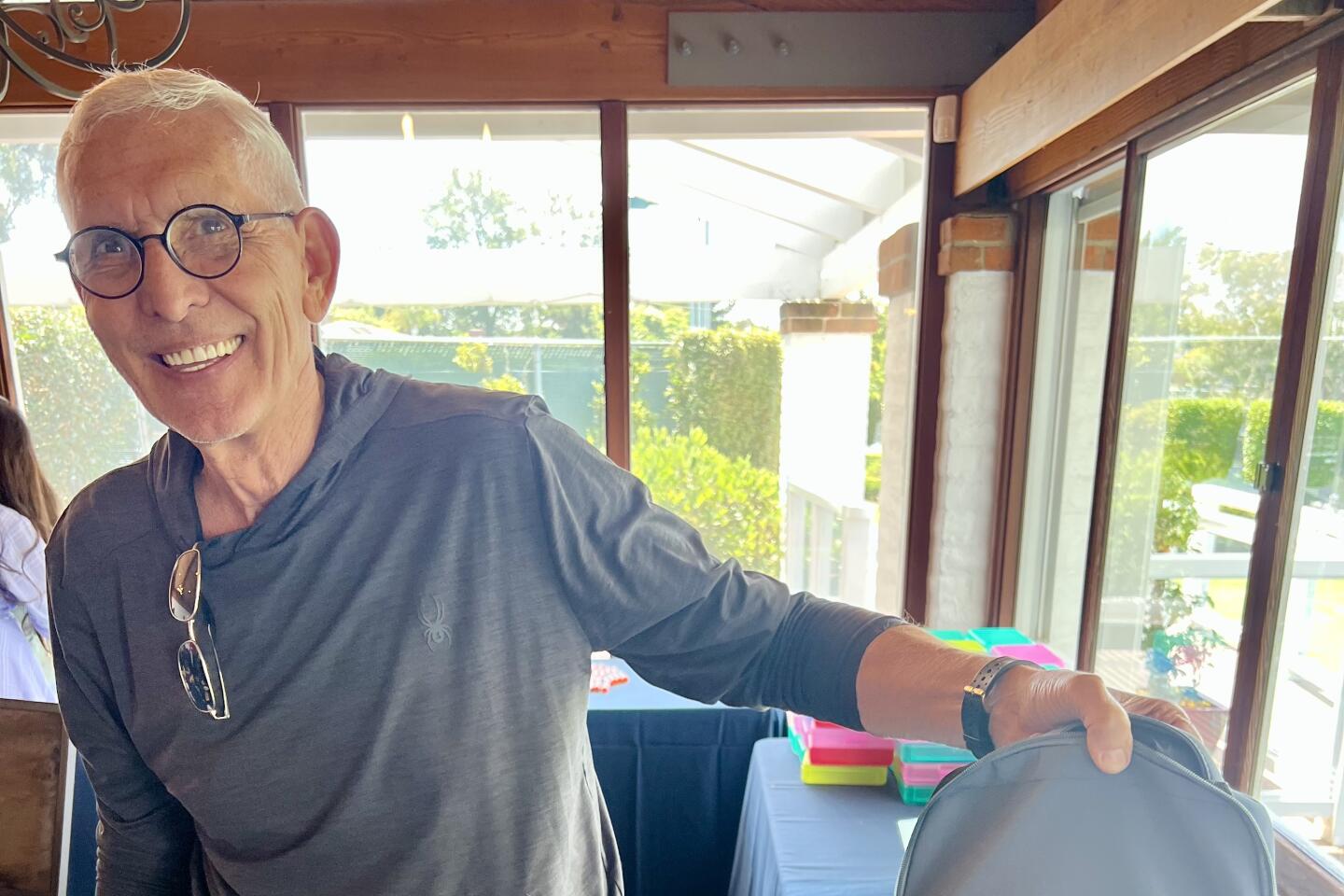 Rotarian Mike Taylor
(Sophia Alsadek)
Rotarians at the assembly line filling backpacks with school supplies.
(Sophia Alsadek)
Rotarian Bob Stefanko showing off his completed backpack.
(Sophia Alsadek)
Rotarians Mary Murray and Sophia Alsadek
(Robin Chappelow)
Rotarians Marina Smith and Mary Murray
(Sophia Alsadek)
Rotarian Richard Chandler with Camp Pendleton Exceptional Family representatives.
(Sophia Alsadek)
Rotary President-elect Chuck Badger, and Rotarians Sophia Alsadek, Keith De Fiore, and Margot Wallace proudly showing off the colorful backpacks.
(Robin Chappelow)
Rotarians Brad Galvan, Amy Scruggs, Mark Potter and Vicki Wiik
(Sophia Alsadek)
Rotarians and Community Outreach Team heads Vicki Wiik, Teri Sweete, and Robin Chappelow
(Sophia Alsadek)
Rotarians Susan Callahan, Nicole Banks, and Cinda Lucas
(Sophia Alsadek)
Gina Rodriguez of Camp Pendleton Exceptional Family Services thanking Rotarians for their annual gift of backpacks for back to school students on base.
(Sophia Alsadek)
Some of the backpacks ready for distribution to Camp Pendleton back-to-school students.
(Sophia Alsadek)
Exceptional Family Member Program (EFMP) at Camp Pendleton assists active duty personnel in providing for the special needs of family members before, during and after relocation required by a change of duty assignment. The program ensures every attempt is made to bring together military careers and special needs students.
Every year, Rancho Santa Fe Rotary provides colorful backpacks filled with essential back-to-school supplies for the children in the EFMP. With budgets already stretched, these essentials for the new school year, provide a welcome gift for 60 elementary children who are headed back to school. The photos on this page were taken at the RSF Rotary Club's July 19 meeting where Rotary members assembled the backpacks and gave them to Camp Pendleton representatives.
Get the RSF Review weekly in your inbox
Latest news from Rancho Santa Fe every Thursday for free
You may occasionally receive promotional content from the Rancho Santa Fe Review.