Patrons of the Prado hosts 2023 Masterpiece Gala "Out of this World"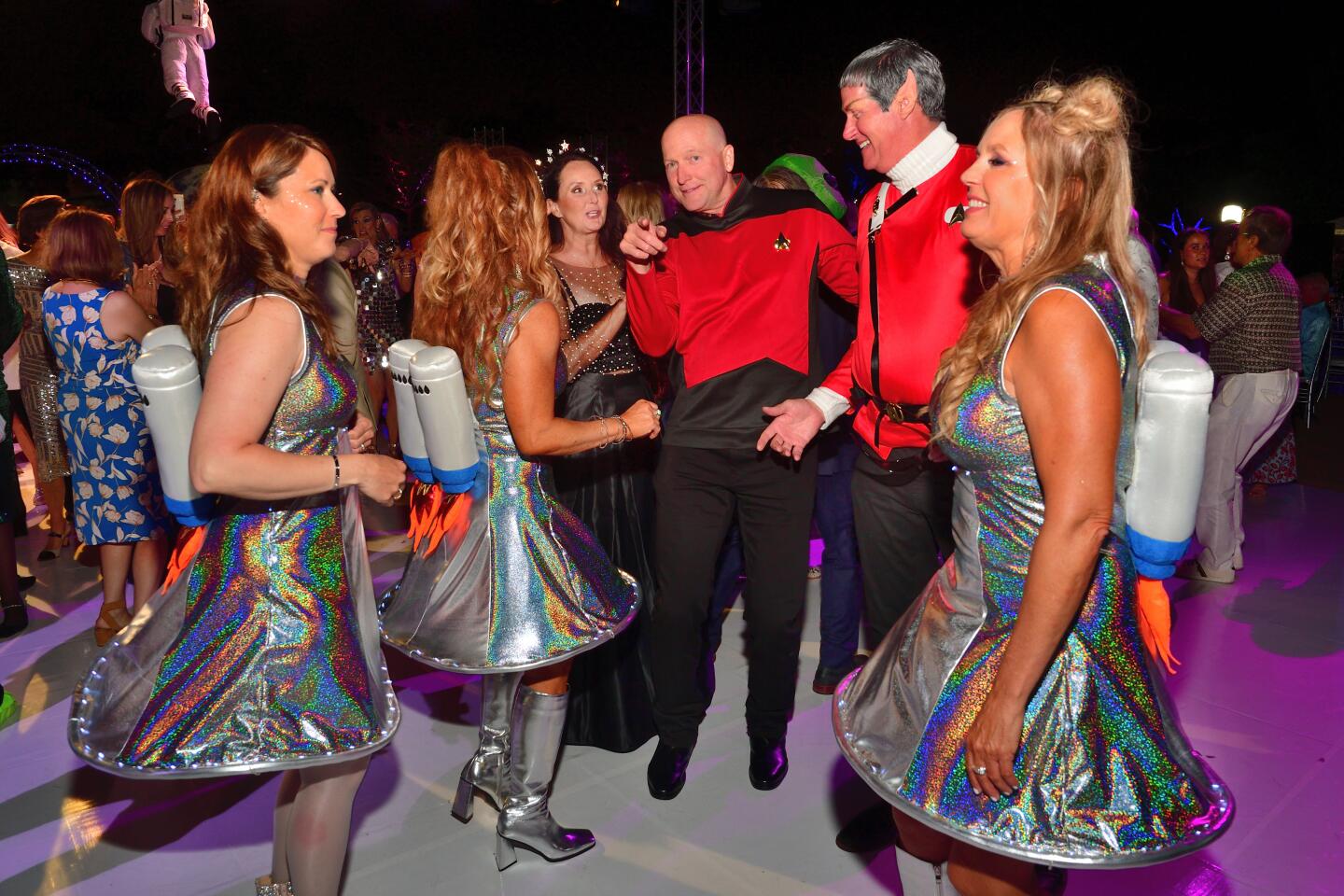 Costumed guests dancing to the music of NRG
(Vincent Andrunas)
Costumed characters at the entrance to the dining area
(Vincent Andrunas)
Bill and Clarice Perkins, Sara and Anthony Napoli
(Vincent Andrunas)
Jim Buchanan, Laura Applegate, Joyce Gattas, Jay Jeffcoat
(Vincent Andrunas)
Barbara Savaglio, Jessica Mariani, Debra Patterson, Amy VanDerheyden, Emily Rex
(Vincent Andrunas)
Linda Howard, Dianne York, Chris and Vicki Eddy
(Vincent Andrunas)
Arlene Esgate, Jean Collins, Megan Pogue (executive director of event beneficiary Timken Museum of Art), Ann Hill, Eowyn Bates (V.P. of event beneficiary S.D. Natural History Museum)
(Vincent Andrunas)
Kristi Jaska (representing ViaSat, 2023 Icon Award honoree), Stephen Whitburn (S.D. City Councilman, District 3), Micki Olin (Icon Award Chair)
(Vincent Andrunas)
Ted and Cici Drummond, Malissa and Frankie Sanfilippo (the ladies will chair the 2024 PoP Masterpiece Gala)
(Vincent Andrunas)
Mauricio Rivillas being abducted by an "alien," as Robin Wilson Carrier looks on amusedly
(Vincent Andrunas)
Costumed guests dancing to the music of NRG
(Vincent Andrunas)
Maria Stanley, Leonard Simpson, Danitza Villanueva, Julia Salman
(Vincent Andrunas)
Mikky Nooney, Jacki Nooney, Wallace Brithinee, Bernadette Belleci
(Vincent Andrunas)
Judge Fred Link and Roxi Link, Adam and Suzi Day, Merridee and Jon Book (all three ladies are gala chairs)
(Vincent Andrunas)
Caroline and Nico Nierenberg
(Vincent Andrunas)
Sonny and Ludvina Nevarez, Tonya Mantooth, Maggie and Bob Watkins
(Vincent Andrunas)
Judge Fred Link, Jeffrey Strauss, Roxi Link
(Vincent Andrunas)
Costumed guests dancing to the music of NRG
(Vincent Andrunas)
Costumed guests dancing to the music of NRG
(Vincent Andrunas)
Brad Benter, Judy White, Jay Sarno, Cindy and Tom Goodman
(Vincent Andrunas)
Dee Ammon, Laura Applegate, Maggie Watkins
(Vincent Andrunas)
Blair and Susan Davey (she's incoming PoP president), Kim and Marco Alessio (she's current PoP president)
(Vincent Andrunas)
Dee Ammon, Mary Powell, Christy Billings, Kristi Pieper
(Vincent Andrunas)
NRG performing on stage
(Vincent Andrunas)
Costumed guests dancing to the music of NRG
(Vincent Andrunas)
Josh and Shannon Stepner, Inez and Ted Thomas, Ellen and Dr. T.K. Bryson
(Vincent Andrunas)
Charlie and Maureen King, Julie Sarno, Sandra and Dr. Jeffry Schafer
(Vincent Andrunas)
Judge Fred Link, Jeffrey Strauss, Roxi Link
(Vincent Andrunas)
NRG performing on stage
(Vincent Andrunas)
Costumed guests dancing to the music of NRG
(Vincent Andrunas)
Costumed characters ready to greet guests arriving in dinner area
(Vincent Andrunas)
Costumed guests dancing to the music of NRG
(Vincent Andrunas)
John and Carrie O'Brien, Barbara and Dr. Bill McColl (at 93, he's oldest living Chicago Bears football player and second-oldest living NFL player)
(Vincent Andrunas)
Patrons of the Prado presented its 2023 Masterpiece Gala "Out of this World" July 8 at Balboa Park's Spreckels Organ Pavilion. The gala celebrated "Balboa Park and those who devote themselves to preserving the Prado as an iconic center for art, theatre, science, and history," according to patronsoftheprado.org.
The event raises funds to benefit 10 educational and cultural centers on the Prado in Balboa Park. The gala featured a dinner created by Jeffrey Strauss of Pamplemousse Grille, a cocktail reception, live auction, dancing with NRG and more. The event was chaired by Merridee Book, Suzi Day, and Roxi Link.
Photos by Vincent Andrunas
Get the RSF Review weekly in your inbox
Latest news from Rancho Santa Fe every Thursday for free
You may occasionally receive promotional content from the Rancho Santa Fe Review.