RSF Rotary celebrates first responders with Appreciation Dinner event
Rotarians who produced the event and served the guests
(Robert_McKenzie)
RSF first responders and incoming RSF Rotary President Roshanak Clune
(Robert_McKenzie)
President Paulette Britton, Tracey and Mike Hernandez, Don Meredith
(Robert_McKenzie)
Event committee members Cindy Wuthrich, Katherine Foster, President Paulette Britton
(Robert_McKenzie)
Mary Murray, Susan Callahan, Roshanak Clune, with first responders
(Robert_McKenzie)
Max Wuthrich, Greg Hillgren, Susan Callahan, Jill King, Retired Patrol Chief Matt Wellhouser
(Robert_McKenzie)
Sydney Foster, Corbin Martinez, Scott Young, Burgen Havens
(Robert_McKenzie)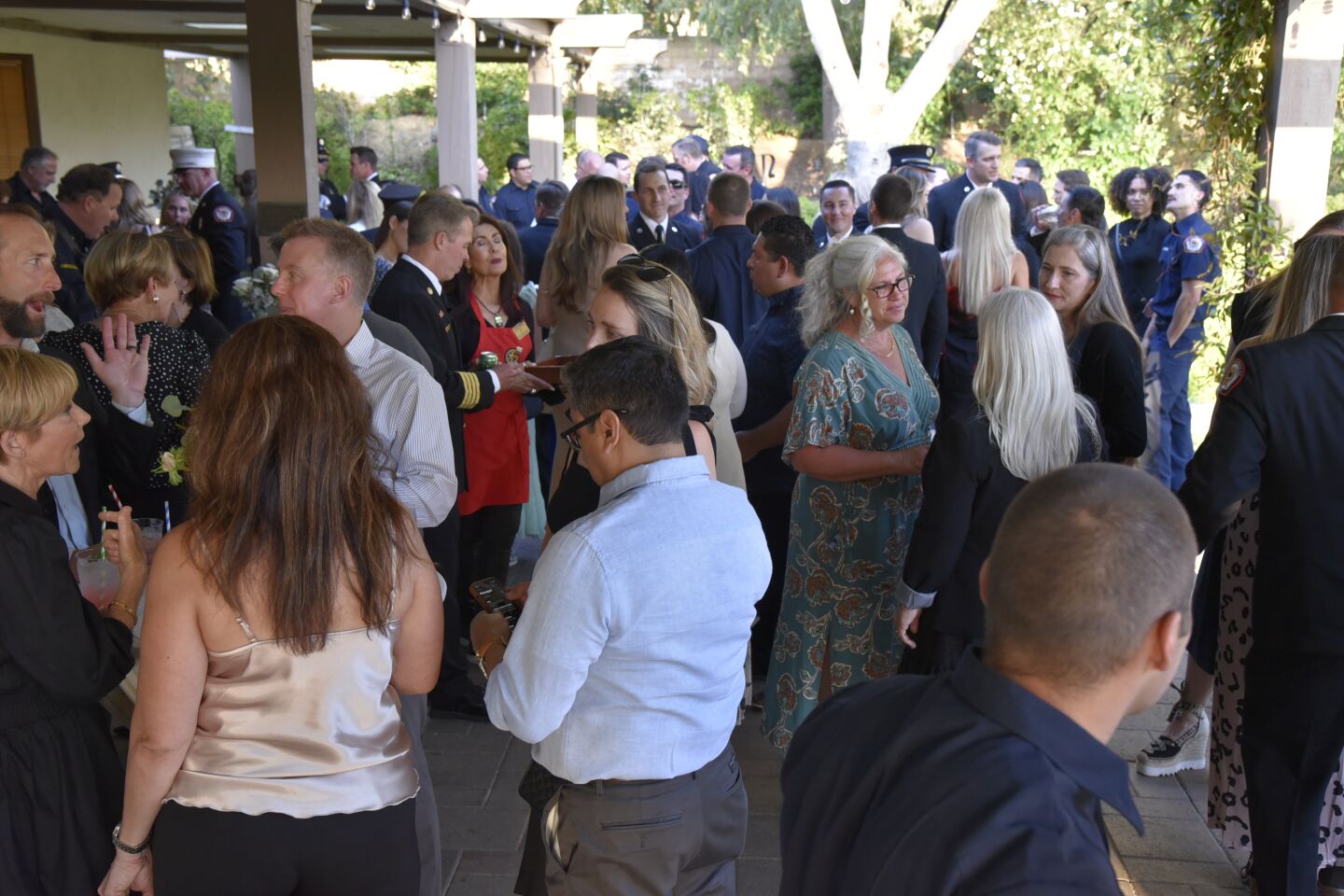 Guests at the event
(Robert_McKenzie)
Captain Craig McVey (right) with guests
(Robert_McKenzie)
Battalion Chief Greg O'Gorman and Rachel O'Gorman, Suzie McVey and Captain Craig McVey
(Robert_McKenzie)
Fire Chief Dave McQuead, RSF Association Manager Christy Whalen
(Robert_McKenzie)
Bartenders Katie Hawkes, Ray Taraz, Social Committee co-chair Sophia Alsadek
(Robert_McKenzie)
Nancy and Greg Hillgren, Bryan and Larissa Petros, Brittany and Kevin Perreira
(Robert_McKenzie)
Tucker and Jennifer Stine, Dawnelle and John Tanner, Jim and Alyce Ashcraft
(Robert_McKenzie)
Stephanie and Nick Archer, Rebecca and Jaime Mercado
(Robert_McKenzie)
RSF Fire Foundation board member Tim Costanzo, Patrol Sgt. Darryl Kimball, RSF Fire Foundation board member Bonnie Baumgartner, RSF Association Manager Christy Whalen
(Robert_McKenzie)
Caleb and Nancy Willis
(Robert_McKenzie)
Amy Wynne, Paula Shaw, Katherine Foster, Robin Chappelow
(Robert_McKenzie)
Danielle 'The Golden Saxophone' Petkova wowed the guests
(Robert_McKenzie)
Rancho Santa Fe Rotary Club members held a First Responders Appreciation Dinner April 21 at the RSF Garden Club's Secret Garden. The event is a chance to thank the many first responders who protect and provide emergency assistance to the Ranch and the greater surrounding area.
The event treated local first responders to an evening out with colleagues, spouses and friends. First responders also took the opportunity to recognize top performers and leaders within their respective departments.
The April event was organized by the RSF Rotary Club and is supported entirely by donations from local businesses and individuals.
Photos by Robert McKenzie
Get the RSF Review weekly in your inbox
Latest news from Rancho Santa Fe every Thursday for free
You may occasionally receive promotional content from the Rancho Santa Fe Review.