32nd Holiday Classic Basketball Tournament
Daniel Greathouse (SFC #13), JJ Bartelloni (TPHS #23)
Dylan Kail (TPHS #2), Drew Bickley (SFC #5)
Drew Bickley (SFC #5), Greyson Mundis (SFC #3), Zach Jackson (TPHS #20), Daniel Greathouse (SFC #13), Brycen MacKenzie (SFC #11), Alex Cabulio (TPHS #4), Jeremy Love (SFC #1)
Dax Hall (SFC #15), Drew Bickley (SFC #5), Drew Konsmo (SFC #31), Zach Jackson (TPHS #20), Max Zylicz (TPHS #10)
Torrey Pines High School vs Santa Fe Christian at the 2022 Holiday Classic. Santa Fe Christian won 65-59
TPHS Head Basketball Coach Jon Olive (left)
Zach Jackson (TPHS #20), Jeremy Love (SFC #1), Greyson Mundis (SFC #3)
Daniel Greathouse (SFC #13), Dax Hall (SFC #15), Zander Ovies (TPHS #5), Max Zylicz (TPHS #10), Drew Konsmo (SFC #31)
Alex Cabulio (TPHS #4), Greyson Mundis (SFC #3)
Matin Madadkar (TPHS #13), Drew Konsmo (SFC #31)
Daniel Greathouse (SFC #13), JJ Bartelloni (TPHS #23), Alex Cabulio (TPHS #4), Greyson Mundis (SFC #3)
JJ Bartelloni (TPHS #23), Drew Konsmo (SFC #31), Greyson Mundis (SFC #3), Zach Jackson (TPHS #20), Cody Shen (TPHS #11), Daniel Greathouse (SFC #13)
Dax Hall (SFC #15), Matin Madadkar (TPHS #13), Drew Konsmo (SFC #31), Zach Jackson (TPHS #20), Daniel Greathouse (SFC #13)
Torrey Pines High School players and coaches
Daniel Greathouse (SFC #13), JJ Bartelloni (TPHS #23), Alex Cabulio (TPHS #4), Greyson Mundis (SFC #3)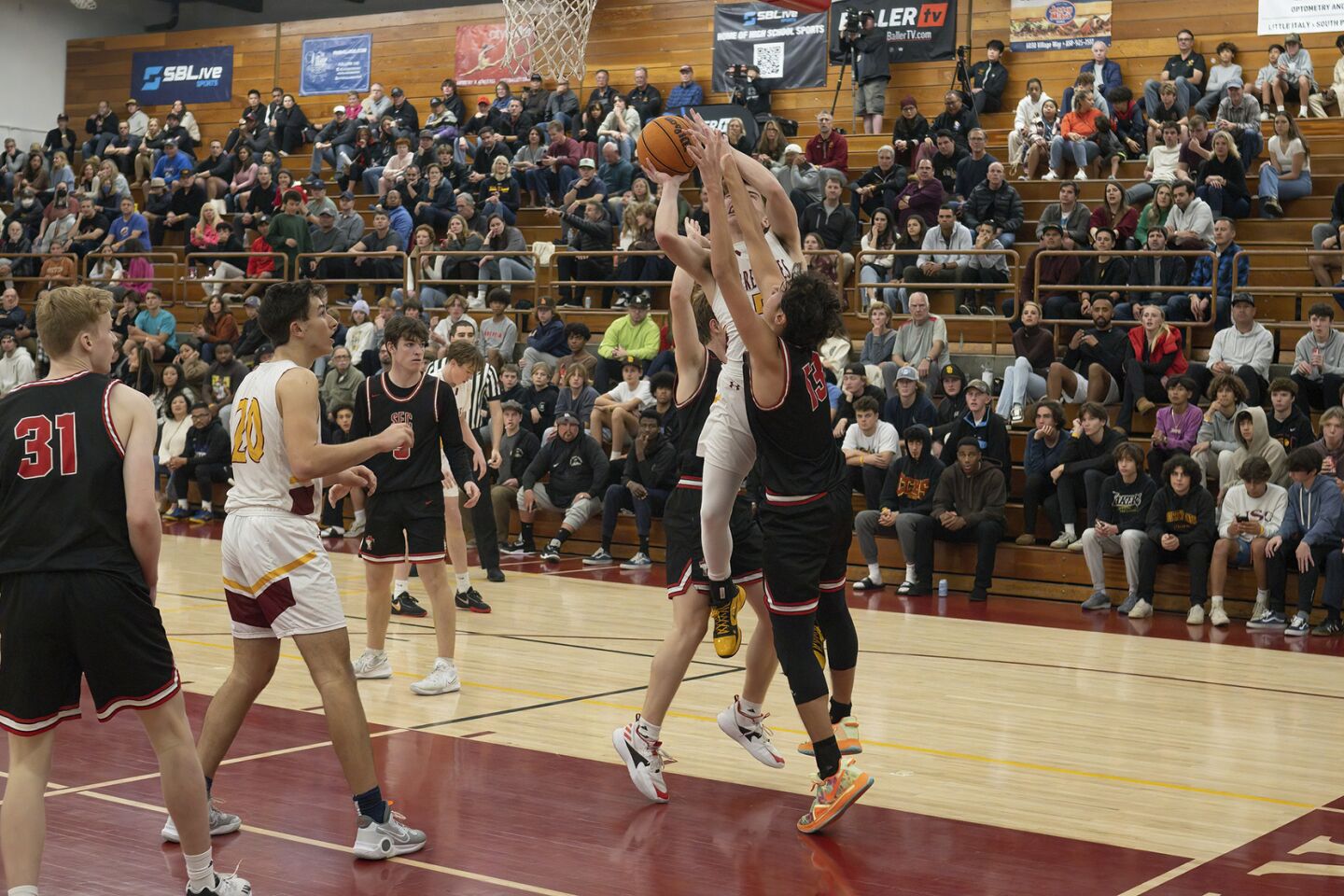 Zander Ovies (TPHS #5) goes up for the shot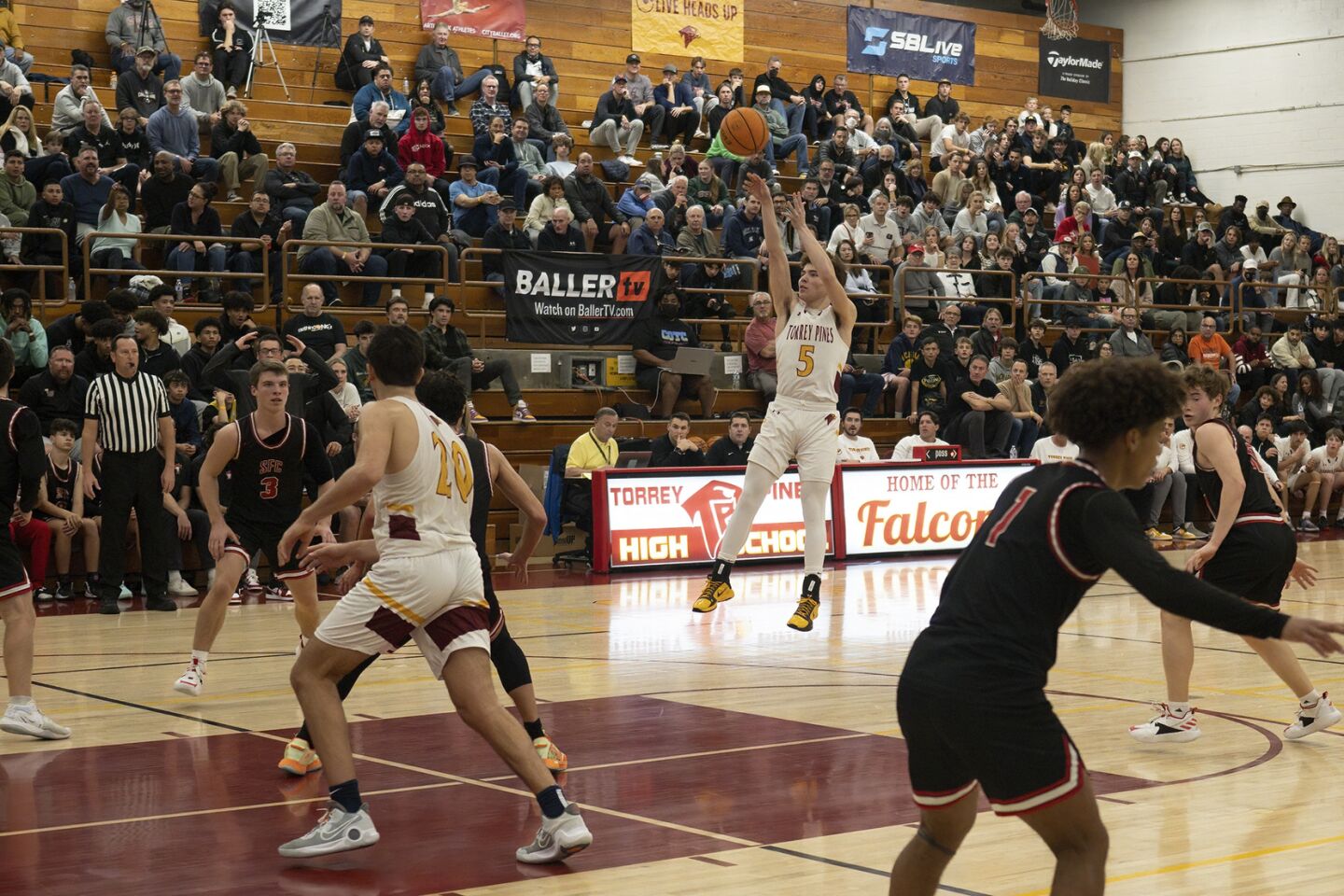 Zander Ovies (TPHS #5) goes up for the shot
Drew Konsmo (SFC #31), Alex Cabulio (TPHS #4), Daniel Greathouse (SFC #13), Zach Jackson (TPHS #20)
Jeremy Love (SFC #1), Greyson Mundis (SFC #3), Daniel Greathouse (SFC #13), Zach Jackson (TPHS #20), JJ Bartelloni (TPHS #23), Drew Bickley (SFC #5)
Torrey Pines High School vs Santa Fe Christian at the 2022 Holiday Classic. Santa Fe Christian won 65-59
Torrey Pines High School vs Santa Fe Christian at the 2022 Holiday Classic. Santa Fe Christian won 65-59
Drew Bickley (SFC #5), Matin Madadkar (TPHS #13)
Daniel Greathouse (SFC #13), Zach Jackson (TPHS #20), Drew Konsmo (SFC #31), Max Zylicz (TPHS #10)
Daniel Greathouse (SFC #13), Dax Hall (SFC #15), Zander Ovies (TPHS #5), Max Zylicz (TPHS #10), Drew Konsmo (SFC #31)
Greyson Mundis (SFC #3), Dax Hall (SFC #15), Alex Cabulio (TPHS #4), Jeremy Love (SFC #1), Daniel Greathouse (SFC #13), Drew Bickley (SFC #5)
Dylan Kail (TPHS #2), Greyson Mundis (SFC #3), Daniel Greathouse (SFC #13), Zach Jackson (TPHS #20) with the ball, Drew Bickley (SFC #5), JJ Bartelloni (TPHS #23), Brycen MacKenzie (SFC #11)
Alex Cabulio (TPHS #4), Zach Jackson (TPHS #20), Daniel Greathouse (SFC #13), Dylan Kail (TPHS #2), Drew Bickley (SFC #5)
Greyson Mundis (SFC #3), Zach Jackson (TPHS #20), Cody Shen (TPHS #11), Daniel Greathouse (SFC #13), Alex Cabulio (TPHS #4)
(jon clark)
Daniel Greathouse (SFC #13), Zach Jackson (TPHS #20), Alex Cabulio (TPHS #4), Brycen MacKenzie (SFC #11), Dax Hall (SFC #15), Greyson Mundis (SFC #3)
Drew Bickley (SFC #5) takes the shot
(jon clark)
Santa Fe Christian and Torrey Pines players fight for possession in a game that SFC won 65-59
(jon clark)
Jeremy Love (SFC #1) and Alex Cabulio (TPHS #4) at the net
(jon clark)
Brycen MacKenzie (SFC #11), Alex Cabulio (TPHS #4), Drew Bickley (SFC #5)
(jon clark)
Torrey Pines High School vs Santa Fe Christian at the 2022 Holiday Classic. Santa Fe Christian won 65-59
(jon clark)
The Santa Fe Christian bench and fans
(jon clark)
Brycen MacKenzie (SFC #11) and Alex Cabulio (TPHS #4)
(jon clark)
Jeremy Love (SFC #1) on defense against JJ Bartelloni (TPHS #23)
(jon clark)
Greyson Mundis (SFC #3) and Cody Shen (TPHS #11)
(jon clark)
The popular Holiday Classic basketball tournament took place Dec. 27-Dec. 30 this year. The 80-team, 55-city, 10-state high school tournament was held at five sites: Torrey Pines (National Division), St. Augustine (American), Carlsbad (Senator's), Santa Fe Christian (Governor's) and Rancho Buena Vista (Mayor's). John Olive returned again as the tournament director for The Holiday Classic. The event also featured a "Tip-Off Night" on Dec. 23 at Torrey Pines, with the following games: Carlsbad vs. Mission Bay; Torrey Pines vs. Santa Fe Christian; and San Ysidro vs. La Costa Canyon. Photos from the Torrey Pines vs. Santa Fe Christian game are on this page. (This paper went to press on the first day of the tournament, Dec. 27.) Visit Theholidayclassic.org.
Photos by Jon Clark
Get the RSF Review weekly in your inbox
Latest news from Rancho Santa Fe every Thursday for free
You may occasionally receive promotional content from the Rancho Santa Fe Review.