RSF 41st Annual 4th of July Parade & Picnic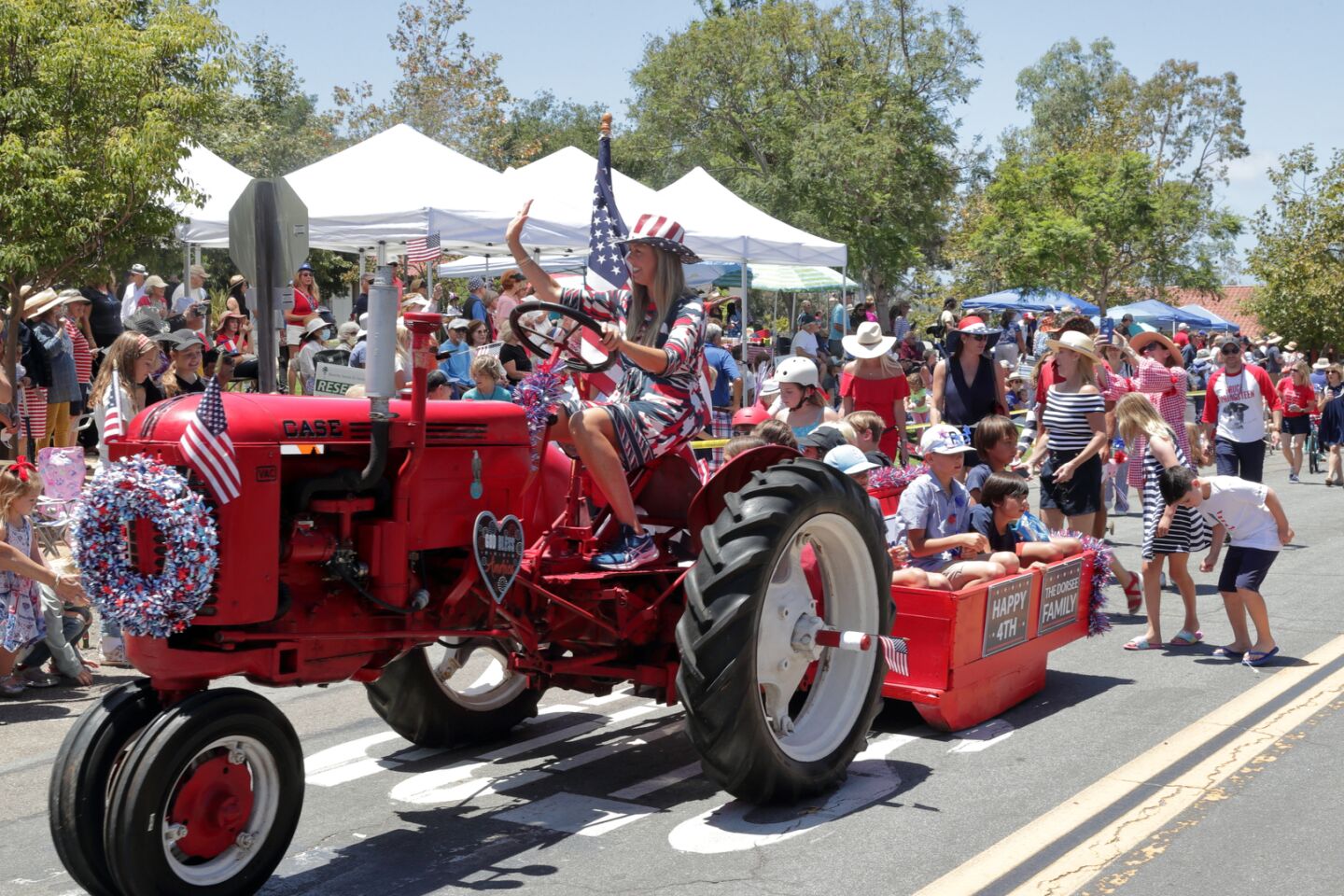 Debbie Dorsee drives her family's 1946 Case Tractor
(Jon Clark)
County Supervisor Terra Lawson-Remer
Supporters of Kristie Bruce-Lane for State Assembly
David Chandroo from the Harmony Grove Band sang the National Anthem
Members of the RSF Fire District
(jon clark)
The RSF Rotary Club
(jon clark)
MOKE electric vehicle in the RSF 4th of July parade
(jon clark)
A vintage fire truck from the RSF Fire District
(jon clark)
The Grand Marshal of this year's parade was Matt Wellhouser, former RSF Patrol Chief
(jon clark)
Rancho Santa Fe 4th of July Parade 2022
(jon clark)
Jack and Karolyn Dorsee with their grandson David
(jon clark)
Rancho Santa Fe 4th of July Parade 2022
(jon clark)
Peter and Travis Mossy
(jon clark)
Sophia Smith, Kyle Berger, Brody Leonard, Hudson Smith
(jon clark)
Rancho Santa Fe 4th of July Parade 2022
(jon clark)
Rancho Santa Fe 4th of July Parade 2022
(jon clark)
County Supervisor Terra Lawson-Remer
(jon clark)
Brooklyn and Olivia Beltran
(jon clark)
Jim and Melissa in their MOKE electric vehicle
(jon clark)
94-year-old WWII Navy Airman Veteran Russell Loftman and Kathleen Loftman rode in the parade with the De Anza Chapter DAR
(jon clark)
The two parade princesses
(jon clark)
Desmond and Oliver Wheatley rode in the parade with a made-in-America Rivian electric pickup truck and an electric motorcycle
(jon clark)
Gary Bobileff brought his fire truck to the parade
(jon clark)
Rancho Santa Fe 4th of July Parade 2022
(jon clark)
Rancho Santa Fe 4th of July Parade 2022
(jon clark)
Rancho Santa Fe 4th of July Parade 2022
(jon clark)
Rancho Santa Fe 4th of July Parade 2022
(jon clark)
Rancho Santa Fe 4th of July Parade 2022
(jon clark)
Rancho Santa Fe 4th of July Parade 2022
(jon clark)
Super fundraisers Samantha Chaconas and Sloan Harris rode in the back seat of the Honor Flight parade car
(jon clark)
Maggie and Gary Bobileff with their dog Laika
(jon clark)
102-year-old WWII Navy Wave Veteran Ruth Gunther shares some time with two young ladies who collected over $10,000 for the Honor Flight organization (Sloan Harris and Samantha Chaconas)
(jon clark)
Madahlia Taylor, William McMullen, William Pugmire, Grace Williams, Vearl Smith, Norma Wiberg, Steven King, Austin Powell
(jon clark)
Duke and Greg Wormmeester
(jon clark)
Oliver Wheatley on an all-electric motorcycle
(jon clark)
Gretchen Kelly and Linda Unrue represented the De Anza Chapter of DAR
(jon clark)
Caroline Mullen, Nick Dieterich, CPT Bill Haynor, and SSGT Jerry Beckwith ride in the Patriots Aware car
(jon clark)
WWII Veterans Ruth Gunther and Russell Loftman were special guests of the De Anza Chapter DAR
(jon clark)
The Harmony Grove Band
(jon clark)
Kelli and Caleb Hensle
(jon clark)
Lincoln Bitterlin, Lyla Lheureux, Hendrik Bitterlin
(jon clark)
Duke Miller, Bode Miller, Frankie Wormmeester
(jon clark)
Jennifer Nelson and Bob Stefanko
(jon clark)
Community members celebrated Independence Day July 4 at Rancho Santa Fe's 41st Annual 4th of July Parade & Picnic. The parade and activities included vintage cars, equestrians, fire trucks, parade princesses, floats, Color Guard, golf carts, decorated bikes and scooters, and more. The event also featured a picnic lunch by the RSF Golf Club to benefit the RSF Community Center, free ice cream from The Inn, music by the Harmony Grove Band, and more. The event was sponsored by the RSF Association, RSF Golf Club, RSF Community Center and RSF Polo Club.
Photos by Jon Clark
Get the RSF Review weekly in your inbox
Latest news from Rancho Santa Fe every Thursday for free
You may occasionally receive promotional content from the Rancho Santa Fe Review.