Chabad Jewish Center of RSF celebrates new Chabad RSF Zekelman Torah
The Lipman family inscribes a letter in the Torah with Yosef Teitelbaum
Alan Zekelman, Zalman Shneur, Yosef Teitelbaum
Ilana and Samuel Karp with Yosef Teitelbaum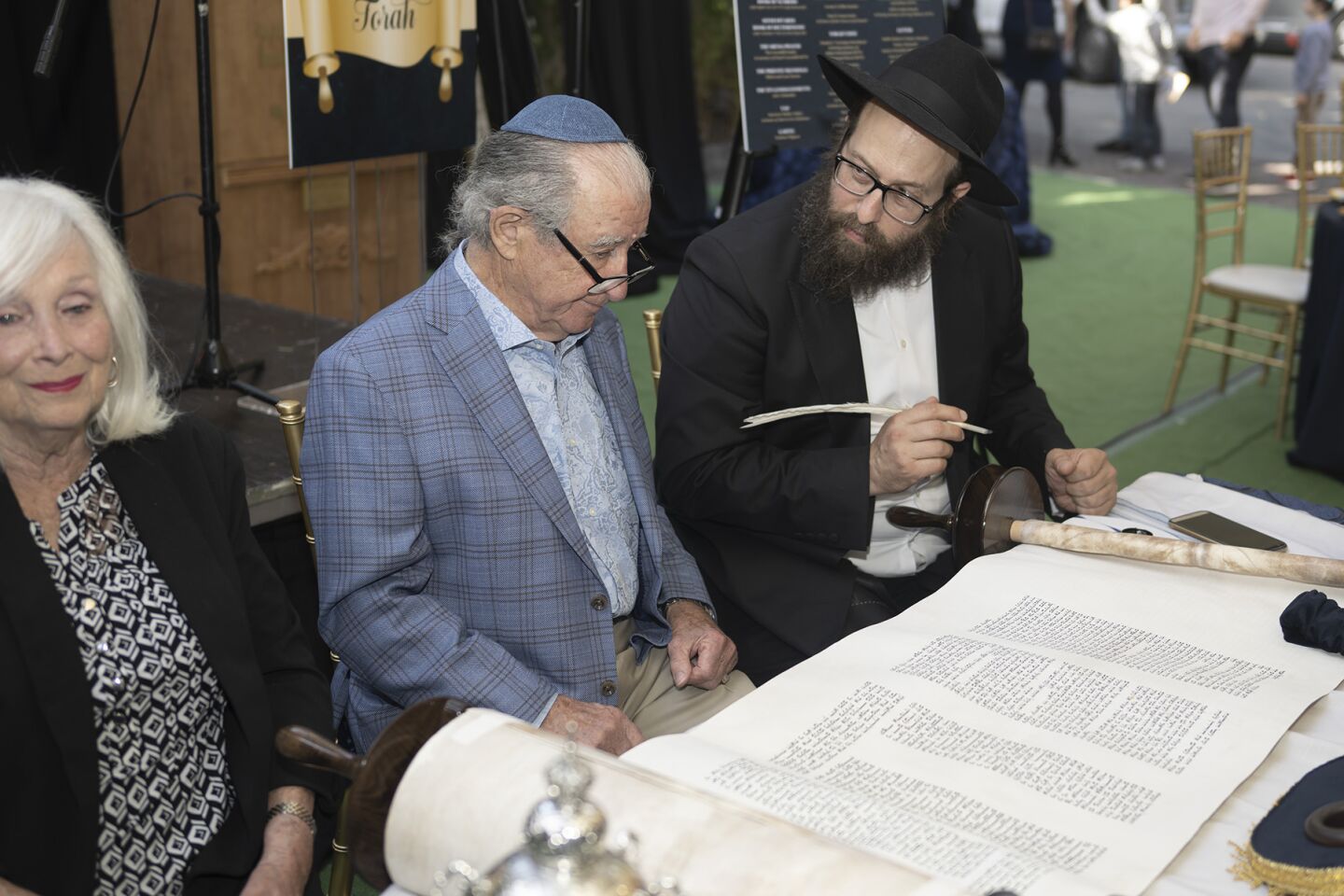 Shirley and Marvin Talsky, Yosef Teitelbaum
Shirley Talsky, Lori Zekelman, Yosef Teitelbaum
The stage is set for the Zekelman Torah Celebration
Alan Zekelman, Zalman Shneur, Yosef Teitelbaum
Veronique and Claude Benchimol inscribe a letter in the Torah with Yosef Teitelbaum
Festive food for the Zekelman Torah Celebration
Ilana and Samuel Karp with Yosef Teitelbaum
The Yudenfreund family inscribes a letter in the Torah with Yosef Teitelbaum
Veronique and Claude Benchimol, Yosef Teitelbaum
Samuel Karp inscribes a letter in the Torah with Yosef Teitelbaum
Esther Azera, Joanne Laverson, Yosef Teitelbaum
Zalman Shneur, Edward Mirsky
Aaron Raskin, Edward Mirsky, Alan Zekelman, Rabbi Levi Raskin
Ilana and Samuel Karp with Yosef Teitelbaum
Festive table decoration for the Zekelman Torah Celebration
Devorah Raskin, Rochie Tiefenbrum
Aaron Raskin, Edward Mirsky, Alan Zekelman
Devorah Raskin, Rochie Tiefenbrum
Festive food for the Zekelman Torah Celebration
Rabbi Levi Raskin, Rabbi Baruch Greenberg
Stan Caplan, Karen and Michael Regal
Rabbi Yossi Tiefenbrun, Avi Hanono
Back row: Marvin Talsky, Alan Zekelman, Rabbi Levi Raskin, Devorah Raskin; Front row: Shirley Talsky, Lori Zekelman, Yosef Teitelbaum
Karen and Michael Regal, Mitch Simon
Samuel Karp, Alan Sheinkopf
Samuel Karp, Alan Sheinkopf
Rabbi Levi Raskin with honoree Alan Zekelman
Trudy Schneider, Ruth Tumini, Linda Church
Esther Azera, Joanne Laverson
Rabbi Levi Raskin, Jerry Schneider
The Lipman family with Yosef Teitelbaum
On Wednesday, June 1, an extra spiritual energy was felt on the Ranch as Chabad Jewish Center of RSF welcomed its brand new Chabad RSF Zekelman Torah.
Underwritten by Alan and Lori Zekelman in honor of Alan's parents Harry and Wanda of blessed memory, the Torah was commissioned and handwritten by a prominent scribe a year prior. The final letters were inscribed by all who participated in the dedication. The celebratory event included Chassidic singing sensation Avraham Fried, a gourmet buffet dinner, hand-rolled ice cream, an open bar and energetic dancing. The new torah was welcomed by the existing torahs, young and old joined in dancing as the Zekelman Torah was led under the chuppah canopy, and paraded up the hill.
Chabad Jewish Center of RSF thanks Alan and Lori Zekelman and each of the many community members who contributed in the writing of this torah. May this new Torah bring blessing to the entire community. To learn more about the RSF Jewish Community and future events email info@jewishrsf.com
Photos by Jon Clark
Get the RSF Review weekly in your inbox
Latest news from Rancho Santa Fe every Thursday for free
You may occasionally receive promotional content from the Rancho Santa Fe Review.