2022 La Jolla Concours d'Elegance enthralls thousands
Brooke Wix, Roxy Raban, Larry Davis, Dorian Ulmer, Sam Holty
(Vincent Andrunas)
Andrew and Nicole Chang, Beth Zeiler and Jamel Daniels
(Vincent Andrunas)
Amber Anderson, Kathryn Murphy
(Vincent Andrunas)
Robin Miller, 1908 Bugatti Type 10 (the first Bugatti built!), from the William Lyon Family car collection
(Vincent Andrunas)
Richard Adams (owner of the 1930 Type 46 Bugatti), Michael Adams (car restorer), Shawn Styles, Michael Morgan
(Vincent Andrunas)
2022 Best in Show winner: 1931 Bugatti Type 51 Louis Dubos Coupe (from the Nethercutt Collection)
(Vincent Andrunas)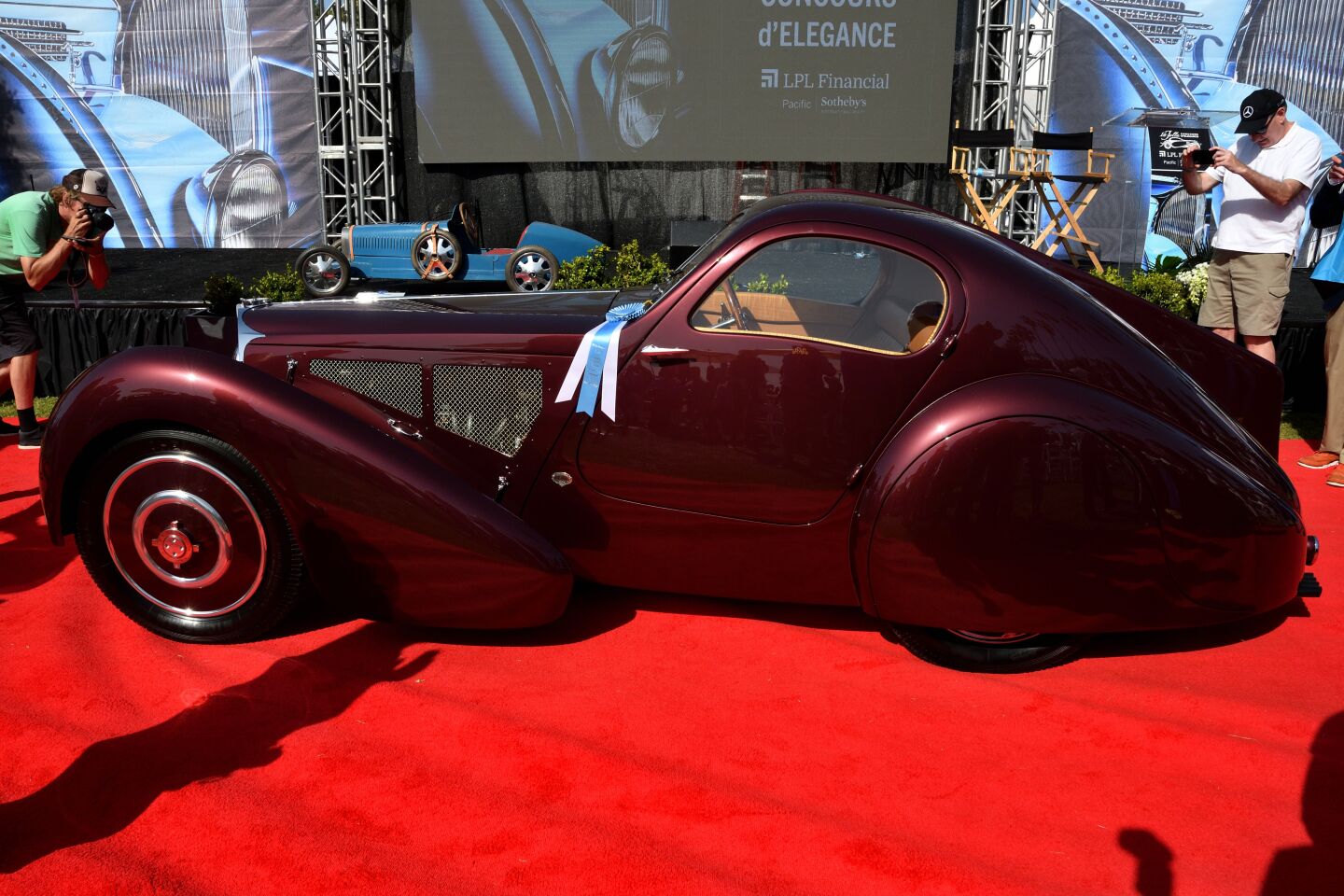 2022 Best in Show winner: 1931 Bugatti Type 51 Louis Dubos Coupe (from the Nethercutt Collection)
(Vincent Andrunas)
Bruce and Gail Bailey
(Vincent Andrunas)
Alan Yamanishi, Irene Pflaum, Patricia Flores
(Vincent Andrunas)
Ferrari F50
(Vincent Andrunas)
Cristina Vega, Stephen Rutter (with a 1931 Bugatti Type 40A Roadster)
(Vincent Andrunas)
Ivanoska Stewart
(Vincent Andrunas)
Peter and Erin Price, Jennifer and Bill Morrissey
(Vincent Andrunas)
Bridget Ramey, Brandon White
(Vincent Andrunas)
Trophies awaiting their winners
(Vincent Andrunas)
Two friends pose with a 1936 Packard 1404 Convertible Coupe
(Vincent Andrunas)
Dustin Sadler, Cassie Maynard, Chase Stanley, Donna Medrea, Todd Lempert
(Vincent Andrunas)
Roy Sayles, Cheryl Pontes-with 1931 Bianchi S8 (the only convertible of this model ever made)
(Vincent Andrunas)
Erik Bjontegard, Courtney Kobey (with a 1936 Delahaye 135 Competition Disappearing Top Convertible)
(Vincent Andrunas)
Derek Van Woelderen, Vicki Zeiger, Brent Amerman
(Vincent Andrunas)
Laurie Morton, Cheryl Milana
(Vincent Andrunas)
Katie and Patrick Scruggs, Peter and Judy Corrente
(Vincent Andrunas)
One of the newest Bugattis
(Vincent Andrunas)
The new Ferrari Monza SP1
(Vincent Andrunas)
Scott Mires, Casandra Early, Snezana Nesic, Louis Blum
(Vincent Andrunas)
Rose Dweck, Jordan Cleary, Robert Levy (with a 1926 Bugatti Type 38 Roadster)
(Vincent Andrunas)
Michael Dorvillier (La Jolla Concours chairman), Addison Simmons, Tracy Hoogenberg
(Vincent Andrunas)
Robin Miller, 1908 Bugatti Type 10 (the first Bugatti built!), from the William Lyon Family car collection
(Vincent Andrunas)
Roger Sullivan, Wil and Janine Killmer, Troy Kennedy
(Vincent Andrunas)
Richard Adams (owner of the 1930 Type 46 Bugatti), Michael Adams (car restorer), Shawn Styles, Michael Morgan
(Vincent Andrunas)
Cristina Vega, Stephen Rutter (with a 1931 Bugatti Type 40A Roadster)
(Vincent Andrunas)
Lori Yocum, Jessica Yocum
(Vincent Andrunas)
Alan Yamanishi, Irene Pflaum, Patricia Flores
(Vincent Andrunas)
Logan Byrnes, Frank Grannis, Kim Kelly, Francesca Fabiani, Kiley Wallace
(Vincent Andrunas)
Roger Sullivan, Wil and Janine Killmer, Troy Kennedy
(Vincent Andrunas)
Andrew and Nicole Chang, Beth Zeiler and Jamel Daniels
(Vincent Andrunas)
Amber Anderson, Kathryn Murphy
(Vincent Andrunas)
Peter and Erin Price, Jennifer and Bill Morrissey
(Vincent Andrunas)
Scott Mires, Casandra Early, Snezana Nesic, Louis Blum
(Vincent Andrunas)
Trophies awaiting their winners
(Vincent Andrunas)
Jennifer Thompson, Melissa Danekas
(Vincent Andrunas)
Katie and Patrick Scruggs, Peter and Judy Corrente
(Vincent Andrunas)
Bridget Ramey, Brandon White
(Vincent Andrunas)
One of the newest Bugattis
(Vincent Andrunas)
Erik Bjontegard, Courtney Kobey (with a 1936 Delahaye 135 Competition Disappearing Top Convertible)
(Vincent Andrunas)
Rose Dweck, Jordan Cleary, Robert Levy (with a 1926 Bugatti Type 38 Roadster)
(Vincent Andrunas)
Derek Van Woelderen, Vicki Zeiger, Brent Amerman
(Vincent Andrunas)
Logan Byrnes, Frank Grannis, Kim Kelly, Francesca Fabiani, Kiley Wallace
(Vincent Andrunas)
Dustin Sadler, Cassie Maynard, Chase Stanley, Donna Medrea, Todd Lempert
(Vincent Andrunas)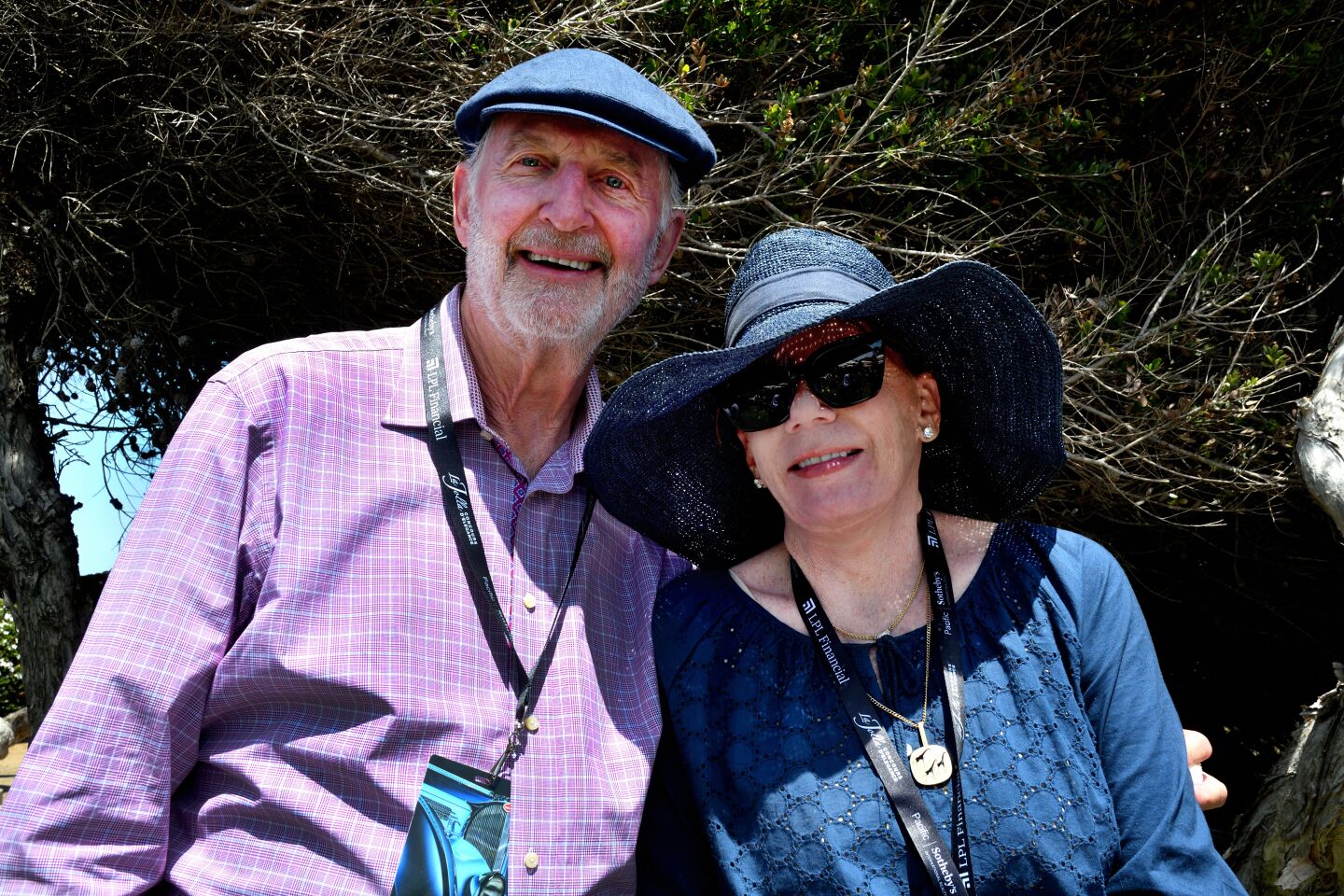 Bruce and Gail Bailey
(Vincent Andrunas)
Michael Dorvillier (La Jolla Concours chairman), Addison Simmons, Tracy Hoogenberg
(Vincent Andrunas)
Laurie Morton, Cheryl Milana
(Vincent Andrunas)
Dr. Perry and Judith Mansfield, Leslie Gallo, David Young
(Vincent Andrunas)
Robin Miller, 1908 Bugatti Type 10 (the first Bugatti built!), from the William Lyon Family car collection
(Vincent Andrunas)
Two friends pose with a 1936 Packard 1404 Convertible Coupe
(Vincent Andrunas)
Brooke Wix, Roxy Raban, Larry Davis, Dorian Ulmer, Sam Holty
(Vincent Andrunas)
Chance and Melanie Balwin, Judi Ruocco, Robert Fudge
(Vincent Andrunas)
Roy Sayles, Cheryl Pontes-with 1931 Bianchi S8 (the only convertible of this model ever made)
(Vincent Andrunas)
Robin Miller, 1908 Bugatti Type 10 (the first Bugatti built!), from the William Lyon Family car collection
(Vincent Andrunas)
Chance and Melanie Balwin, Judi Ruocco, Robert Fudge
(Vincent Andrunas)
Ferrari F50
(Vincent Andrunas)
Ivanoska Stewart
(Vincent Andrunas)
Dr. Perry and Judith Mansfield, Leslie Gallo, David Young
(Vincent Andrunas)
Jennifer Thompson, Melissa Danekas
(Vincent Andrunas)
Car lovers from near and far converged on Ellen Browning Scripps Park on April 24 for the 16th Annual La Jolla Concours d'Elegance. Auto aficianados came to socialize and be seen—but mainly to marvel at the beauty of nearly 150 stunning, fully-restored examples of some of the finest automobiles in the world (and some classic motorcycles). This year, the "featured marque" was Bugatti, and the "celebrated marque" was the Mercedes-Benz 300SL "Gullwing" Coupe, but there were numerous other brands and models, many quite rare, and all lovingly restored to virtual perfection. Other Concours attractions included fly-bys of unique and historic aircraft and a VIP garden with numerous food booths and bars.
Get the RSF Review weekly in your inbox
Latest news from Rancho Santa Fe every Thursday for free
You may occasionally receive promotional content from the Rancho Santa Fe Review.