San Diego Nice Guys honors Jon and Dee Ammon at gala
David Fischer, Elena Sahagun, Corlos and Rita Moreno, Yvonne Caravella, Patrick Reid
(Vincent Andrunas)
Rodger and De Anna Dougherty, Audrey and Robert Patterson (he's Nice Guys treasurer and soon-to-be 2nd VP)
(Vincent Andrunas)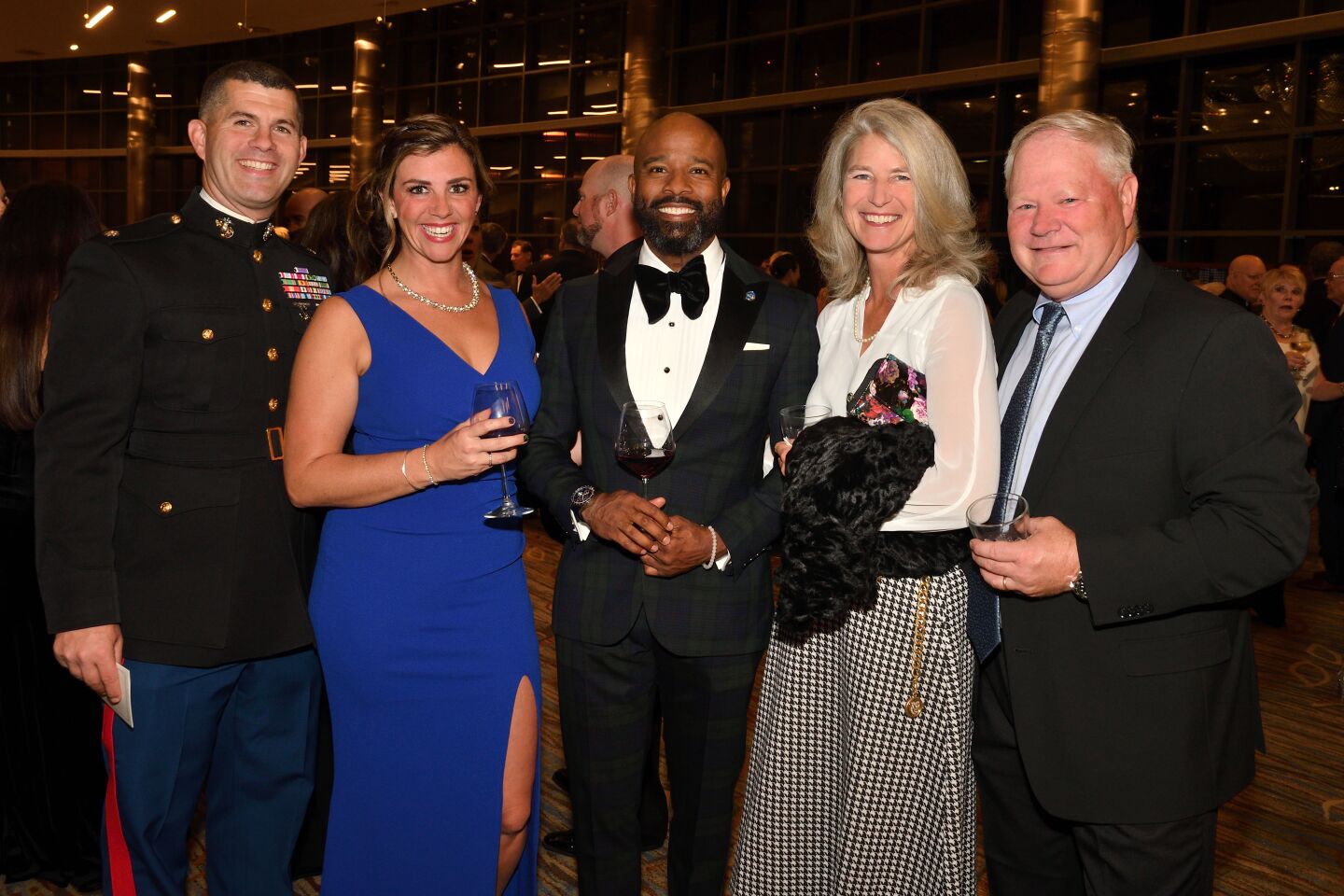 Joe Buffamante (Lt. Col., USMC) and Lindsey Buffamante, Anthony Glenn II, Molly and Mike Williamson
(Vincent Andrunas)
John and Wanda Brooks, Frank and Nancy McDermott, Patti Mical, Tony Collura
(Vincent Andrunas)
The Marine Corps Band leaves the stage
(Vincent Andrunas)
Landon Delgadillo, Bill Navrides, Susan and Cliff Clifford
(Vincent Andrunas)
Lynne Harper, Joe Harper
(Vincent Andrunas)
The Marine Corps Band
(Vincent Andrunas)
Nayda Locke, Rosalie Gerevas, Carol Sciotto, Jan Reital
(Vincent Andrunas)
Randy Lenac, Rhonda James, Joanne and Scott Evans
(Vincent Andrunas)
Quentin Smith, Maria Rowe, Jim and Nancy Di Luca, Suzann and Archie Kuehn
(Vincent Andrunas)
Sabrina Covington, Ron Blair, Debbie Carlson, Betty Blair
(Vincent Andrunas)
Diane Christensen, Cynthia McCulloch, Pamela Lennen, Vicky Eddy
(Vincent Andrunas)
Lynne Harper, Joe Harper
(Vincent Andrunas)
Jon and Dee Ammon (first couple to be honored as "Nice Guy of the Year"), John and Billie McAvoy (he's event chair), Katie and David Walters (Nice Guys president)
(Vincent Andrunas)
Billy Ray Smith and Kimberly Hunt (she's event emcee), Kristy and Steve Gregg
(Vincent Andrunas)
Steve Barrow, Mimi Creedon, Marissa Feliciano, Anthony Glenn II
(Vincent Andrunas)
Rupert and Michele Linley, Nancy Hamzey, Zach Zacharias
(Vincent Andrunas)
Judy Burer, Connie and Phil Conard, Cheryl Mitchell
(Vincent Andrunas)
Adam and Suzi Day, Barbie and Dan Spinazzola
(Vincent Andrunas)
Eric Ramirez (Sgt. Major, USMC), Mike Reyes (1st Sgt., USMC) and Sonya Reyes, Elsa and Mark O'Loughlin, Mark O'Loughlin II
(Vincent Andrunas)
Brad and Gigi Benter, David Mulvaney, Kristi Pieper, Judy White, Robert Stromme
(Vincent Andrunas)
Brian Boswell and Lynne Krepak (event co-chair), Mara Morrison (event co-chair), Ted Alexander
(Vincent Andrunas)
Skip Sorensen, Connie Rock, Beth and Tony Morgante, Sandy Redman
(Vincent Andrunas)
Merv and Michelle Morris, Jody and Larry Bangert
(Vincent Andrunas)
Jeffrey and Rosemary Schreiber, Lynn Cihak, Ken Fisher
(Vincent Andrunas)
The San Diego Nice Guys, a local nonprofit, honored Jon and Dee Ammon at its 41st annual major fundraising gala held at the Marriott Marquis in downtown San Diego on Oct. 23. Each year, the Nice Guys recognize local community leaders who have given their time, money and support to help San Diegans improve their lives.
The Nice Guy of the Year event is also a fundraiser for Nice Guys charities. This year, at the request of the Ammons, part of the funds raised will go to the new Sharp HospiceCare MountainView Hospice Home in Poway, The Salvation Army Homeless Services in San Diego and the Patrons of the Prado's Bucks4Buses Fund for underserved youth. The remainder of the funds will be used for individual San Diegans who need a "one time" helping hand up to get their lives back on track.
Founded in 1979, San Diego Nice Guys is an all-volunteer nonprofit 501(c)3 organization of more than 150 men and women, with no paid staff. All Nice Guys operating costs are paid by its members. For more information, visit www.sdniceguys.com.
Photos by Vincent Andrunas
Get the RSF Review weekly in your inbox
Latest news from Rancho Santa Fe every Thursday for free
You may occasionally receive promotional content from the Rancho Santa Fe Review.