Rowe School hosts FIRST Tech Challenge robotics competition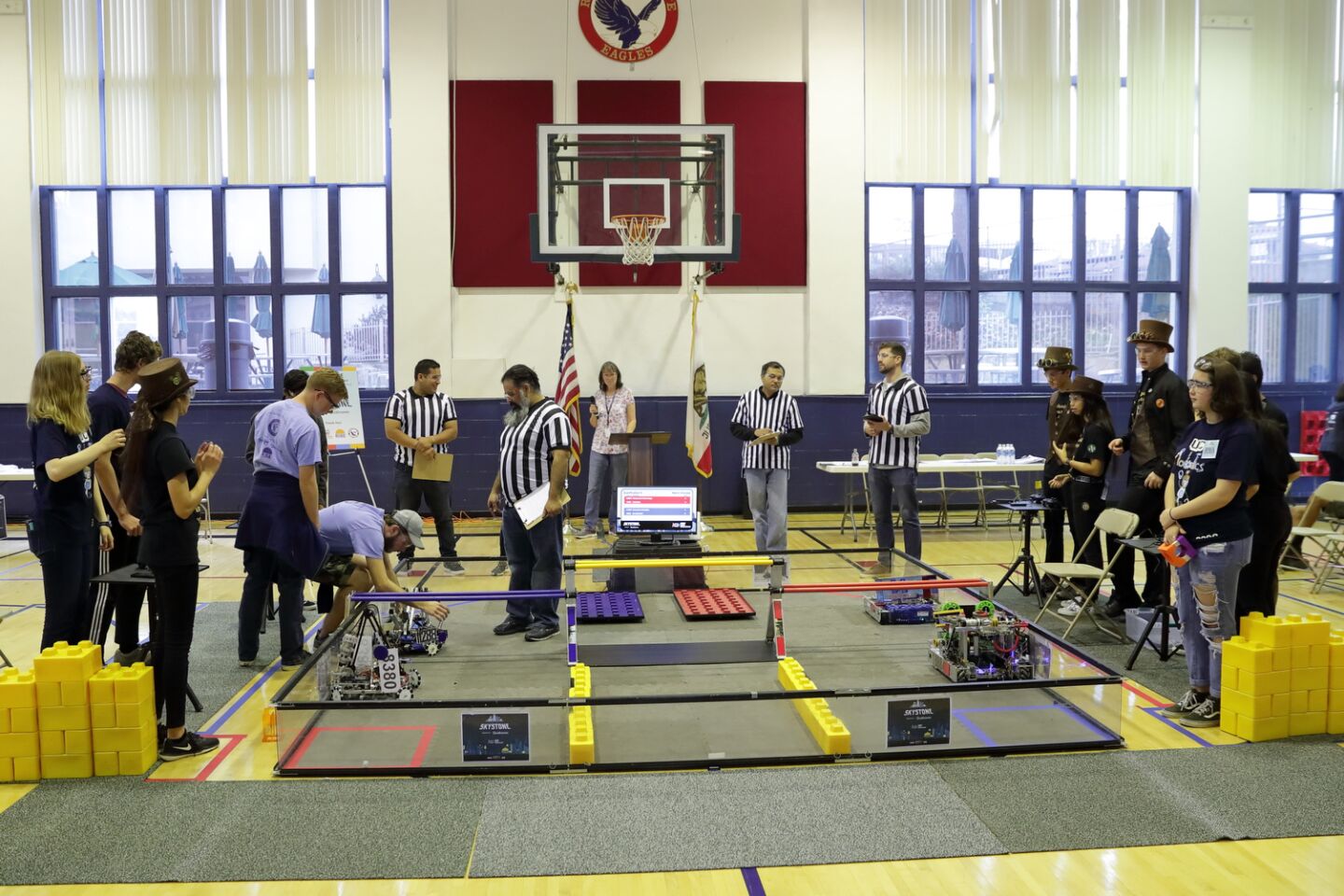 Competition at the FIRST Tech Challenge Robotics event
(Jon Clark)
Competition at the FIRST Tech Challenge Robotics event
(Jon Clark)
Team UC Robotics from University City and Team Centurion Robotics from University City High School
(Jon Clark)
Team Shockwave from the Grauer School in Encinitas and Team Pyrobots from Pacific Ridge School in Carlsbad
(Jon Clark)
Team UC Robotics from University City and Team RSF Dark Voyager
(Jon Clark)
Team Voltron examines their robot
(Jon Clark)
Team Transcendence from King High School in Riverside and Team TryTons from San Clemente
(Jon Clark)
Team Mechanical Advantage from the communities of Poway/Scripps Ranch and Team Iron Wolves from Mission Vista High School in Oceanside
(Jon Clark)
Players from Team Iron Wolves and Team Ridgebots
(Jon Clark)
Team Transcendence from King High School in Riverside and Team TryTons from San Clemente
(Jon Clark)
Team Pyrobots from Pacific Ridge School in Carlsbad
(Jon Clark)
Competition at the FIRST Tech Challenge Robotics event
(Jon Clark)
Competition at the FIRST Tech Challenge Robotics event
(Jon Clark)
Team RSF Singularity and Team Asimo from the Design 39 Campus
(Jon Clark)
Team TryTons from San Clemente
(Jon Clark)
Team Transcendence from King High School in Riverside and Team Scorpio from the Design 39 Campus
(Jon Clark)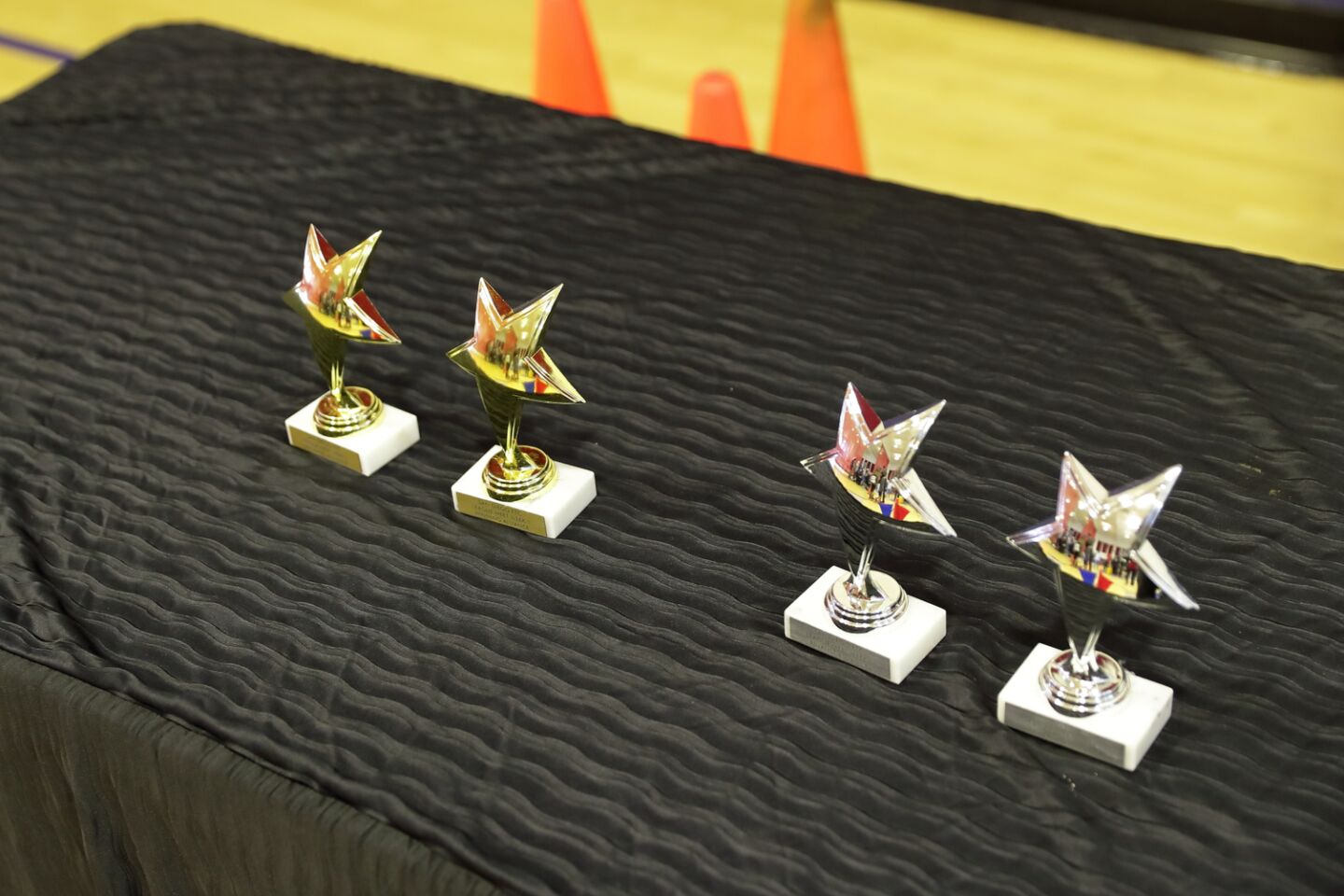 Awards for the FIRST Tech Challenge Robotics competition
(Jon Clark)
Team Centurion Robotics from University City High School and Team Mechanical Advantage from the Poway/Scripps Ranch community
(Jon Clark)
Team Centurion Robotics from University City High School
(Jon Clark)
Competition at the FIRST Tech Challenge Robotics event
(Jon Clark)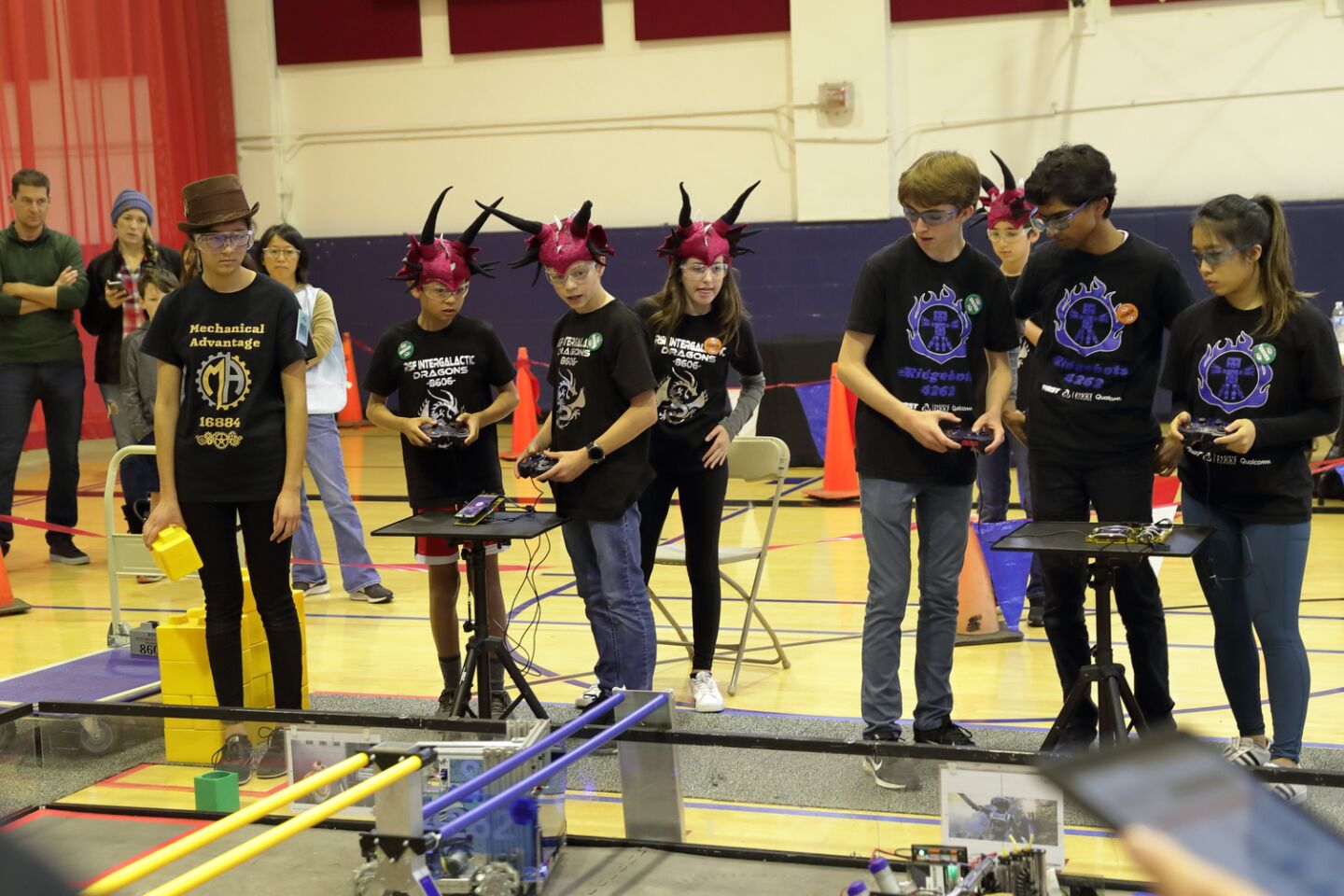 Team RSF Intergalactic Dragons and Team Ridgebots from Pacific Ridge School in Carlsbad
(Jon Clark)
Competition at the FIRST Tech Challenge Robotics event
(Jon Clark)
Competition at the FIRST Tech Challenge Robotics event
(Jon Clark)
Players from Team Transcendence and Team TryTons
(Jon Clark)
Competition at the FIRST Tech Challenge Robotics event
(Jon Clark)
Team Ridgebots from Pacific Ridge School in Carlsbad and Team Voltron from Ensenada, Mexico
(Jon Clark)
On Saturday, Dec. 11, 15 FIRST Tech Challenge robotics teams competed at the R. Roger Rowe School during this year's challenge "SKYSTONE presented by Qualcomm." Another robotics meet will be held at the school on Saturday, Jan. 11. The public is invited to attend the event.
Photos by Jon Clark Online: rsfreview.com

Get the RSF Review weekly in your inbox
Latest news from Rancho Santa Fe every Thursday for free
You may occasionally receive promotional content from the Rancho Santa Fe Review.