'OH! What a Night' it was: CCA Foundation announces gala results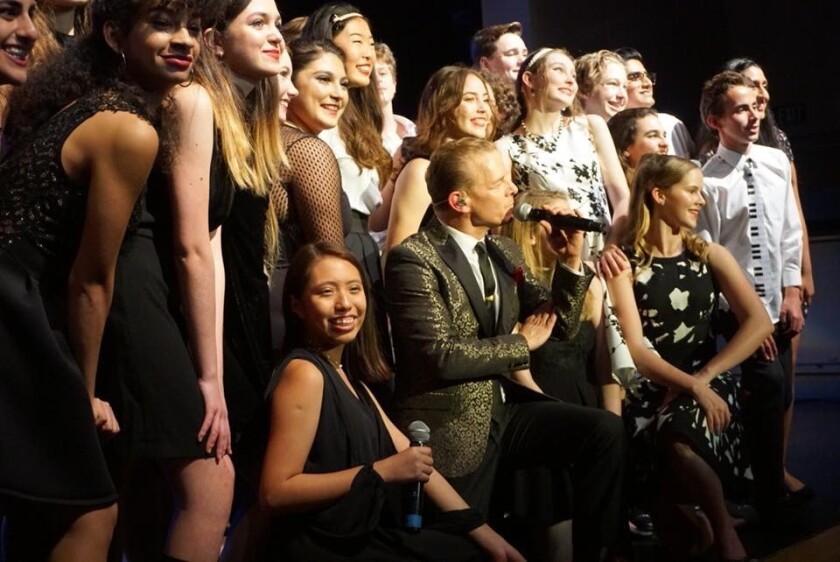 And the winner is…the students of Canyon Crest Academy! Local businesses, community and parent volunteers, and the San Dieguito Union High School District all came together in harmony last month at Canyon Crest Academy for a spectacular annual fundraising Gala.
The evening was a big success, and over $100,000 will be contributed to the school for programs supported by the Canyon Crest Academy Foundation. Joanne Couvrette, CCA Foundation executive director, thanked everyone who participated.
"We really want to thank everyone who participated in making this another very successful event, parents, businesses, staff, and especially our Gala Chair, Susan Jentzsch. Susan worked tirelessly over the months leading up to the event to create a truly memorable evening for everyone and her efforts paid dividends, as we achieved our goals of a great turnout, a fantastic show, enrichment for our students, and, of course, a big financial boost to the general fund."
Couvrette continued, "We are so lucky to have a strong foundation board, under the leadership of President Kristy Laliotis, an incredible school administration under the leadership of Principal Brett Killeen, and a generous community of parents, teachers and businesses." Killeen and Laliotis both welcomed and thanked guests during the dinner reception.
The evening began with catered food donated by Dolce at the Highlands, known for their creative take on Italian favorites. In addition to vegetarian and gluten-free items, there was an elaborate charcuterie bar featuring chilled Shrimp, caprese skewers, and a delightful assortment of meats and cheeses. Guests were entertained by CCA's own acapella group The Cool Tones. Student volunteers ushered and sold tickets for a Winner's Choice Drawing which took place at the end of the evening when one lucky winner selected a 7-Day trip to Ireland.
Each year the annual fundraiser and auction, organized by the school's Foundation, raises money to help provide opportunities for students in academics, arts and athletics. This year, the entertainment highlight was Tony and Grammy Award winner Christian Hoff, best known from Broadway Jersey Boys, The Who's Tommy, and two Grammy Award-winning cast albums. Hoff was accompanied by several of the original Jersey Boys musicians along with talented Canyon Crest Academy students who had competed for the opportunity to perform onstage with the professional entertainers.
According to Jentzsch, "Christian Hoff was incredibly generous with his time. He came to the school on numerous occasions to work with students, going above and beyond our expectations to make it a truly memorable experience for students." Jentzsch also thanked teachers and CCA Foundation staff for their work on the event, "Our music teachers and our foundation staff put in so many hours in preparation for the event, prepping the students, and putting the finishing touches on a fantastic evening. This is the fifth year of Joanne Couvrette's experiment of hosting the gala at CCA for CCA, and once again, it has proven to be a winning idea."
Hoff had rehearsed with the students since December and brought an amazing show to the stage at CCA's Proscenium Theater. It included hit songs from Jersey Boys and a medley from The Who's Tommy in addition to other hits from the '60s. "It is my pleasure to entertain and celebrate alongside Canyon Crest Academy's talented students and future colleagues," Hoff stated. Christian's wife and young daughter also appeared with him on stage.
Always a hit with the gala attendees, this year's live auction did not disappoint. The biggest contribution came from the "Evening with Christian Hoff – A Private Concert!" A once-in-a-lifetime opportunity of a special performance by Christian Hoff in the venue of choice by the winner, plus unlimited wine for the night donated by Ann Wisnovsky, owner of Valley View Winery. Other live auction items included Dinner with School Principal Brett Killeen, a week in Cancun, and Broadway tickets plus hotel.
After the main event, there was an after-party, hosted by Dolce at the Highlands on its beautiful heated patio. Hoff and his entourage were there to greet gala attendees. Parents, teachers, gala sponsors, community leaders were all on hand to toast to the success of the night with dessert and champagne. Everyone won on this night of entertainment and giving at Canyon Crest Academy.
Canyon Crest Academy, recently ranked the #1 high school in San Diego County, is part of the top ranked San Dieguito Union High School District. The school and the district are number 77 out of 77 high school districts in state funding, receiving just $8,319 per student in Local Control Funding Formula monies. The state average is $9,750 per student. There are currently 2,619 students enrolled at Canyon Crest Academy, so if CCA were to receive just the average funding it would be $3,747,789 more for the top ranked high school and its talented teachers and students. The Canyon Crest Academy Foundation, through the generosity of its donors, contributes an additional $1 to $1.5 million to the school each year, to fulfill its mission to enrich the experience of every student every day. The gap in funding for the top ranked district in the county compared to the average is $13,405,600, and it is much higher when compared to another local district, Escondido Union High School District, which has $25,444,860 more per student funding.
The Canyon Crest Academy Foundation is a 501(c)(3) organization providing fantastic opportunities across academics, athletics, and the arts, and creating an environment where students can thrive. The mission of the foundation is to enrich the experience of every student every day. Tax-deductible donations to the CCA Foundation is vitally needed to continue its support of these programs. Donate online at www.canyoncrestfoundation.org. --Submitted press release
---
Get the RSF Review weekly in your inbox
Latest news from Rancho Santa Fe every Thursday.
You may occasionally receive promotional content from the Rancho Santa Fe Review.