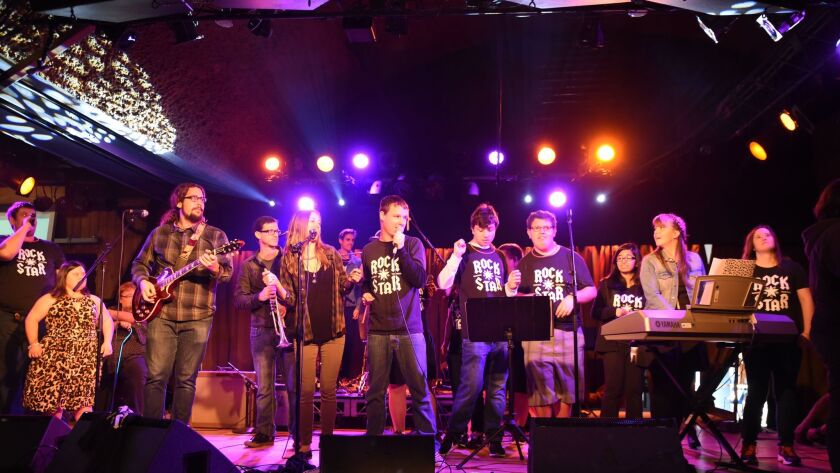 The Belly Up will host the 7th Annual Banding Together Benefit Concert on Saturday, Feb. 24, from 12 p.m.-4 p.m. Popular local musicians will team up with aspiring students, delivering an incredible afternoon to raise money for Banding Together.
The nonprofit organization's mission is to provide music therapy scholarships, mentorships and instruments for youth with special needs. Tickets are $18 in advance or $20 at the door and are available online at www.bellyup.com. Must be 21 and up. For those unable to attend, donations on behalf of Banding Together are accepted at bandingtogethersd@gmail.com.
Guests are in for a treat with so many local stars on one stage for an amazing cause. The event will feature a live auction and music from Dr. Seahorse, Grinnell Trio, Jungle Poppins and a surprise, highly- anticipated headline appearance.
The afternoon will kick off with The Grinnell Trio, an amazing jazz group from San Diego featuring Melonie Grinnell who is the parent of a Banding Together participant with special needs and has been a guest musician for Banding Together programs. She has collaborated with Joe Garrison, regularly accompanies the Steph Johnson Trio, and is the Director of Piano Studies at Grossmont College.
In addition, the unique two-man group, Dr. Seahorse, will captivate the audience with fresh beats, quirky dance moves, and catchy melodies. Trevor Davis (lead singer who won a spot on NBC's The Voice, Season 4) brings a strong soulful voice while Mark Suhonen (producer and drummer) wraps it up with energetic beats. The duo's catchy songs along with unique use of drum machines, beats, and live percussion are sure to keep the audience entertained.
Jungle Poppins keeps the energy alive with its animated troupe performing favorite movie soundtracks and quirky originals. Anything but average, they prove music upstages autism as they move your head, heart, hands and feet. The band includes: Reid Moriarty, keys and vocals, Ethan Marr, drums and Steven Crowle, guitar.
According to Angela Neve Meier, founder of Banding Together, "The purpose of the Jam Session program is to help develop critical life-long social skills and friendships. The best part of it all though, is seeing the smiles on faces as they leave each night. Even if you come in tired from the day, the energy from the Jam Session group is magnetic and you can't help but look forward to it week to week."
Come out to the Belly Up located at 143 S. Cedros in Solana Beach and support this incredible cause.
Be prepared to be moved by the amazing power that sharing in this musical experience will bring to all our lives.
Visit www.bandingtogethersd.org.
---