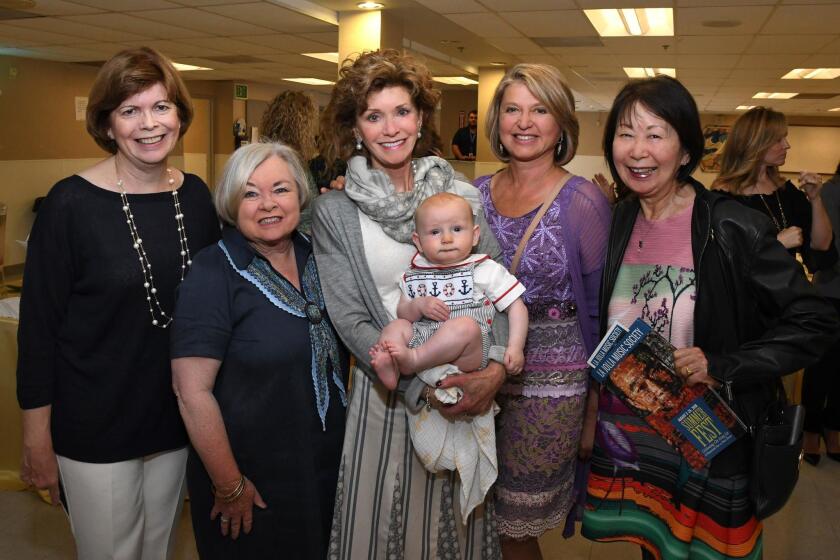 Every year for her birthday Rancho Santa Fe resident Susan Hoehn bypasses a traditional birthday celebration and dedicates the day to raising awareness about the local philanthropies she invests and believes in. This year she invited 50 of her closest friends to celebrate her birthday at the San Diego Rescue Mission on May 10, showcasing the ways the organization is working to serve the fourth largest homeless population in the country.
"It was a wonderful day," Hoehn said of her luncheon party.
The 50 friends from all different walks of life and communities came together to tour the facility, meet a client who had graduated from the rehabilitation program and hear from staff, including Hoehn's longtime friend Donnie Dee, who became the president and CEO of the Rescue Mission last year.
"The Rescue Mission is not only a place for people to sleep at night but they have an extensive rehabilitation program with the goal to get people off the streets for good," Hoehn said.
She said it was gratifying to introduce her friends to the work that the Rescue Mission is doing toward finding a solution for homelessness, the number one problem in San Diego. Among its programs, the Rescue Mission provides the only nightly drop-in, emergency shelter for women and children in San Diego County; a men's center for rehab; preschool for homeless children; job training; transitional housing; spiritual training; and therapeutic services. San Diego Rescue Mission also helps feed thousands of people a year through its Partners for Hunger Relief program, collecting millions of pounds of surplus food per year to distribute to local nonprofits.
"It's done with a lot of integrity, it's not just feed and bed," said Hoehn of the Rescue Mission's work." They have a very successful recovery program and the people there have decided they want to change their lives. They have had a rough life and it's hard to break the cycle but with the help of this organization they are. I want to be a part of that."
In addition to having lunch and learning about what the organization offers the community, Hoehn and her guests also brought donations of clothes and towels.
"It was a very beautiful thing," Hoehn said. "I hope that I am able to do this every year."
Hoehn Motors has been family-owned in San Diego for 85 years—Susan and Bill's son will be the fourth generation to be a part of the business. Appreciative of their legacy, all of the family members are involved in philanthropic efforts. Bill has been involved with San Diego County YMCA and Susan stays involved with many different philanthropies in San Diego, including the La Jolla Music Society, Ronald McDonald House and the Salvation Army Women's Auxiliary.
"We have been very blessed," Hoehn said, noting both she and her husband have hearts for giving back as well as getting others out in the community and seeing what they can do and how they can be involved in making a difference.
On April 5, Susan and Bill were honorary chairs of the Ronald McDonald House Giving Circle reception at Rancho Valencia. Susan has been on the board for five years and the Hoehns donate a car for the raffle every year.
On Wednesday, May 30, the Hoehns will be the honorary chairs at the Salvation Army Women's Auxiliary's Women of Dedication luncheon at the Marriott Marquis and Marina. This year marks the 53rd year of honoring incredible women who give back in their community. The theme, "Wonder Women," acknowledges the remarkable lives and actions of the honorees, which include Country Friends President Deborah Cross.
Susan was selected as a Woman of Dedication last year and said she was amazed at the turnout and the enormous support from the city.
The Salvation Army's Door of Hope has helped women in crisis and their children in San Diego since 1931. Hoehn said she is honored to be involved in the valuable effort to bring women and children to the Door of Hope and get them off the streets with great programs such as the transitional living center, interim housing and domestic abuse support, providing a place where victims and their children can safely stay while the Salvation Army assists them with steps toward recovery and independent living.
To learn more about the Women of Dedication event, visit bit.ly/2IiQ67K. For more on San Diego Rescue Mission, visit sdrescue.org.
---