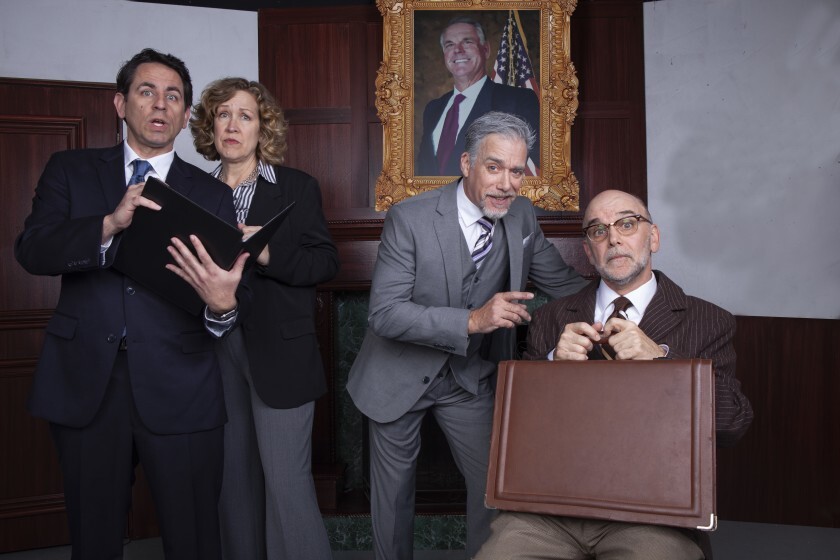 Solana Beach company is staging Paul Slade Smith's comedy about a camera-shy policy wonk who suddenly becomes a governor
"Nobody knew about things like that then – science just wasn't as advanced, the way it is now" – Harriet Roeder, Radium Girls, D.

The Theatre School @ North Coast Rep presents the swashbuckling epic adventure The Three Musketeers as its next student production.

Tenth Avenue Arts Center will host "No Distractions," the first full-length play from a theater company run by a local college student who wants to get more youth involved in the medium, from Aug. 29-31.

Rehearsals are underway for "Amadeus," the North Coast Repertory Theatre's 38th season-opening show that debuts Sept. 4.
On May 1, Torrey Pines High School performed the final act in a saga over 20 years in the making: a dramatic and emotional ribbon-cutting ceremony for its new performing arts center.
Canyon Crest Academy's Envision theatre program will explore right and wrong, and good versus evil, in its two productions in the upcoming season.

Canyon Crest Academy Dance Conservatory recently announced performances for its newest dance production, "The Rainbow Catcher," written, produced and directed by Dance Conservatory Director Rayna Stohl.

North Coast Repertory Theatre will welcome back Randy Noojin as he takes the stage as America's beloved folksinger/activist Pete Seeger Jan. 29.

Heyjojo Productions presents three shows on Sunday, Dec. 17 at the Rancho Santa Fe Community Center.

Author Ken Blanchard presents 'Great Life, Great Leadership' Oct. 22 at the Village Church Ken Blanchard, author of the One Minute Manager, is speaking at the Village Church of Rancho Santa Fe this Sunday, Oct. 22, at noon.

As a film critic of more than 25 years I can still say the 2000 movie of "Billy Elliot" remains on my top 25.