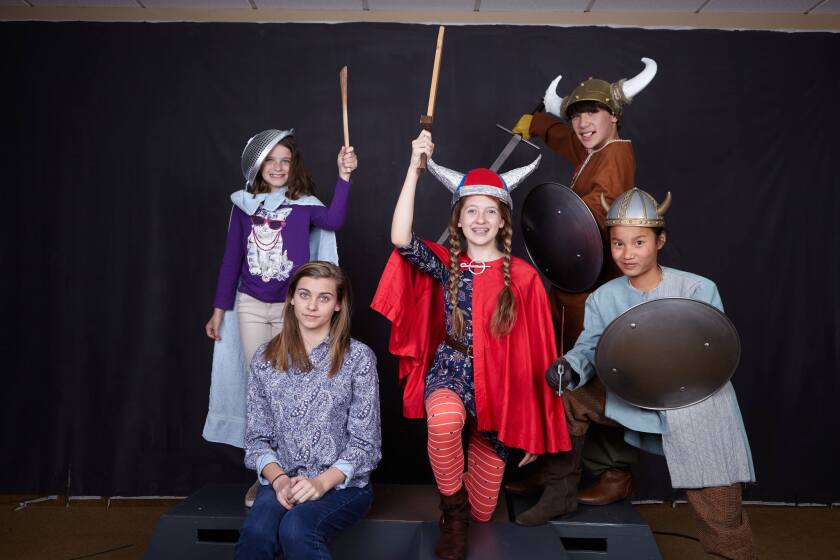 North Coast Rep's newest Theatre School musical, Yo, Vikings!, book and lyrics by Marcus Stevens and music by Sam Wilmott, comes to the stage on March 29 through April 1.
When spunky, imaginative Emma Katz is assigned Erik the Red for her World Discovery Day report, she begins to channel her inner Viking, setting off on a real adventure and changing her community for the better. Every time Emma learns something new she wants to become that thing, whether it's a dinosaur, a fox, or a paramecium! Her teacher is afraid to teach anything new for fear of what she might become. Luckily, a wise librarian inspires Emma to uncover the magic of the Vikings in books, and helps her release the inspiration of the Vikings to make dreams come true.
Theatre School Director, Benjamin Cole hopes that this musical will "inspire students to embrace the adventures found in books and exemplify how the lessons they learn can help them make positive changes within their communities." North Coast Rep has partnered up with "Friends of the Library" at Solana Beach Library to help encourage "change" in local youth.
The cast includes: Kai Agsten (Encinitas), Ramsey Aldrich (Solana Beach), Silke Bandrup (Rancho Santa Fe), Dominic Barrett (Encinitas), Sean Boyd (San Diego), Annabelle Chambers (Carlsbad), Lakesanne Deal (Rancho Santa Fe), Mikayla Deal (Rancho Santa Fe), Sade Frame,(Oceanside) Gracie Howard (Olivenhain), Boden Humphrey-Mitchell (Encinitas), Jackson Kampf (San Diego), Ella Lombardi (Rancho Santa Fe), Lily Masi (Del Mar), Gabriella Polo (San Diego), Anastasia Ray (San Diego), Jack Rudy (Carmel Valley), Mira Singh (Rancho Santa Fe), Scottie Smith (San Diego), Lily Tanghe (Del Mar) and Henri Tanghe (Del Mar).
Yo, Vikings! runs from March 29 – April 1, with performances March 29 and 30 at 10 a.m. and 6 p.m., March 31 at 2 p.m. and 6 p.m. and April 1 at 2 p.m. North Coast Repertory Theatre is located at 987 Lomas Santa Fe Dr. Solana Beach, 92075. Tickets are $16 for adults and $12 for children 17 and under. To purchase tickets, call 858-481-1055, visit www.northcoastreoptheatreschool.org, or email Ben@northcoastrep.org with questions.
---