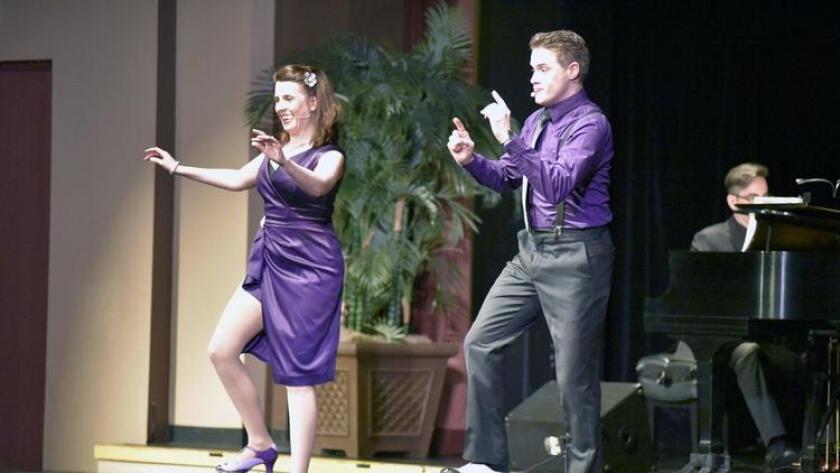 Note: Below is a review of the TWO ON TAP performance held March 2 at the Community Concerts of Rancho Santa Fe event held March 2 at the Village Church's Fellowship Hall.
TWO ON TAP performers Ron DeStefano and Melissa Giattino walked on stage ready to give us a song-and-dance show reminiscent of Fred and Ginger, and Mickey and Judy. They launched into Gershwin's "I've Got Rhythm" with Mike on piano. Their harmonies were flawless, their unisons so pure, they sounded like one voice. "Fascinating Rhythm" followed, with its snake-like motif changes. "Just You, Just Me" garnered applause, followed by Louis Armstrong's "On the Sunny Side of the Street." When the lyric said "pitter-pat" they tap-danced the rhythm.
Then they doubled the time, going from 100 beats per minute to 200 bpm much to the delight of the audience. Next, a fabulous arrangement of "Bye Bye Blues," including a section of stop time, where Mike's piano accompaniment only played on the downbeat, exposing every detail of the tap dancing. This was so effective there was enthusiastic applause while Ron and Melissa feigned fatigue for laughs.
A recording of Mozart's Eine kleine Nachtmusik started playing. In response, Ron and Melissa tap-danced an argument, then tap-danced a reconciliation, Ron claiming he won, much to the amusement of the audience. They featured their pianist, Mike, playing the 1926 Gershwin rendition of "Funny Face" and "'S Wonderful," beautifully performed and given heartfelt applause. Melissa entered the stage in yet another stunning dress (they must have had a dozen costume changes) while Ron joined her and sang "I Don't Know Enough About You." They had teased the audience all evening with, are we brother and sister, best friends, or husband and wife? Turns out, best friends for 20 years was the answer. The audience joyfully joined them singing "L-O-V-E" shouting each of the letters as Ron walked among the audience while singing. From 1924's No, No, Nanette they sang and tap danced "Tea for Two," including the Mary Poppins step. Ron and Melissa performed a wonderful medley from Singin' in the Rain, including "Good Morning," the title cut with umbrella, "All I Do Is Dream of You" and "Moses."
Among their accomplishments, Ron, an accomplished tenor, had toured with Evita and Fiddler on the Roof. Melissa had danced with The Radio City Rockettes and toured with 42nd Street, Annie Get Your Gun and Showboat. Ron sang solo with "You'll Never Walk Alone," his rendition from Carousel heartfelt and moving. Melissa sang "Lullaby of Broadway." They finished the magical evening tap dancing to Benny Goodman's high energy "Sing, Sing, Sing," and were awarded a rousing standing ovation.
You don't want to miss the last concert of the season, The Four Freshmen, May 11. Community Concerts is the best party in town with great music, wine compliments of Northern Trust, and a catered selection of light cuisine from Whole Foods. Tickets and short video clips of the Four Freshmen plus each concert in the new 2018-19 Season are available on the website www.ccrsf.org. Tickets also available by mail: PO Box 2706, RSF 92067. Questions? Contact info@ccrsf.org.
-- Dana Wheaton is a professor of music at Orange Coast College.
---