'The Fire, The Water, and Maudie McGinn': Sally J. Pla's new novel reveals nuances of neurodiversity
The protagonist of "The Fire, The Water, and Maudie McGinn" may seem like an unlikely heroine. She's a quiet 13-year-old struggling with family problems, financial troubles and sensory challenges. When a destructive fire deals a brutal blow, she finds herself homeless with her father. It's a lot for any person to handle, and perhaps even harder for a kid like Maudie, who's autistic.
"This particular summer is a crucible for Maudie," said author Sally J. Pla, who is an Encinitas resident. "She's dealing with wave after wave of turbulent change."
But far from a depressing saga, Maudie's story is one of gentle healing, personal triumph and brilliant breakthroughs. It's set on the beaches of San Diego, Pla's own hometown, a scene of surf and sand that will undoubtedly be familiar to readers. Maudie's coming-of-age tale is sure to touch hearts and reveal poignant life lessons.
In-person author chat
The author will be at Warwick's in La Jolla on Monday, July 10, for a pre-launch book chat. The novel will be released by HarperCollins Quill Tree Books on July 11, so this special event gives locals the chance to get an early look at the book, as well as the opportunity to interact with Pla. She will also be on hand at the La Jolla Library on July 11 for a more kid-oriented, interactive event (ages 10 and up welcome). The Fire, The Water, and Maudie McGinn is Pla's fourth book and third contemporary novel for young readers, all of which feature neurodiverse characters.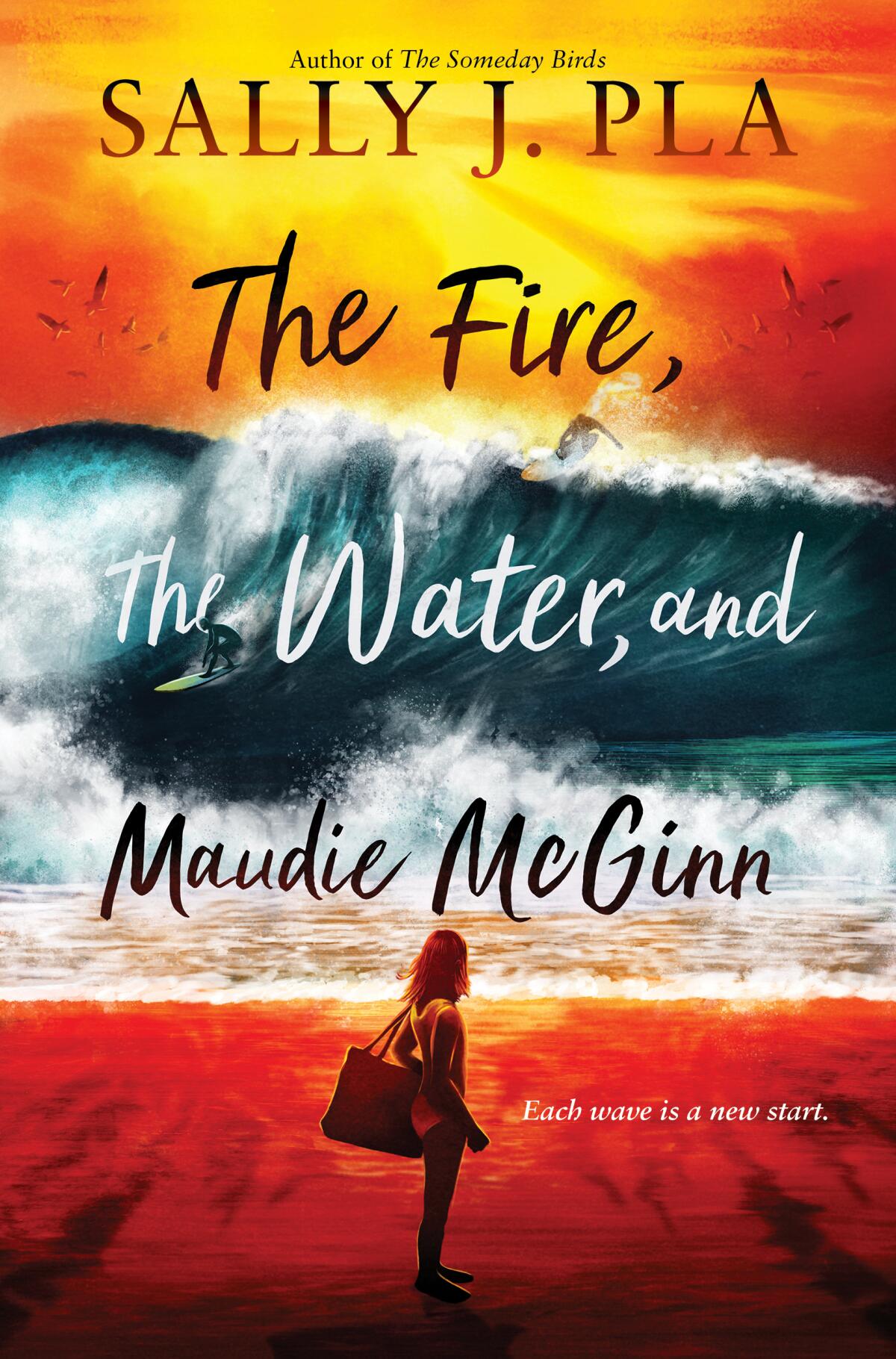 Pla said she created Maudie "to draw attention to the ways autism appears in girls," and because she was once one of those girls, autistic, without knowing it. In those days, autism in boys and girls was often undiagnosed and misunderstood. Diagnosed with autism as an adult, Pla now uses her platform as an author to help others understand neurodiversity. Her books, her appearances at schools and special events, and her website ANovelMind.com are dedicated to help educators, librarians and families.
Validation for kids who feel differently
"When kids see themselves in stories, they feel validated," Pla said. Pla herself is a powerful example, showing how those with differences can succeed and flourish in their professional and personal lives. She's not only a well-respected author and autism activist, she's a wife and the mom of three sons—including one who is autistic. "I'm an advocate for neurodiversity and autism acceptance. I once heard someone describe autism as 'not a spectrum, so much as a constellation.' I love that. We are all stars shining with different lights," Pla said.
Pla's previous books have raised awareness and garnered critical acclaim. Her first book, The Someday Birds, won the 2018 Dolly Gray Children's Literature Award for its authentic portrayal of disability, and its rights have been sold in nine languages. Her second novel, Stanley Will Probably Be Fine, is a Junior Library Guild Gold Selection. And her picture book, Benji, The Bad Day, & Me, won the 2019 San Diego Book Award. She also contributed a poem about environmental activist Greta Thunberg to the book No World Too Big.
An emotional rollercoaster
Before she found her niche as a writer for young readers, Pla worked as a journalist, editor, humor writer and television intern. She experienced plenty of failure along the way to success, including several novels that took years to write and were never published.
When asked if she would recommend to kids that they pursue writing as a career, she said, "A life in writing and publishing is a bit of an emotional rollercoaster ride, so you have to develop a tough and resilient outlook! But there is nothing more important, I think, than humans trying to connect and understand each other, so if you feel called to try to do that through your own writing, then you already know what your heart's path will be."
And, when asked what reader reaction to her latest book would give her the most joy, she said, "Have you ever read something so special, something that made you feel so 'seen' as a human being, that you hugged the book to your chest, to just get closer to the words? That is what I'm after."
In addition to Pla's appearance at Warwick's on July 10 and the La Jolla Library on July 11, she will also be at Diesel bookstore in Del Mar Highlands Town Center on Aug. 27. Get more information at SallyJPla.com.
Here is the rest of an in-depth interview with the author:
Q: What can Maudie teach readers about neurodiversity?
Pla: By writing her in very intimate first person, you read her story from deep inside her mind and heart. You will know her inside and out, and understand the why behind some of her behaviors from her point of view.
Q: In general, why do you choose to write about neurodivergent characters?
Pla: Because I love them. I relate to them. I am them. And also, as burgeoning diagnosis rates show, autistic people are super prevalent in society. We've always been here. Just not identified as such. And yet… we are vastly underrepresented in fiction, in film, in the sociocultural milieu. And misunderstood when it comes to educational approaches and employment opportunities. Sadly.
Q: How and when did you discover that middle grade and neurodiversity were good niches for you?
Pla: I write about these characters because that is what is in my heart and what I want to write about. But I do also like to say that I consider it "my mission" to populate the world of children's literature with as many neurodivergent or otherwise "othered" characters as I can!
As for finding a niche in middle-grade… Around the time I wrote my first book, The Someday Birds, I belonged to the Society of Children's Book Writers and Illustrators (a wonderful organization for children's writers!), because I was playing with picture-book texts. But I was also working on an adult literary manuscript—also about an autistic character—called Wave Theory. Then, I had the idea for The Someday Birds, and the character of Charlie called out to me and wouldn't let go. Originally, he was 16. I didn't think of it as a middle-grade book, or a young adult book--I didn't even know enough about the categorizations back then. It was just "a book." But luckily, it found an agent very quickly, who told me it was a classic middle-grade voice and asked me to age Charlie down from 16 to 12 or 13. So I did. And found a home in middle grade.
I love middle grade. At its best, it can be classic, universal. It is coming-of-age, and aren't we all coming of age all the time? Many of the best middle-grade novels bear up across every age range of reader, and that's the kind of middle-grade I'm interested in writing—more universal stories.
Q: What is the most rewarding part of being an author?
Pla: Interacting with a reader who is feeling entranced and joyful at having read your work—knowing that you've given that person a gift of seeing themselves, finding themselves in a story.
Q: With regards to your past books, what was one of your favorite experiences? Either in the writing, or in the interactions with students, or anything really? What brought joy to your heart?
Pla: My first book, The Someday Birds, came out in 2017. There were fifth graders reading it then who are now getting ready to go to college. And some of them are still writing to me! I always answer back—I love these special amazing kids so much. To be able to encourage and cheerlead young people and to be along for the ride as a little part of their lives is the best, just the best feeling in the world.
Q: If a young person was considering a writing career, what advice would you give them?
Pla: Remember about the rollercoaster, haha. Also, try lots of different types of writing. I was a business journalist, a magazine editor, a starving freelancer, a humor writer for a family magazine, an editorial assistant at a local newspaper, and a news intern at a public television station. They all taught me lots of different things about writing. If you're a writer, you're a writer. And if you are, you tend to think about your life as "writing fodder." But don't forget that it's also your life, and you must also just go live it.
Q: Do you have any fun or unique habits when you write? Do you listen to rap? Doodle as you write?
Pla: Hot tea. Lounge chair. Lap desk. Noise-canceling headphones!
Q: Please talk about A Novel Mind.
Pla: ANovelMind.com is an online resource dedicated to helping educators, librarians, and families discover helpful mental-health and neurodiversity representation in children's books, preK-12. Because when kids see themselves in stories, they feel validated. They feel less alone. These books and stories heal. They are so needed. So A Novel Mind—with its massive database of books, its weekly blogs, its resource pages—helps connect complex kids to the books they need.

Get the RSF Review weekly in your inbox
Latest news from Rancho Santa Fe every Thursday for free
You may occasionally receive promotional content from the Rancho Santa Fe Review.