Cardiff park to host reading of children's book inspired by adoption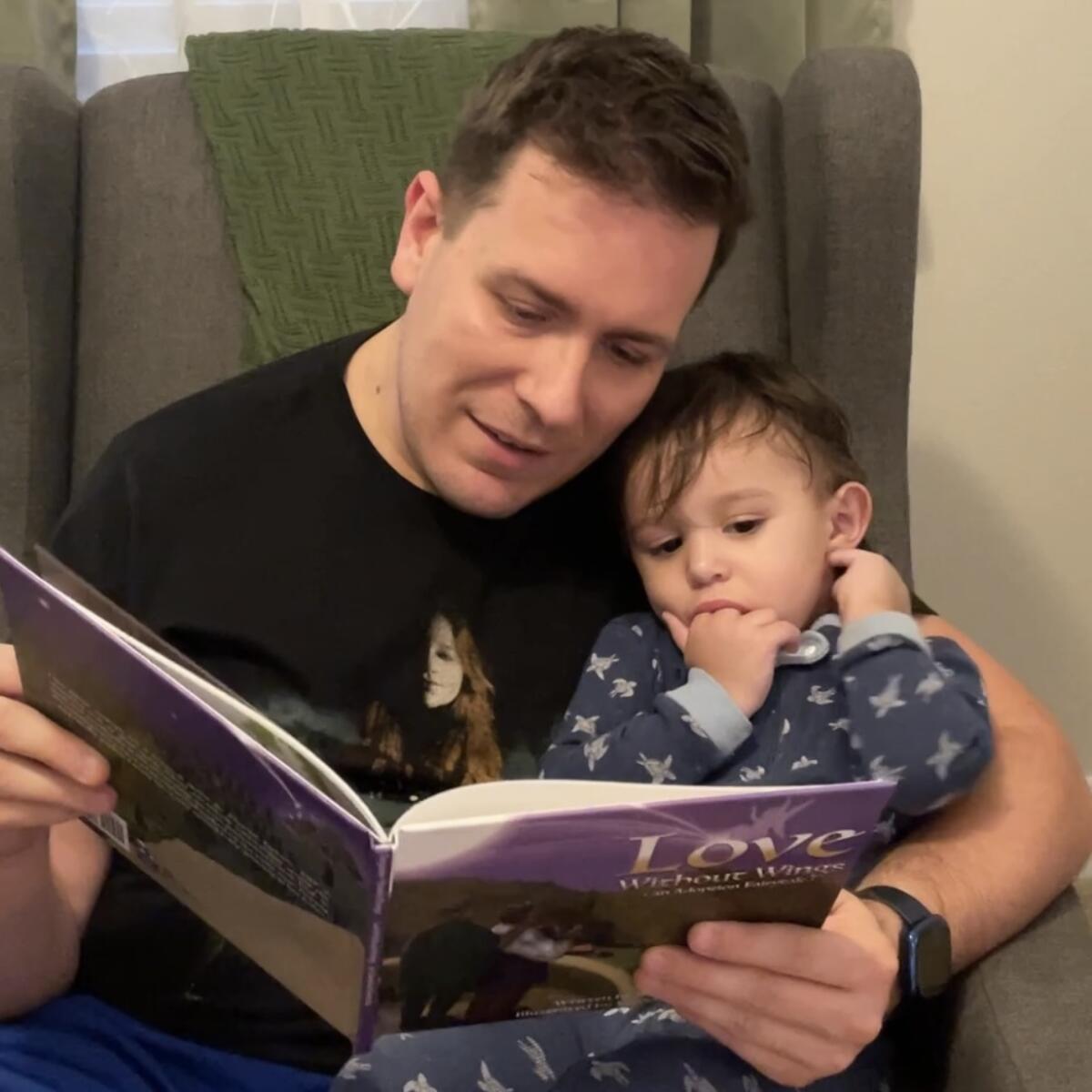 Once upon a time in a land far from here, there lived two kings who loved each other very much, but longed with all their hearts to be parents.
They dreamed of being dads, and of the little prince or princess who would grow up and rule the kingdom alongside them. But because they were two kings, they needed a bit of magic to make their very special dream come true.
Thus begins "Love Without Wings — An Adoption Fairytale," authored by Adam Swain Ferguson and illustrated by Veronica Stanley-Hooper.
The children's book, produced by Ferguson's Purple Fox Entertainment, employs the story-telling style of a bedtime tale to relate the real life narrative of how Ferguson and his partner, Kevin, acquired their son, Taran.
The spouses are analogous to the kings and the fairy symbolizes the woman who gave birth to Taran after having agreed to give her newborn up for adoption.
A Santa Clarita resident, Ferguson is scheduled in early February in Encinitas to deliver a reading of the volume to children, parents and family in a celebration of Valentine's Month.
The recitation is expected to begin at 11 a.m., Saturday, Feb. 4, at Glen Park, 2149 Orinda Drive, in Cardiff by the Sea.
Free of admission, the event is part of the Story Time with Mr. John Series hosted by John Masiulionis and his company PR from the Heart.
"I would love to get the book in more hands," Ferguson said. "The book, although it's about adoption, is not just for adoptees or adoptive families. It is also a really powerful tool. ...
"If you can have a child, who even if they're not adopted, has this book and reads it and it makes them understand a little more about adoption, and maybe they have a peer who has been adopted, and it can help foster empathy and understanding, I think that it is powerful in and of itself."
Also, Ferguson said, he is looking forward to visiting the San Diego area because it will be the first time he has been back here since living here briefly in 2010, he said.
"I think we're going to make a day of it," he said. "It's one of my favorite places."
The event will also feature an appearance by Stanley-Hooper, the book's illustrator, who lives in Santa Clarita as well.
"She and I just really connected," Ferguson said. "The great thing about Veronica being local is we could get together at a local Starbucks and hang out and she would go over sketches and plans.
"She and I were really collaborative. She was definitely the mastermind as the illustrator. She created an entire world for us. ... I call her my book co-parent because there wouldn't be a book without her."
Since "Love Without Wings" release in November 2022, the book has attracted favorable comments from child psychologists, adoption professionals and parents.
"As an Adoptive Parent Coordinator who works alongside waiting adoptive parents, I appreciate that this book provides hope and light during a journey that can be difficult," said Amanda Kent of the organization Lifelong Adoptions. "The way this story is full of meaning and love is perfectly done."
Ferguson, who works as a film and video producer, is working on putting out an animated video version of the book. The effort dovetails with his mission of illustrating that adoptive families can exist in different dimensions.
"One of the things I've come to realize is my adoption story is just one that's out there," Ferguson said. "There's so many other types of adoption stories and families out there to share. There's so much diversity out there and family structures that I think need to be spoken about."
Ferguson and his husband had agreed they wanted to raise a child early on in their relationship, he said. After they hired an adoption agency to help them, it took about two years before they could finalize the arrangement.
While adoption creates quandaries among many parents about how and when to convey to their children the truth about their births, Ferguson chose to confront the dilemma head on.
From the infancy of Taran, now 19 months old, Ferguson began telling stories to the youngster about his birth and parentage in terms of children's stories that the youngster might soon understand.
"Because he's adopted and I've had friends and family who have been adopted, I've known always the importance of him knowing his own story and identity," Ferguson said. "From the time he was born, I wanted him to know who he was, where he came from and how we came to be his dads.
"So, I just started telling him a story and I just kind of made it up as I went along every night. Eventually, it came to the point that I thought I should write it down and get an illustrator. ...
"I thought a classic fairy-tale would be a great way to introduce the subject without it being mechanical," Ferguson said. "This was a way I could introduce the subject without being overly imposing.
"When he gets older and I go to explain to him what adoption is, I can reference back to this book and say, 'It's like this book, remember this story I told you as a baby?'"
"Love Without Wings — An Adoption Fairytale" is available on amazon.com and at purplefoxentertainment.com.

Get the RSF Review weekly in your inbox
Latest news from Rancho Santa Fe every Thursday for free
You may occasionally receive promotional content from the Rancho Santa Fe Review.