Personal odyssey leads Rancho Santa Fe woman back to her art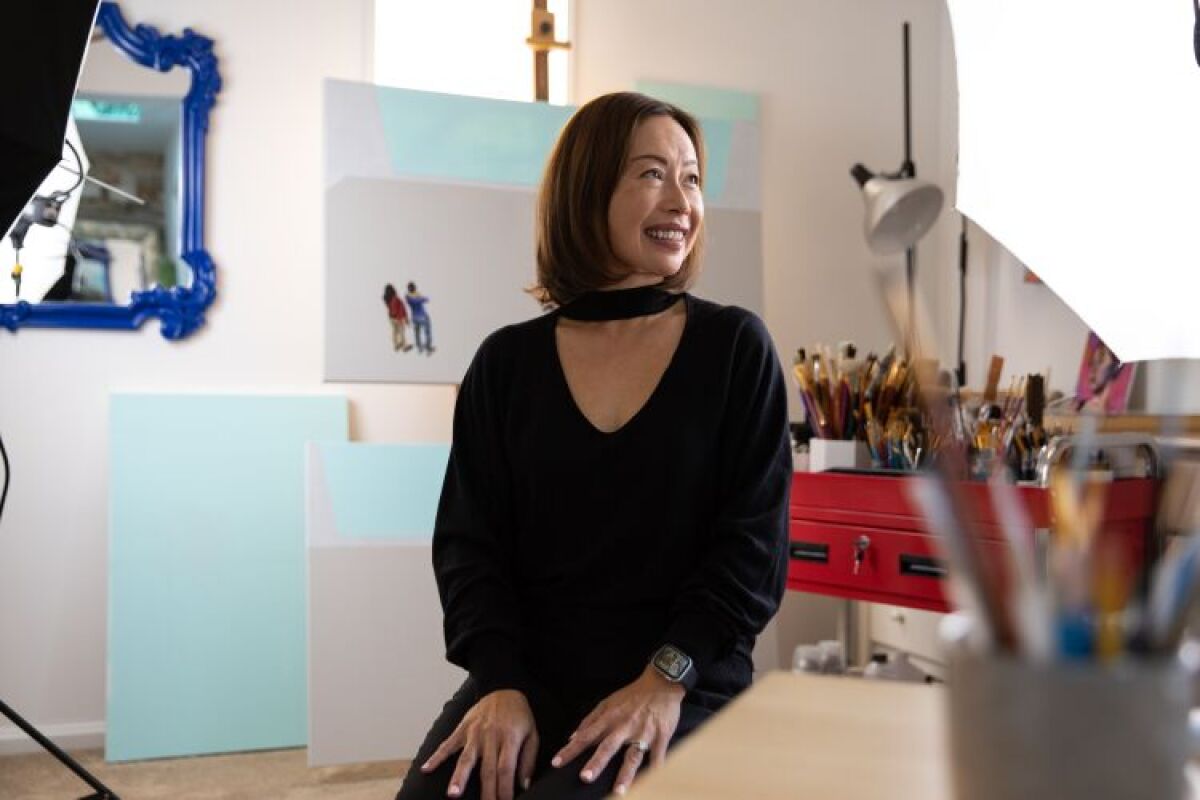 Cecilia Wong Kaiser will display her paintings at La Jolla's BFree Studio
More than three decades after Cecilia Wong Kaiser abandoned a promising career arc toward being an artist, the Rancho Santa Fe resident has rekindled her passion for applying paint to canvas.
The fruits of her rejuvenated ardor for the easel will be on full display with a solo exhibition of about 40 of her pieces from Jan. 17 through Feb. 5 at BFree Studio in La Jolla.
An opening reception is scheduled Jan. 21 followed by a talk by Kaiser on Jan. 25 at the studio, 7857 Girard Ave. Information can be obtained by visiting ceciliakaiser.com or bfreestudio.net.
Kaiser's show is titled "Blue Sky: Paintings," which BFree's website describes as "a collection of paintings that depict a sun-kissed, buoyant world and call to mind a boundless day, framed by a seen or unseen, probably California sky."
BFree owner Barbara Freeman said she was drawn to Kaiser's work because it encourages storytelling.
"Cecilia's work documenting a moment in time really invites the viewer to fall into her story," Freeman said in an email. "I am also drawn to personal reinvention and exploration.
"Cecilia has always been an artist, and has also spent a great deal of time as an attorney. I love that art always finds its way out, and I am thrilled to share her work with the community."
The exhibition is the culmination of Kaiser's decision nearly five years ago to rededicate herself to painting.
"It's a wonderful opportunity," she said of the upcoming show during an interview at her Fairbanks Ranch home. "I'm very grateful to Barbara Freeman, the gallery owner and the entire team over at the gallery for giving me the opportunity just to share my work.
"It's one thing to make the work, but it's another thing to be able to share it. By that I mean, I really think art is a form of communication. It's the visual storytelling (and) it's so many different things. ...
"So being able to have the forum to show that so people can actually come in and see it in person, I think that's really amazing."
The pieces to be displayed at Bfree are nearly all acrylics on canvas. The subject matter is enthusiastically representational, including landscapes, street scenes and portraits.
Yet, her drawing and use of color are subtly impressionistic and convey a range of emotions from wistfulness to wonder to elation.
She relishes enactments of local scenery, such as her images of a Carlsbad donut shop, stretches of the coastal highway and a view looking up Laurel Street in San Diego.
Her husband, daughter Emma and herself are her favorite subject matters.
The "blue sky" optimism conveyed in Kaiser's pieces comes in large part from her experiences in the San Diego region and emotional responses to it.
She, her husband and daughter moved to Rancho Santa Fe after visiting the region repeatedly to see her parents and her older sister and family.
Shortly before the relocation, she shared her concern with her husband about what she perceived as the monotony of the nearly ever-present blue sky over San Diego. Her husband replied, "You never get tired of this."
"And then we moved here and it's true," Cecilia Kaiser said. "You don't get tired of it. In fact, when you get a gray day when it's not quite sunny, you're like, 'Wait a minute. What's going on? Where am I?
"It's just this idea of this constant blue sky and also what that represents — a feeling of hope and kindness and goodness and optimism, and then sort of extending that to the idea of 'blue sky' thinking."
Burma to Nashville
Kaiser's journey to San Diego has been an odyssey across lands and seas. She was born in Burma, now officially known as Myanmar. Her parents are of Chinese descent. Her mother speaks Burmese and English while her father commands a number of Chinese dialects as well as Burmese and English.
Though her father was a highly educated doctor of medicine, the family's minority background led them to be subjected to discrimination as they moved from place to place.
Bias against ethnic Chinese in Burma led her family to relocate to Hong Kong when she was an infant.
"I'm grateful my parents had the foresight to get us out," she said. "There was a lot of discrimination against the Chinese. We were denied citizenship. My dad couldn't apply for certain jobs because he wasn't full Burmese.
"He realized after my sister and I were born, this is bad enough for a Chinese man, but Chinese girls — there's no hope for them. He could see the writing on the wall. Thank goodness he had gotten the education to make a future for us somewhere else."
The family relocated to Hong Kong and her father got a job there. After a couple of years, they immigrated to the U.S., initially based in New Jersey, There her father underwent training to qualify as a doctor in this country.
"In Hong Kong, my parents pretty quickly realized that this too wasn't going to be the place to raise two girls," Kaiser said. "It was ultra competitive. There was a weird form of discrimination that my parents felt because we didn't speak Cantonese. We we weren't the right kind of Chinese.
"Fortunately, it was a time when the U.S. needed doctors and my dad was a doctor and he was willing to go wherever there was work. That's how we got here."
As her father followed jobs, the family followed him to live in three different South Carolina towns, ending up in Nashville, Tenn., where he was a professor in pathology at Vanderbilt University.
While grateful for the opportunities, the Wongs realized they had not left behind prejudice.
In a middle-class suburb in South Carolina, the family confronted the terrifying specter of hatred directed against non-whites.
She recalls that one night while she was in the first grade, she and her two sisters were watching TV.
"It was dark outside and suddenly the yard turned orange," she said. "There was suddenly this bright orange light outside.
"My parents opened the front door and then either my mom or dad came back in and told us, 'Keep watching TV, do not look out the window, do not open the door, do not answer the door. Just stay here. We'll be right back.'
"Someone had left a burning cross in my yard. We were not welcome."
It wasn't until several decades later that Kaiser asked her dad what had happened that night.
"He was like, 'Oh, somebody left a burning cross in our front yard.' I was like, 'Oh my goodness. How did you keep this from us all these years?' He said, 'What value would there have been for you to know that. You would have been afraid.'"
Her father explained he was comforted that their neighbors were the ones who had called the police and were horrified by what had happened.
"My dad said, 'In fairness, we were recent immigrants to the country. We didn't really know what it meant. We understood that it was not a friendly sign. But we didn't have that historical knowledge necessarily of what that was.'"
Given what she and her family have experienced, Kaiser said she is disturbed by the recent trend in the U.S. of divisiveness and violence, including hate crimes against Asian-Americans.
Yet, that in turn has served as a stimulus as she rediscovered her art and overcame insecurities that had discouraged her in the past.
"I realized the more that I (painted), the more there was this feeling I could create a world in my painting that's different from sort of the ugliness of the world that we currently find ourselves in."
Budding talent
Early in childhood, Kaiser began to draw and her skill attracted attention.
"I've always liked to draw and it pretty soon became apparent to me that knowing how to draw pretty well could win me some friends and could get me some attention, so there was that social aspect to it too," she said.
She gained encouragement by winning a couple of contests in elementary school. In the third grade, she created a winning illustrated Mother's Day poem.
In the fifth grade, she won a Christmas card drawing contest sponsored by a local newspaper. That landed her photo in the paper and a financial award for college.
"I got a lot of encouragement for that and my parents were very supportive," she said. "I would always be drawing."
She pursued art diligently through middle school and high school and began to consider studying art in college.
"I liked to draw mothers and daughters shopping ... and I liked to draw people on escalators," Kaiser said. "For a while I was obsessed with drawing floor plans for houses. So I built these dream houses and I would draw the aerial floor plan and I would furnish the houses. ... That was something that kept me endlessly entertained.
"But my favorite thing to do as I got a little bit older was to copy pictures of models and actresses from magazines. We got the New York Times and I was always excited when the style section came out with fashion and I had so many people that I could draw."
Follow the law
After high school, she went to Brown University in Providence, Rhode Island, to study art. She received her undergraduate degree with honors in visual arts and creative writing. Yet, negative feedback she received there about her approach to painting pushed her toward a different path.
She pursued fashion design for a while, including a stint in London. Ultimately, however, she turned to law.
At UC Davis' King Hall law school, she achieved her doctorate of jurisprudence and met another student whom she would eventually marry — Hanno Kaiser.
"I actually loved being a lawyer," she said. "In many ways it suits my personality. It was very challenging work."
As a law clerk, Kaiser said, she worked for Judge Garland E. Burrell Jr., and assisted him when he tried the infamous Unibomber case.
After her future husband had returned to his native land of Germany, Kaiser joined him there and taught at Heinrich Heine Universitat in Dusseldorf.
"I started a program teaching Anglo-American law," she said. "It was a program that I just kind of made up, but they continued it and expanded it. It's hugely popular."
She and Hanno married in Germany and decided to return to the U.S. to work in law.
"I was in charge of the wedding and he was in charge of the honeymoon," she explained. "Guess what he did for our honeymoon plans? It's so romantic: He lined up interviews in New York with law firms."
They returned to the U.S. and started working as lawyers in New York. Their daughter was born and Kaiser stopped working shortly before she was born.
Back to the palette
The Kaisers moved to California's Bay Area and when their daughter was older, Cecilia volunteered at the San Francisco Museum of Art as a guide to school groups consisting of third through fifth graders.
There she learned the technique of "Visual Thinking Strategies," techniques anyone can use to develop their perceptions of art works regardless of indoctrination.
"It's this process of careful looking and developing critical skills with evidenced-based looking," Kaiser said. "The longer you look at a picture the more you see.
"What's great about it too is everybody brings their own perspective. Based on what you're looking for and what you're looking at given who you are, you see different things. That was a fantastic experience."
It led her to revisit her love of art and planted the seed about five years ago to pick up the brush again.
Having heard her talk about getting back into painting, her husband decided to provide a nudge.
As his wife's 50th birthday approached, he rented a gallery space.
"My husband said, 'In three months we're going to have all these friends and family to fly in and you're going to fill the walls with your paintings,'" Cecilia Kaiser said. "I had about three months to make about 20 paintings and it was exactly the push that I needed."
San Diego Serenade
The family's shift to San Diego provided more inspiration for Kaiser's art as she reveled in the vivid vistas and cloudless azure skies.
The doubts that had inhibited her creative impulses down through the years vanished as she began applying brush to canvas.
Also, the downtime provided by the coronavirus pandemic provided her a window to focus on her art.
After moving to Rancho Santa Fe, Kaiser entered and was selected to display her works at the Front Porch Gallery in Carlsbad.
At the 2022 San Diego County Fair, Kaiser won seven ribbons in the Fine Art Exhibition, including first and third places in Cityscapes and the San Diego Museum of Art Artists Guild Membership Award.
Her inspiration, she emphasized, derives in her large part from the delight she experiences daily from living in coastal North County.
"We sort of live in this bubble here. The weather of course is second to none," Kaiser said. "But I've lived all over the world and the people here generally tend to be friendlier, and I think it's sort of a consequence maybe of getting to live here, that there is in some ways almost like a gratitude for being here."
She says she's experienced more caring and courtesy in this region than many other places she's been around the world and the country.
"I wanted to reflect some of that in some of the everyday moments that I get to have because I live here. That's when I started doing a lot of these street scenes and just pictures of the everyday.
"When you look back at your life, it's not always the big milestone moments that you remember, it's made up of all the series of days when you went for a walk, you went to the store, you met a friend for coffee or whatever — that kind of thing."

Get the RSF Review weekly in your inbox
Latest news from Rancho Santa Fe every Thursday for free
You may occasionally receive promotional content from the Rancho Santa Fe Review.