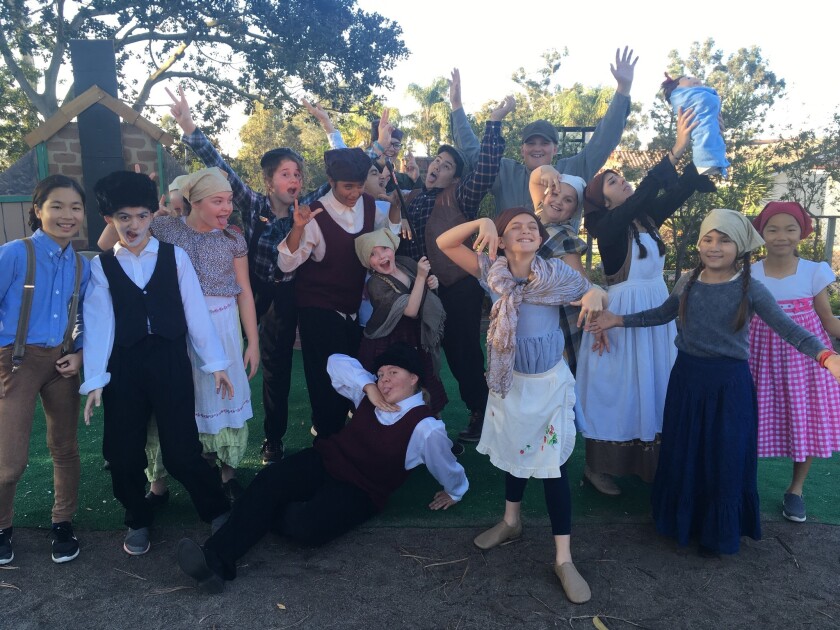 Heyjojo Productions presents three shows on Sunday, Dec. 17 at the Rancho Santa Fe Community Center.
"This is our first time utilizing the Rancho Santa Fe Community Center and it is such a wonderful fun creative space in beautiful downtown Rancho Santa Fe," says director Jolene Dodson Bogard.
Children ages 5-17 auditioned for both Fiddler on the Roof and Annie back in September and rehearse once a week in Solana Beach.
"By reducing the commitment of rehearsals to an hour a week, kids are allowed to fit in other sports and dance classes," says Bogard.
In addition to the weekly rehearsals, Bogard rallies the families to get involved and paint the sets and make the props at three Sunday rehearsals. Bogard has a tremendous following of loyal actors who have followed her down from Orange County.
"Miss Jojo is so positive and encouraging and I have really grown as an actor working with her over the years," says Carlos Jimenez an 8th grader at the Orange County School of the Arts who plays Tevye in the Showcase Cast of Fiddler on the Roof. "This role has been one I've wanted to play for a really long time and I was so excited when I was cast as Tevye."
Brooke Bossinger, 8, was thrilled to be cast as Annie. "I've been taking acting lessons with Miss Jojo for about a year. Last Christmas I was Linus with a huge monologue in A Charlie Brown Christmas and I was so nervous. But Miss Jojo believed in me and gave me lots of encouragement. And now I'm playing Annie. It's so fun."
Kirra Cheeseman (playing Golde in the Showcase Cast), a freshman at Soul Charter in Solana Beach, echoes the others, "It is so fun rehearsing and playing at Miss Jojo's. I've met the best friends at Heyjojo Productions and Jojo is the best director ever!"
Annie and Fiddler on the Roof have their final performances on Sunday, Dec. 17 at noon (Annie); 2 p.m. Fiddler (Showcase Cast); 5 p.m. (Cast A). All seats are only $5. Auditions for Hairspray Jr. are planned for Feb. 4. For more information, visit www.heyjojoproductions.com. Location: Rancho Santa Fe Community Center 5970 La Sendita, Rancho Santa Fe, CA 92067
---