Former RSF building commissioner turns his talents to fine art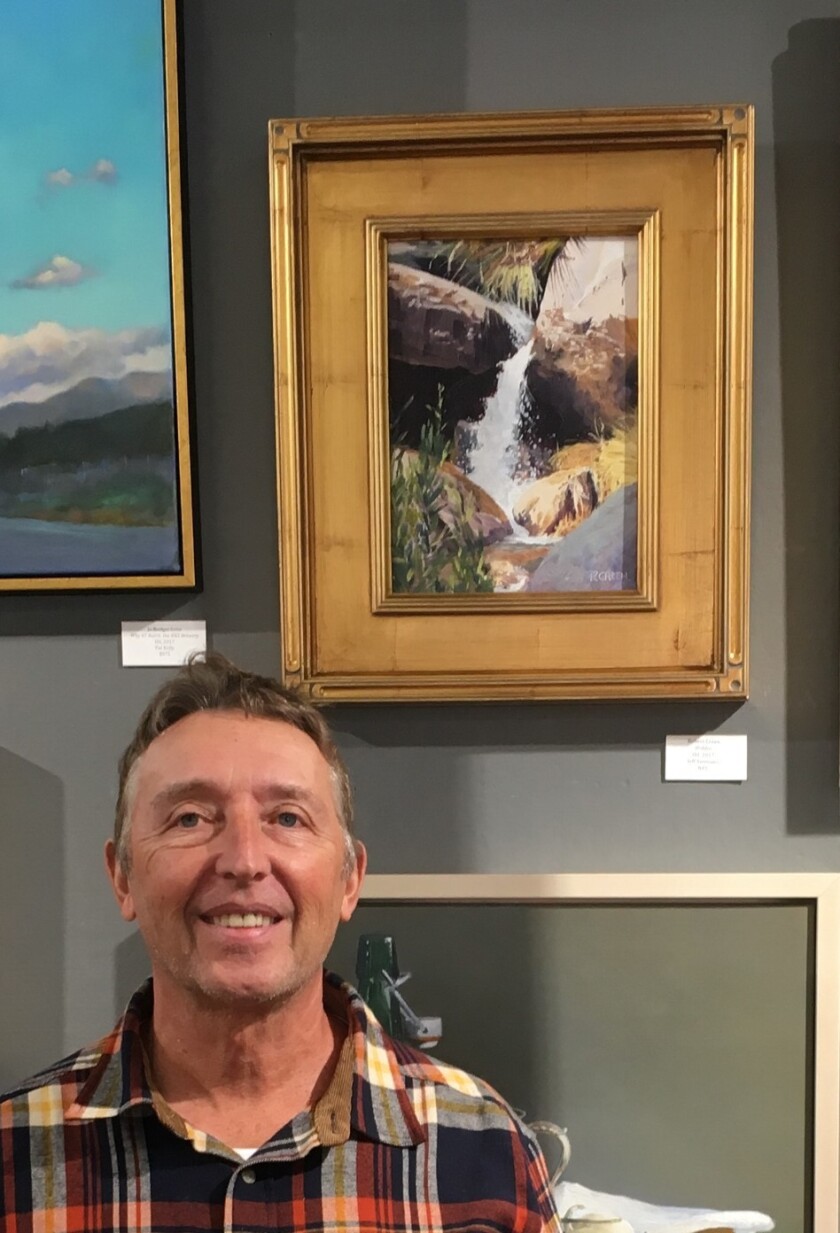 While some people slow down and take it easy when they retire, for Robert Green it's the opposite.
Green, who worked as building commissioner with the Rancho Santa Fe Association for 19 years, is keeping very busy these days pursuing two of his passions -- painting landscapes in oils, and consulting on architectural review projects for people he met during his career.
"Some weeks I feel like I'm busier than when I was working full-time at the Association. I don't mind, I would rather be busy," said Green, 63, a native of Yorkshire, England, who emigrated to the United States in his 20s.
Retirement has given Green the gift of time, which he can devote to painting, something that he's dabbled in for most of his life.
After leaving the Association in 2017, Green signed up for painting classes at the Atheneum in La Jolla, a private, nonprofit art institution. Those lessons paid off, and now Green feels like he has taken his painting to a new level.
"I'm really grateful I've found such a rich, rewarding thing to do in my retirement," Green said. "It seems like it's ever-expanding."
"It's almost like it's something I don't have an option over. It's something I was born with," said Green of his renewed interest in painting. "It seems like it's a waste if I don't work and put stuff down on canvas."
The only down side? Friends and relatives who clamor for his paintings to hang on their walls.
"The cat's out of the bag with the family. They know that I'm retired and painting a lot. They'll want paintings for Christmas," Green joked.
Mostly, Green prefers to paint landscapes, whether it's the scenic coastline of La Jolla, or the many picturesque spots in Balboa Park, near to where Green lives. He also submitted a "message" piece to a national show at a San Diego gallery, and was thrilled when his work was chosen from among 350 applicants from around the country.
The themed exhibit was called the "Crow Show," and Green's painting depicts a crow holding a miniature globe in its beak.
"I was really blown away when I got picked," said Green, especially because the entries were judged by the executive director of the San Diego Museum of Art. "I was over the moon. Still am."
Green plans to submit more paintings to galleries in the future. His painting in the San Diego gallery show can be found at bit.ly/2FXefjN
Green attended college both in England and at UCSD, and his background is in civic planning. He worked in architectural design review for much of his career.
Now that he is retired, he works as a consultant when he's not sketching or painting, advising homeowners on how to design their building projects and on working with the Association and its Art Jury.
Along with painting on canvases, Green also has worked in digital media, which he considers a wonderful tool both for creating paintings and to do the preliminary work on an image that he will later paint with brushes and oils.
While some people are apprehensive as retirement approaches, because they're not sure how they'll fill their days, Green said he feels fortunate because he has more ideas for paintings than he can get around to for now.
"I'm very lucky and very happy" in my retirement, he said.
To see more of Green's art work, visit robertgreenswebsite.com, and log on to rsfconcierge.com to learn more about his consulting work in architectural design review.
---
Get the RSF Review weekly in your inbox
Latest news from Rancho Santa Fe every Thursday.
You may occasionally receive promotional content from the Rancho Santa Fe Review.