Doctor pens first novel, a medical thriller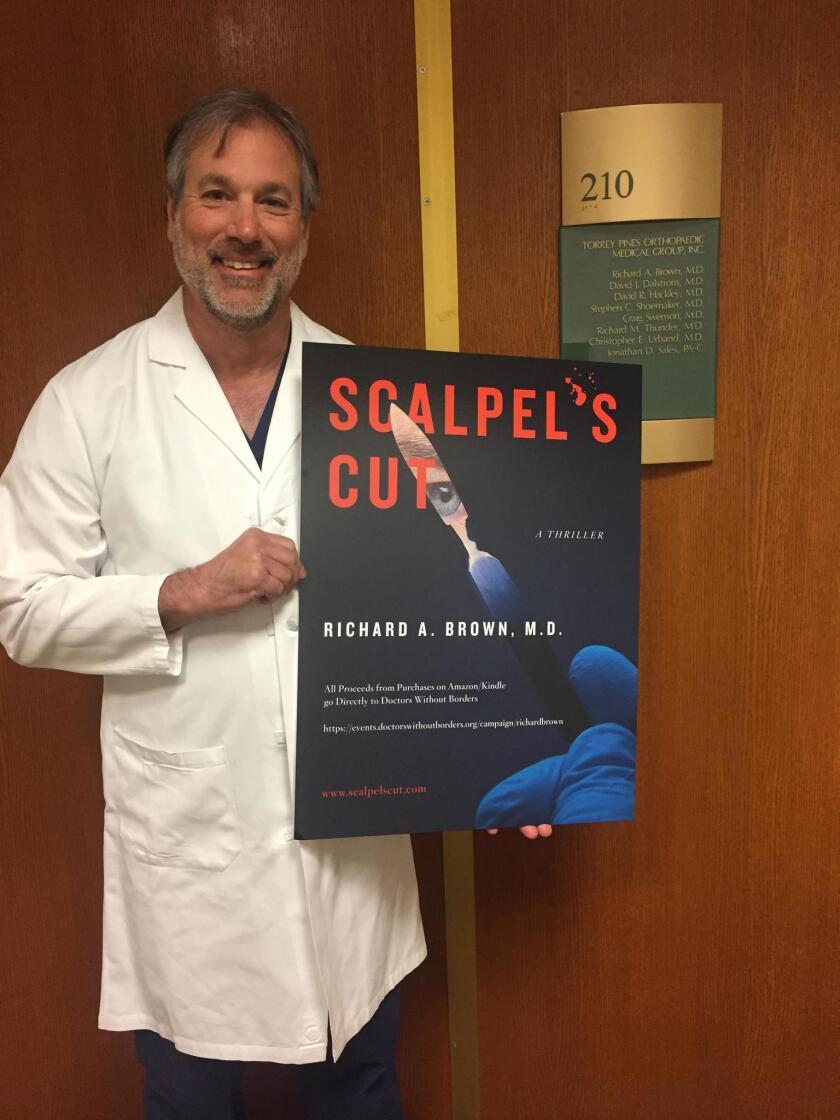 Physician Richard A. Brown had a book percolating in his brain for at least 25 years, but never got around to writing it - until now.
The result of his efforts is "Scalpel's Cut," a medical thriller whose story line revolves around a shadowy group called the Cooperative, which is perpetrating a massive fraud at a hospital. The protagonist, an orthopedic surgeon, seeks to thwart the evildoers with the help of a medical student.
"I've always wanted to write this book," said Brown, himself an orthopedic hand surgeon who lives in Del Mar and maintains practices in La Jolla and Mammoth Lakes.
Brown said he wrote for his high school and college newspapers, and also penned commentaries which he sent out to family and friends. But "Scalpel's Cut" is his first novel, which he self-published this year. It's available on Amazon.com and Kindle.
Although he first set out to write the book a quarter-century ago, a knee injury made it difficult to sit at his desk, and then life, family and a busy medical practice intervened. He finally picked up the thread again and began to work on the novel about four years ago.
The story revolves around a conspiracy, but at its heart, said Brown, the book seeks to provide an up-close and personal view of what it's like to be a doctor.
"It allows someone not in the medical world to see medicine through a doctor's eyes," said Brown, and glimpse the "frustrations and joys we experience as physicians."
Another objective for Brown is to raise money for Doctors Without Borders, an international group that provides medical care to people in war zones and other poverty stricken parts of the world, where the population is suffering without adequate medical professionals and critical supplies.
Brown said all the proceeds of his book sales will go to the group, and his website also encourages his readers to make an additional donation to support the work of Doctors Without Borders. His goal is to raise $20,000 for the group through book sales and donations.
His website, www.scalpelscut.com, contains links for both buying the book and donating to Doctors Without Borders.
He wants people to read his book and even provide feedback, but, "At the end of the day, that's the primary goal. The more I can get the book out, the more people I hope will donate to Doctors Without Borders."
Brown and his wife, Ellen, a former nurse who now works for a La Jolla-based medical group, have three grown children, and they love to spend time outdoors, whether it's skiing, hiking or bicycling. The couple have been married for 37 years.
Brown hopes to promote his book by giving talks and meeting with book clubs, and his children are helping him get the word out on social media.
He's also handing out several hundred copies to friends, family members and colleagues, families, both to get the book in the hands of readers, and to help raise money for his favorite charity.
---
Get the RSF Review weekly in your inbox
Latest news from Rancho Santa Fe every Thursday.
You may occasionally receive promotional content from the Rancho Santa Fe Review.