Bonds of marriage, love and loyalty tested in new novel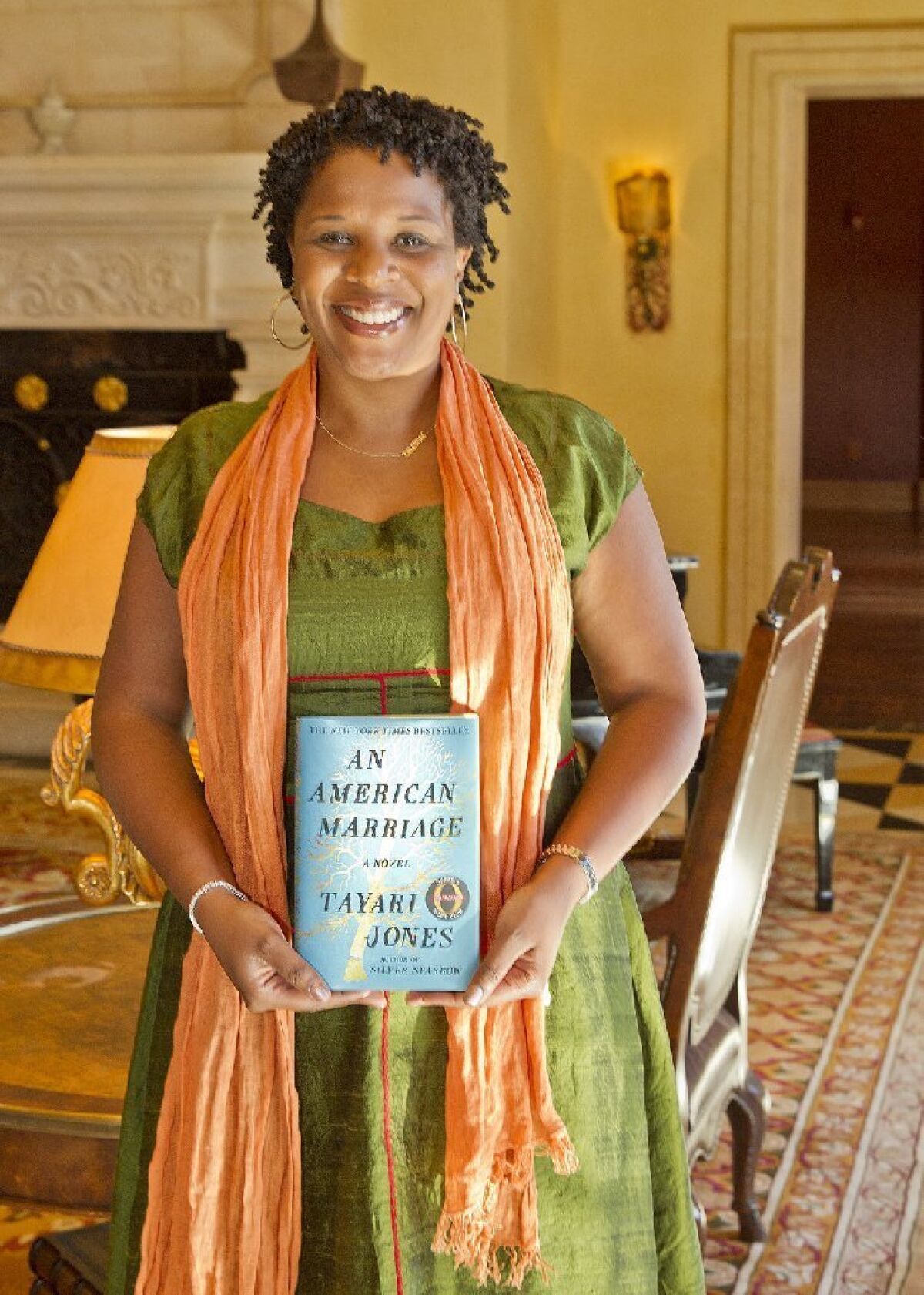 In her latest novel, Tayari Jones took on a subject that is both deeply personal and the subject of much debate due to its impact on society - how the incarceration of a young black man affects his family and friends.
"This is the first time I decided to consciously engage in a social issue. This is kind of new territory (for me)," said Jones, the featured speaker at the Nov. 1 meeting of the Rancho Santa Fe Literary Society, held at the Fairmont Grand Del Mar resort in Carmel Valley. "(The book) centers around the ways that incarceration intersects with people's everyday lives."
The book, called "An American Marriage," is Jones' fourth novel. It was selected as a featured novel in Oprah's Book Club, established by actress and former talk show host Oprah Winfrey. "An American Marriage" was also selected for the 2018 National Book Award Longlist for Fiction, and made President Barack Obama's Summer 2018 Reading List.
Jones' previous novel, "Silver Sparrow," was chosen to be part of the National Endowment for the Arts' Big Read Library. "An American Marriage" was published in 2018 by Algonquin Books of Chapel Hill.
The tale focuses on a young, newly married couple, Roy and Celestial, and how their world is turned upside down when Roy is imprisoned for a crime he did not commit. The story is told through the eyes of the two main characters, as well as other characters who are important to their lives. One segment is told through letters written back and forth by the couple during Roy's incarceration.
Jones, who is a native of Atlanta, has set all of her books in her home town, and considers herself a "southern novelist." But she takes a contemporary view of the South, and pushes back against the stereotype of the South as a sleepy, out-of-date backwater.
One element of the book is an examination of how Celestial - an artist whose medium is custom-made craft dolls - continues to strive to achieve her dreams in spite of the trauma of having her marriage torn apart by an unjust legal verdict.
"It's almost as if her dreams are a luxury that can't be afforded against this backdrop," said Jones.
Another theme of the book is the question of whether the couple's new marriage can survive the separation, the anxiety and the pain caused by Roy's incarceration.
In her first letter to Roy after he is sent to prison, Celestial wrote, "Love makes a place in your life, it makes a place for itself in your bed. Invisibly, it makes a place in your body, rerouting all your blood vessels, throbbing right alongside your heart. When it's gone, nothing is whole again. Before I met you, I was not lonely, but now I'm so lonely I talk to the walls and sing to the ceiling."
In Jones' imagining of the couple's life, the forced separation magnified the small arguments they had before Roy went to prison, and also made the couple's insecurities loom larger.
"He needed the marriage more," once he was in prison, said Jones of Roy. "It was the only thing holding him together. Would they have stayed together if he hadn't gone to prison? Maybe. But it would have been rough."
The story unfolded for Jones as she wrote it, in a way similar to how it might play out for a reader. She said that at one point, she was afraid for her characters, concerned that when Roy was released from prison, he might commit an act of violence that would cause him to be put behind bars once again.
As Jones' books grow in popularity, she said her life has changed. Where she once drew a handful of people to her book-signings and talks, she now regularly encounters hundreds of people, even as many as a thousand. In the past year alone, she said, she has had 153 speaking engagements across the country,.
She enjoys meeting people during her travels, and she said it seems as if she is destined to encounter one person who has a special connection with the book, such as a man whose father was in prison. The man told her that after reading the book, he felt more compassion for his mother and what she went through with his father's incarceration.
Jones recently moved back to Atlanta from New York, where she had gone to be closer to the world of book publishing. In addition to her writing, she teaches creative writing at Emory University.For more on Jones, visit www.tayarijones.com
Get the RSF Review weekly in your inbox
Latest news from Rancho Santa Fe every Thursday for free
You may occasionally receive promotional content from the Rancho Santa Fe Review.