New book details life of influential basketball coach Phog Allen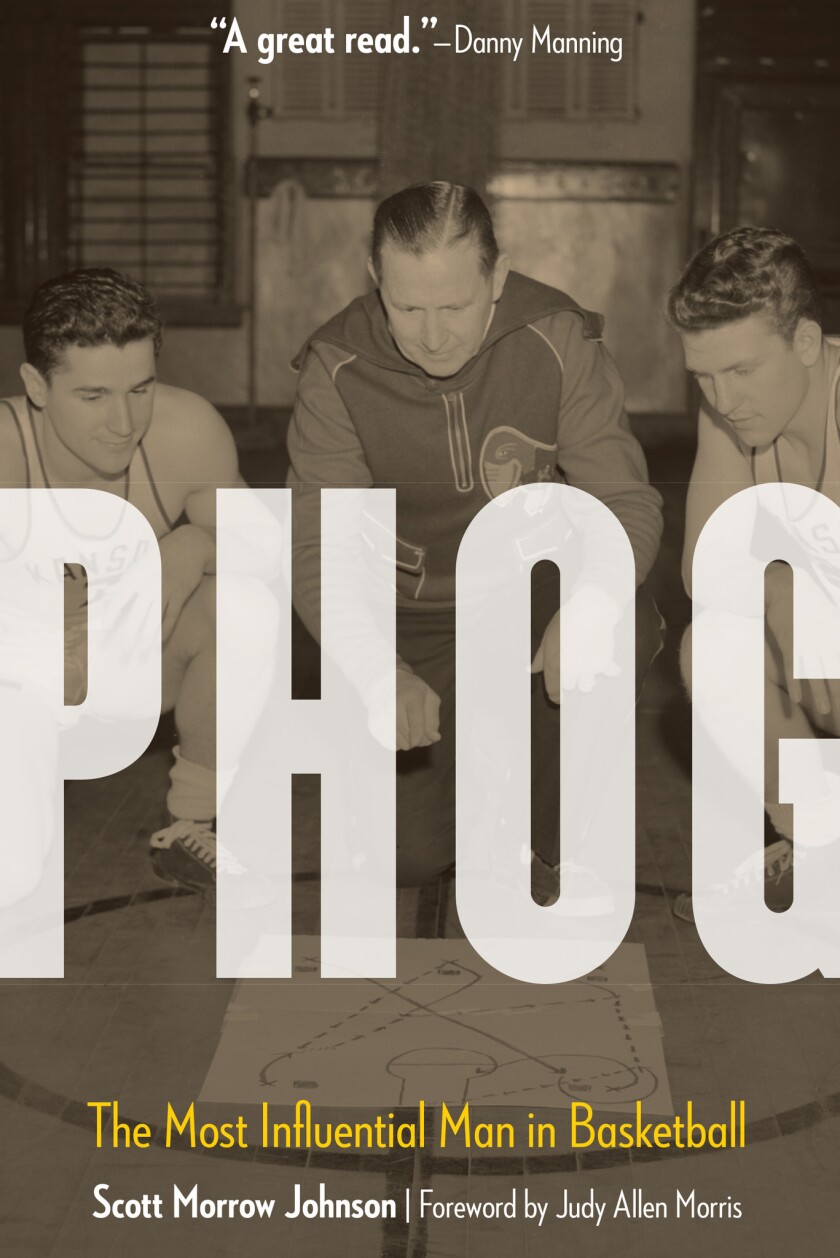 Forrest "Phog" Allen, a legendary basketball coach at the University of Kansas, was a man of contradictions - he is credited with guiding his sport into national prominence and recruiting such famed players as Wilt Chamberlain, but he also had a cantankerous side which led him to butt heads with many people throughout his career.
Sports journalist Scott Morrow Johnson will talk about his new book, "PHOG - The Most Influential Man in Basketball," at an event set for 10:30 a.m. on Saturday, Feb. 18, at the Rancho Santa Fe Library, 17040 Avenida de Acacias. Refreshments will be served, Johnson will answer questions after his talk and signed copies of the book will be available for purchase. The event is sponsored by the Rancho Santa Fe Library Guild.
The "family friendly" event is free and open to the public, said Susan Appleby, executive director of the library guild.
The author's parents, Fran and Bill Johnson, are Rancho Santa Fe residents and active in the community. Johnson lives in Seattle with his family, where he works part-time as a freelance sports writer, and also has recently embarked on a new career as a substance abuse counselor.
Johnson, who has covered NFL football and college basketball during his journalistic career, came upon Phog Allen's story through his mother, who introduced him to Judy Allen Morris, the coach's granddaughter.
Johnson said in an interview that Morris had a lot of stories and memories about her grandfather, as well as a trove of letters and other documents, and was anxious to have Phog Allen's story told. Several writers had worked on Phog Allen biographies over the years, but had not seen the projects through to publication, said Johnson, and he became determined to get the story in print.
Johnson's book was published by the University of Nebraska Press in November, and is available on Amazon.com.
In setting out to tell the story, Johnson said, he wanted to chronicle episodes in Phog Allen's life that hadn't been written about before, such as the sudden death of his 14-year-old son from a blood clot.
"That was part of the challenge of the book. I wanted to tell his whole life story from birth to death and not leave anything out," Johnson said.
According to Johnson, Phog Allen played under James Naismith, the inventor of basketball, who also coached at Kansas. While Naismith envisioned basketball as a way for people to have fun and stay in shape, Phog Allen saw its potential as a spectator sport, and had a hand in major developments, such as rule changes, the establishment of the NCAA tournament, now popular as March Madness, and even working to get the sport into the Olympics.
"He helped market and advance the sport for 50 years," Johnson said, raising its profile, popularity and profitability. "I think he did more for (basketball) than anyone in the history of the game."
His got his nickname, Johnson said, because people thought his booming voice sounded like a foghorn.
Allen coached at Kansas for nearly 40 years, winning his first and only national championship in 1952, shortly before his retirement.
His career was marked by great achievement but also famous spats, such as a falling out with Naismith, his early coach and mentor, as well as other figures in the sport. One such rift led him to miss out on the 1936 Olympics, which the U.S. team won, even though he had been instrumental in getting the sport included in the games, Johnson said.
"He rubbed some people the wrong way," Johnson said.
Another disappointment, said Johnson, came in 1956, shortly after Allen had recruited Wilt Chamberlain, who went on to become one of the game's greatest players. Allen wanted to coach one more year and make a run at the NCAA championship with his new star player, but the university declined to grant him a waiver from a rule requiring mandatory retirement at age 70.
While Allen's descendents are still Jayhawks, as Kansas fans are known, they still bear some animosity toward the university for that decision, Johnson said.
Still, Allen remains a towering figure at the school, with the field house where the basketball team plays named in his honor.
"He's a huge deal there," Johnson said. "Everyone in Kansas knows his name, but not everyone knows what he meant to the game, how influential and what a pioneer he was for taking the game to the masses."
Johnson's own family has ties to the University of Kansas and its basketball legacy. Both his parents are Jayhawks, Johnson said, and his grandfather, William C. "Skinny" Johnson, played under Phog Allen at Kansas, and was later inducted into the basketball hall of fame.
For more information, or to learn about supporting the Rancho Santa Fe Library through membership in the library guild, call 858-756-4780, or visit the guild's website at www.rsflibraryguild.org.
---
Get the RSF Review weekly in your inbox
Latest news from Rancho Santa Fe every Thursday for free
You may occasionally receive promotional content from the Rancho Santa Fe Review.