Bestselling author Mary Kubica shares long road to success at Words Alive Author's Luncheon and Fundraiser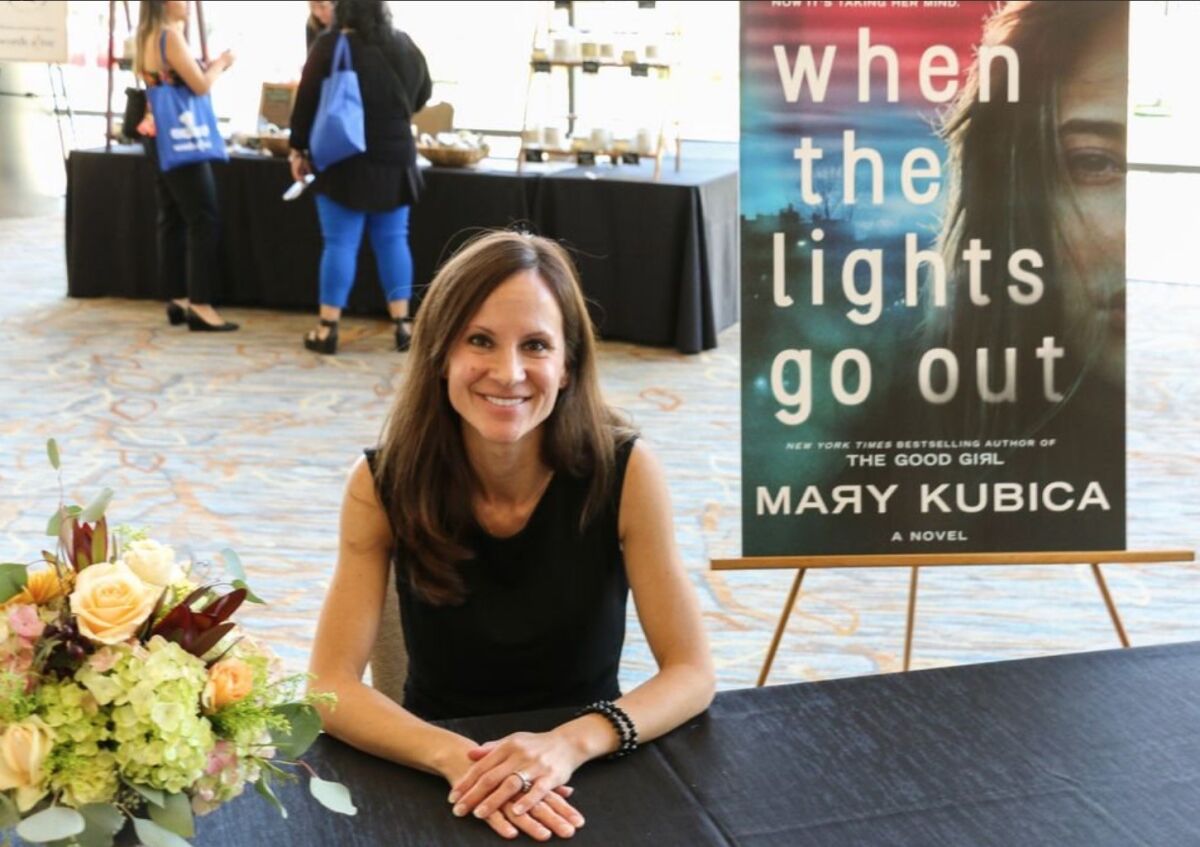 More than 400 people filled the Grand Ballroom of the Marriott Marquis San Diego Marina Oct. 19 to hear New York Times-bestselling author Mary Kubica in conversation with Dr. Seth Lerer at the 15th annual Words Alive Author's Luncheon and Fundraiser.
The literacy-focused nonprofit raised over $200,000 during the event, and also raised awareness for the organization's mission with an emotional and personal speech by Brittany Jackson, a Words Alive Westreich Scholarship Student who began participating in the Words Alive Adolescent Book Group in 2008. A decade later, she is a new graduate of UC Santa Cruz and is planning to apply for a master's degree program to become a high school counselor.
"The purpose of Words Alive is to make reading matter for young people and families around San Diego so they, too, have the power to write their own stories and plot their own successful futures," said Patrick Stewart, executive director. "It takes a community to make this happen, and we are grateful to all those who attend the luncheon and who support us throughout the year."
Every year, the luncheon features world-renowned authors such as Jodi Picoult, Salman Rushdie, Anna Quindlen and Isabel Allende.
This year's guest, Mary Kubica, is the author of five critically-acclaimed novels, including her powerful debut, "The Good Girl." Set to be adapted into a TV series, it was an Indie Next pick, received a Strand Critics Nomination for Best First Novel and was a nominee in the 2014 Goodreads Choice Awards in Debut Goodreads Author and in Mystery & Thriller.
Kubica doesn't like to use the word, "thriller," to describe her books, though. "I call the genre 'domestic suspense,'" she said. "I love writing about marriage and families, and my books are more psychological than horror. What goes on in people's minds is fascinating to me, and I'm always interested in the idea of unreliable narrators."
All of Kubica's novels are written in first person, and part of the enjoyment of reading them is deciding whether the narrator is actually telling the truth.
Her latest book, "When The Lights Go Out," which every guest at the Words Alive luncheon received, continues that theme. It's the story of a woman forced to question her own identity after the death of her ailing mother. She discovers information that causes her to doubt everything she's ever known, and she no longer knows what's real or what she's imagining as insomnia exacerbates her problems.
"Sleep deprivation is serious," said Kubica, who researched the topic for her book and has experienced some of its side effects herself. "Here's a fascinating fact I learned. The percentage of people having heart attacks spikes as much as 25 perecent on the Monday after we spring ahead for Daylight Savings Time. If that occurs from just losing one hour of sleep, imagine what can happen to someone experiencing long-term insomnia."
Kubica gets up early in the morning to write, hopefully after a good night's sleep during which she solves plot problems. It's a routine she got into when her kids were younger and she had to grab any quiet moment to write.
In fact, she didn't even start writing until she became a mom, although she had always been passionate about writing.
"I've been writing since I was a little girl," she admitted, "but I didn't have the confidence to share my work. My friends had no idea I was a writer."
A former high school history teacher, Kubica wrote "The Good Girl" over a period of five years, never telling anyone about the book until it was finally accepted by a publisher.
"I probably sent the manuscript to a hundred agents, and every one of them rejected it," she remembered. "I threw out every rejection letter before my husband came home from work and deleted them from my email so I wouldn't have to talk about it."
Two years later, when she was on the verge of giving up on it, "The Good Girl" was accepted by an agent who had originally read the manuscript in the slush pile at a time when she was too junior to have the power to give it the green light. Now able to take on her own clients, she reached out to Kubica and the rest is publishing history.
"You only need one person to love your book," said Kubica. "And I'm so grateful."
There seems to be many more people loving Kubica's books these days. She's traveling around the country, from her home outside of Chicago, to read from and sign copies of "When The Lights Go Out" at bookstore, libraries and literary festivals.
Kubica is also working on her next novel and interacting with her fans on social media.
"As an author, there's nothing better than getting a message on Facebook or reading a tweet from someone who's just finished one of your books and wants to tell you how much they enjoyed it," she said. "For a reader to take the time to actually reach out – that just means everything."
You can follow Kubica on Facebook, Twitter and Instagram at @marykubica.
For more information about Words Alive, visit www.wordsalive.org.
Get the RSF Review weekly in your inbox
Latest news from Rancho Santa Fe every Thursday for free
You may occasionally receive promotional content from the Rancho Santa Fe Review.