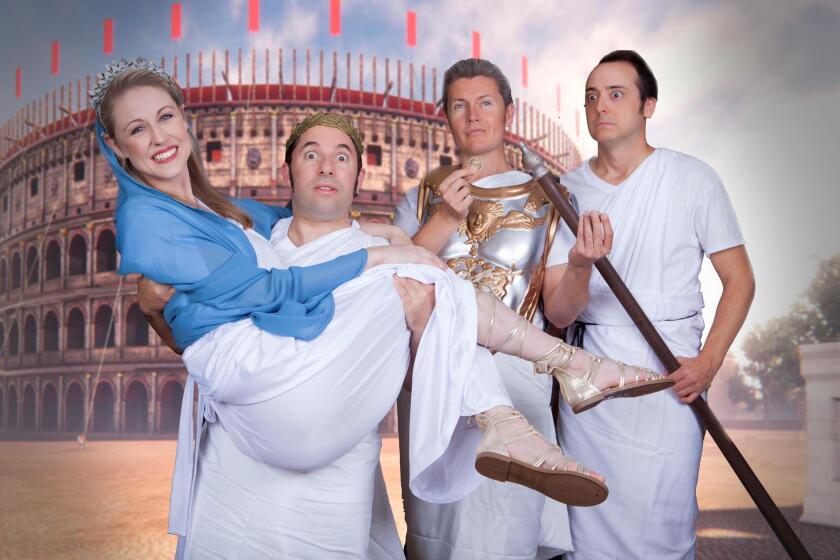 One of the funniest things you'll ever see on stage is coming to North Coast Repertory Theater (NCRT) in Solana Beach, starting July 11. With a book by "No No Nanette" writer Bert Shevelove and super-funnyman Larry Gelbart (creator of "M*A*S*H") and music and lyrics by Steven Sondheim, how could it not be a musical comedy hit?
Actually, "A Funny Thing Happened on the Way to the Forum" was inspired by comedies originally written by Plautus.
What! You don't know him?
Well, he hasn't got Broadway or TV credits; they didn't have such things in ancient Rome. But he was one of the hottest comedy writers of his time — around 200 B.C. And "Forum's" creative team spiced things up with a little vaudeville, a lot of zingy one-liners, and in its 1962 multiple-Tony-Award-winning Broadway debut, Zero Mostel as Pseudolus, the endlessly conniving slave who is desperate to gain his freedom.
The New York Times called the show "the funniest, bawdiest and most enchanting Broadway musical that Plautus, with a little help from Stephen Sondheim, Burt Shevelove and Larry Gelbert, ever wrote." So it's no surprise that David Ellenstein, NCRT's artistic director, wanted to present it here.
For the role of Pseudolus, he chose Omri Schein, with whom he's worked happily, and often hysterically, before. Last year, he directed Schein and Phil Johnson in the two-man Bronte parody "Withering Heights" at Diversionary Theatre. And in 2016, Ellenstein and Schein were onstage together at NCRT in "Laughter on the 23rd Floor," Neil Simon's play about the roomful of wildly inventive writers — Larry Gelbart was one of them — responsible for Sid Caesar 's 1950s live-TV comedy series "Your Show of Shows."
"Before I definitely decided to do 'Forum,' I talked with Omri," Ellenstein said. "He's played Pseudolus twice before, and he knows the show well. By the end of our conversations, I'd made up my mind: we were going to do it, and he would not only play Pseudolus, he'd be my assistant director."
Ellenstein said he had always wanted to do "Forum" but there were many logistical problems for his small theater. "This is by far the biggest undertaking in all my 16 years here," he said. "It's written for 19 actors — we got it down to 13. But with a four-piece band, two crew, and two Equity-required stage managers, we'll have 21 people backstage; it's going to be crowded. I was going to wait until we had our new theater, but I got tired of waiting. I've got the right cast and we're having a blast in rehearsals. So many funny people in the room!"
Evidently, the creators of "Forum" encouraged creative freedom. "Larry Gelbart called the script 'a scenario for vaudevillians,' so actors can bring in their own bag of tricks to the show," Ellenstein said. "It's always a crowd-pleaser, and we're doing it full out. The only reason to come see it is if you want to have a really good time."
• IF YOU GO: "A Funny Thing Happened on the Way to the Forum," runs July 11-Aug. 12, 2018 at North Coast Repertory Theatre, 987 Lomas Santa Fe Drive, Solana Beach. Tickets: $45-$56. (858) 481-1055. northcoastrep.org
———
• 'Forum' Footnote: Pseudolus Rules!
Every actor who opened in the role of Pseudolus on Broadway — Zero Mostel (1962), Phil Silvers (1972) and Nathan Lane (1996) — won a Tony Award. Even Jason Alexander , who played Pseudolus in a single scene from 'Forum' in Jerome Robbins' 'Broadway' (1989), won a Tony for Best Actor in a Musical. — Wikipedia
---