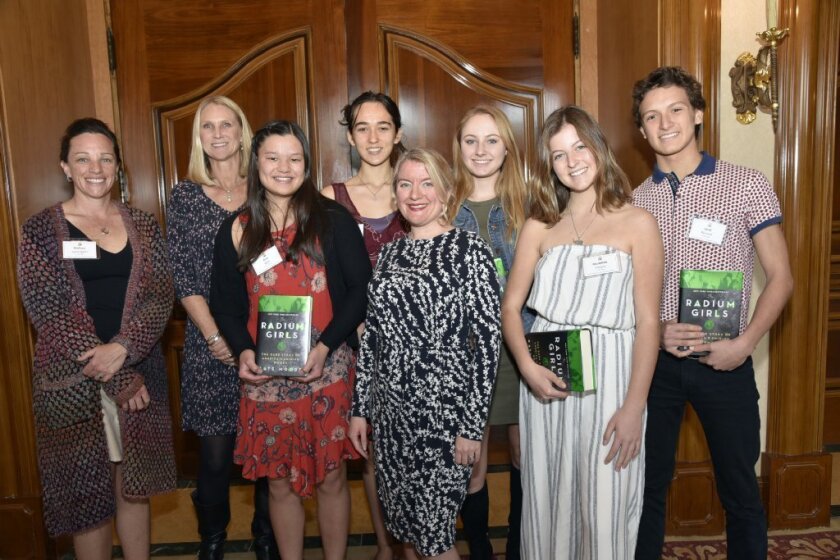 Through the first half of the 20th century in America, radium, a substance mined from the ground, was a source of fascination -- it was used for everything from making watch dials glow in the dark, to a toothpaste additive, to a tonic the wealthy would drink to restore vitality.
But no one -- at least among the public - knew the afflictions that exposure to radium could cause five, 10 or even 20 years later -- anemia, extensive damage to teeth and bones, and deadly forms of cancer.
The story is brought to life in "The Radium Girls," written by British author Kate Moore. The book tells the personal histories of women who painted glow-in-the-dark numbers, using radium paint, in watch-dial "studios" during the Roaring 20s -- a tale that until recently had been relegated to academic tomes, dusty archives and file cabinets. The book was published in 2017 by Sourcebooks, Inc.
Moore, an author, editor and ghostwriter, was the featured speaker at the Feb. 14 meeting of the Rancho Santa Fe Literary Society, held at the Fairmont Grand Del Mar hotel. A London resident, Moore got the idea for the book after she directed a play about the dial-painters for a community theater group.
She ended up traveling to the U.S. to do her research, and walk the paths of the radium girls, including where they lived, worked and were buried. She interviewed relatives of the women and pored through court documents, news clippings and other materials.
Radium was discovered in 1898 by scientists Marie and Pierre Curie, and soon after began to be used for a broad variety of purposes, which included treating cancer, said Moore in an interview. Ore containing radium was mined in Colorado, and it took a ton of ore to produce an amount of radium equal in size to a pat of butter.
"It was the most expensive substance on Earth at that time," said Moore. In today's dollars, a gram of radium was worth $2.2 million.
Along with being used for watch dials and the dials of instruments for cars, trucks, airplanes and ships, there were radium spas that people could bathe in, and radium-infused lingerie that was touted as improving the wearer's sex life, Moore said.
Moore focused in her book on two radium watch-dial studios, in New Jersey and Illinois, and the women who worked in them. Much of the book is devoted to the court cases of the women, who sued their employers when they started becoming ill.
The book also details the deceptive practices of the companies that profited from the radium-tinged products, initially brushing off the women's questions about the safety of working with the substance, and later denying that their illnesses were caused by radium poisoning.
The work spaces of the women were pervasive with radium dust -- it got into their clothes, their hair and into their bodies when they used a technique that required them to wet their paint brushes in their mouths. They were provided no protective clothing, masks or gloves.
In one early passage, Moore describes the first day at work for one dial-painter in New Jersey, and what she observed in the studio: "Katherine could see that the (radium) powder got everywhere; there was dust all over the studio. Even as she watched, little puffs of it seemed to hover in the air before settling on the shoulders or hair of a dial-painter at work. To her astonishment, it made the girls themselves gleam."
It wasn't until years later, said Moore, that the painful and often fatal consequences struck those who worked with radium.
"It's a very insidious poisoning, it takes years," Moore said. Radium settled in the women's bones, eating away at them till they were like honeycomb. "While they were alive the radium was actually boring holes into their bones."
The women battled and won some of their cases in court, but they were awarded relatively small sums of money; in some cases, the companies were ordered to pay their medical bills.
One powerful legacy of the women, said Moore, was that the government enacted new safety rules to protect workers.
But those reforms were too late to help the original dial-painters. Moore wrote, "It is impossible to say how many dial-painters were killed by their work: so many were misdiagnosed or never traced that the records simply do not exist. Sometimes the cancer that former workers suffered later in life was never attributed to the job they did in their teens, though it came as a direct result. And the deaths, too, were only one part of it; how many women were crippled or suffered the pain of childlessness as a result of their poisoning is also unknown."
Moore said thousands of girls and women worked in dial-painting studios across America at the height of the radium industry during and after WWI.
Moore began her tale with an anecdote about a scientist, who was planning to give a lecture about radium, and carried a small vial of the glowing substance in his waistcoat pocket. He later suffered a deep burn to his skin, close to where the vial had rested in his clothing. That incident occurred in 1901, soon after radium was discovered, and long before it became so ubiquitous in America and elsewhere.
"It proved they'd known radium was dangerous for that long," Moore said. "The knowledge was always there. This was a preventable tragedy."
Radium Girls is available on amazon.com. For more information, visit theradiumgirls.com and kate-moore.com.
---