On Sunday, May 24, a grateful community organized a balloon bomb and "Get Well" drive-by for longtime former San Diego County chief administrative officer (CAO) and former general manager of the Rancho Santa Fe Association Walt Ekard as he undergoes treatment for pancreatic cancer.
In response to the COVID-19 pandemic, Del Mar will cut back to three days a week but start its signature summer meeting eight days earlier on July 10.
Following a review of its sewer rates and charges, Olivenhain Municipal Water District's Board of Directors voted at its May 20 meeting to hold the line on current sewer rates and fees rather than increase rates as scheduled. according to a news release.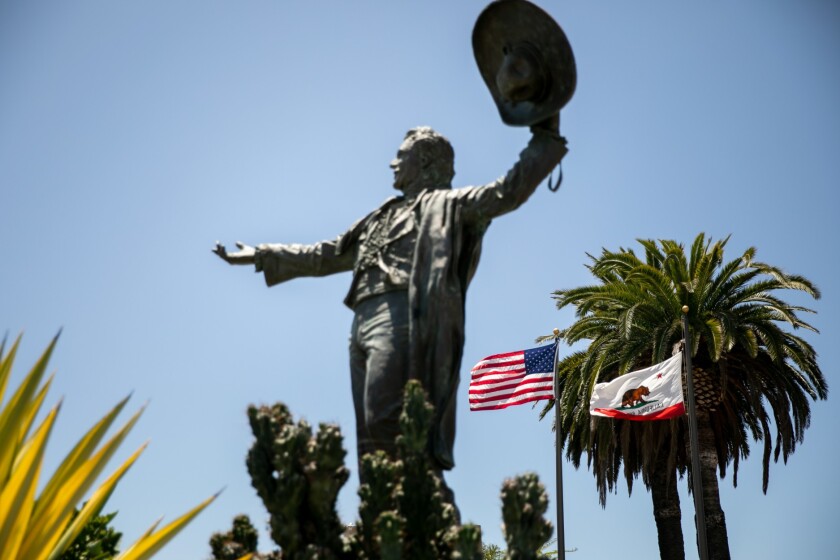 General manager says property in dire financial straits and needs $20 million in federal aid
San Diego Humane Society's Humane Law Enforcement is investigating a felony animal cruelty case in San Marcos.

As restaurants and retail stores can now open to serve customers in person, Dolce in Del Rayo Village was one of the first Rancho Santa Fe restaurants to welcome back diners on May 21.

The San Dieguito Union High School District will give students the option for hold harmless grades or credit/no credit as they close out this unusual school year with distance learning.

A portion of the Santa Fe Irrigation District (SFID) remains without representation as the board was split on the appointment of a new director to fill its board vacancy for the last five months of the term.

Canyon Crest Academy senior Christina Wooden was among the 10 California students named 2020 U.S.

Just over 30 San Diego County students have been named National Merit $2,500 Scholarship winners by the National Merit Scholarship Corporation.
Get the RSF Review weekly in your inbox
Latest news from Rancho Santa Fe every Thursday.
You may occasionally receive promotional content from the Rancho Santa Fe Review.
Below is a continuing series of online activities to undertake on your computer or tablet during your quarantine quandary.

People are living through historic times and it is likely that they will be sharing their stories of the COVID19 pandemic with their children and grandchildren for decades to come.
Although school may be coming to a close, that's not stopping Rajit, a rising sophomore at UC Berkeley and CCA alumni, and Riya Agarwal, a senior at Torrey Pines High School and rising freshman at UCSD, from working hard to provide healthcare access to seniors in San Diego.
March 26 issue: Gratitude and we will get through this together During these literally unprecedented times, we'd like to offer our thanks and encouragement to the RSF Association and Golf Club staff for their unstinting service to our community -- often going above and beyond.

While most coronaviruses cause common cold, three have become more dangerous, crossing species to people: the first was SARS CoV in 2003 and the latest to "make the jump" — SARS-CoV-2, the virus which causes "Coronavirus Disease 2019" or COVID-19. According to former FDA Commissioner Dr. Scott Gottlieb, there was a large, late-season spike in U.S. "flu-like" illness, raising the unsettling possibility that the novel corona virus may have been here earlier than initially thought.